Dog Abandoned in Heartbreaking Video Finds New Adoptive Family Less Than 24 Hours Later
A video captured a dog being abandoned on the side of the road by its owners. Less than 24 hours after that video hit the local airwaves, a new family adopted it.
The video came out of Horizon City, Texas. A woman named Joy Dominguez recorded the video as she was in the area running another errand, KTSM reported.
Dominguez's video shows a roughly teenaged boy in sneakers, white shorts and a t-shirt exiting the passenger side door of a silver Jeep SUV. The boy removes the leash from the dog as it sits on the side of the road.
The dog then wanders briefly into the field by the road's shoulder as the boy re-enters the vehicle. The vehicle then drives off, and the dog runs after it. The dog runs into the center of the street as the car speeds off.
The El Paso County Sheriff's Office animal cruelty unit has begun an investigation to locate the family that abandoned the dog. Animal abandonment is a class A misdemeanor. Offenders can face up to one year in a county jail or up to a $4,000 dollar fine if found guilty.
"I don't know how those people could get in that vehicle, see that dog in the mirror running behind them and then just drive off. I don't know how you could do that as a human being," Ronald Comeau, an El Paso animal rescuer told KDBC-TV.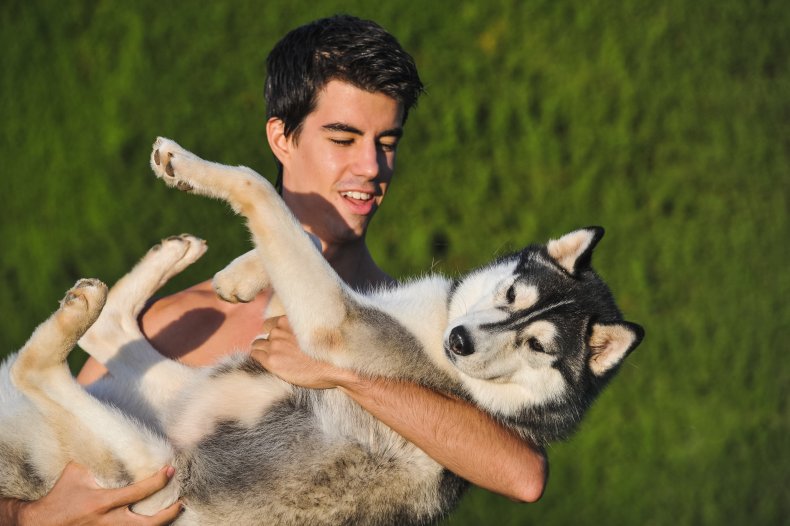 The abandoned Husky was examined by a local vet who found it to be in good health. The dog was then placed with a local animal rescuer for care.
The Clappsaddle family saw the video and immediately contacted local authorities to ask how they might adopt the dog. They have since called the dog "Nanook," after a character from the 1987 film The Lost Boys, The El Paso Times reported.
"When I saw the video and I saw him run after the car, it just made my heart feel like broken," Maddie Clappsaddle told the aforementioned news station. "But now that he's running around and he's happy, I feel very happy and excited."
Clappsaddle said that Nanook feels like the "missing piece" that her family has been needing.
As pandemic restrictions have been lifted across the U.S., some animal shelters in Florida, Virginia and other states have reportedly taken in more dogs. These reports have raised fears that people who adopted pets during the pandemic were now ready to ditch them.
However, national animal welfare groups have told The New York Times that dogs adopted during the pandemic are largely remaining in their new homes. The groups also say that shelters nationwide haven't reported alarming increases in pet abandonments.
Newsweek contacted the El Paso Police Department for comment.