Dog Adorably Interrupts Broadcaster's Live Report by Stealing Her Microphone
This reporter certainly didn't expect such a 'ruff' start to her morning.
Footage of a Russian journalist has gone viral online after a mischievous golden retriever interrupted her live broadcast and stole her microphone on-air.
Mir TV weather reporter Nadezhda Serezhkina began her segment on an upbeat note, excited to share that "spring has arrived in Moscow." However, just moments into her live broadcast, the dog jumped up on her, snagged the handheld microphone and ran down the street with his new prize.
Serezhkina's camera crew then turned to capture her chasing frantically after the bandit. The network quickly cut to studio host Elina Dashkueva who told viewers, "It seems we've lost connection with our reporter. We will attempt to get in touch with her again."
The video took off on Twitter after reporter Ali Özkök posted it in the earlier morning hours of Friday. Viewers delighted in the hilarious on-air mishap.
"Long experience: you are never, ever going to catch a golden who thinks he has your toy," one joked. "Best bet is to have a treat on hand so you can offer a trade."
"Mic looks like a popsicle, who can blame the adorable dog?" another asked. "Obviously microphones in Russia are made out of bacon," an additional commenter added.
The tweet even got the attention of George Conway, who commented asking his multilingual colleagues to translate the Russian dialogue at the end of the segment.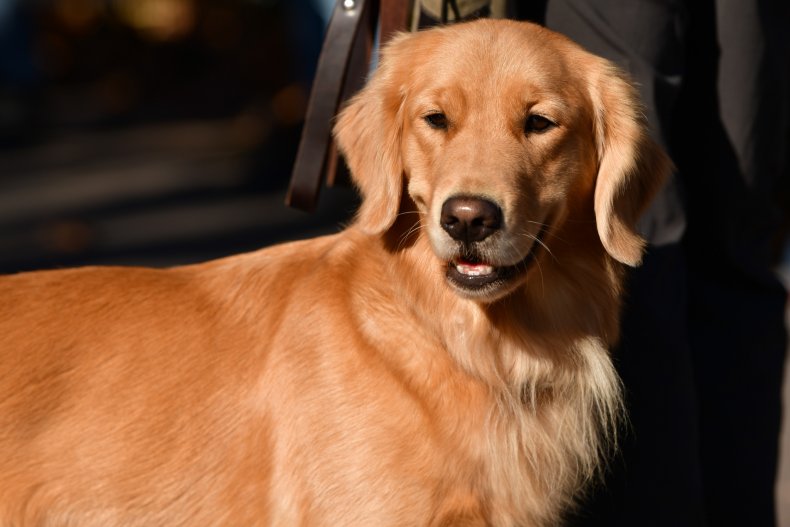 The good news is that Serezhkina did manage to wrangle the microphone from the dog in time to finish her segment and promise a "less capricious" April for Russian locals. She assured viewers that while the "microphone took a bite or two," no person or pooch was left injured.
Serezhkina did seem to make up with the misbehaving golden retriever and even shook his paw in a truce at the end of the segment.
"The weather is truly perfect, just right for walking your dogs," she joked as she sent viewers back to the studio for the rest of the broadcast.
It wasn't immediately clear who the dog belonged to or where he came from. Neither Serezhkina nor Dashkueva issued further comment after the incident.