Dog Agility Champ Returns to Course After Being Paralyzed: 'I'm Crying'
Resurfaced footage of the moment a paralyzed border collie named Zip completed an agility course in a wheelchair has gone viral on social media.
The video, originally from 2011, was posted to TikTok on Monday by Natalie Budziszewski (@natalie_budz), who wrote: "GO ZIP!!" It has amassed over 1.5 million views and thousands of comments from tearful viewers, applauding Zip's "awesome spirit." You can view the video here.
Before being paralyzed in a hit-and-run accident, Zip was a three-time champion agility dog, according to Rover, an online petsitting service.
What is Dog Agility?
Dog agility is the fastest-growing dog sport in the country, said the American Kennel Club (AKC).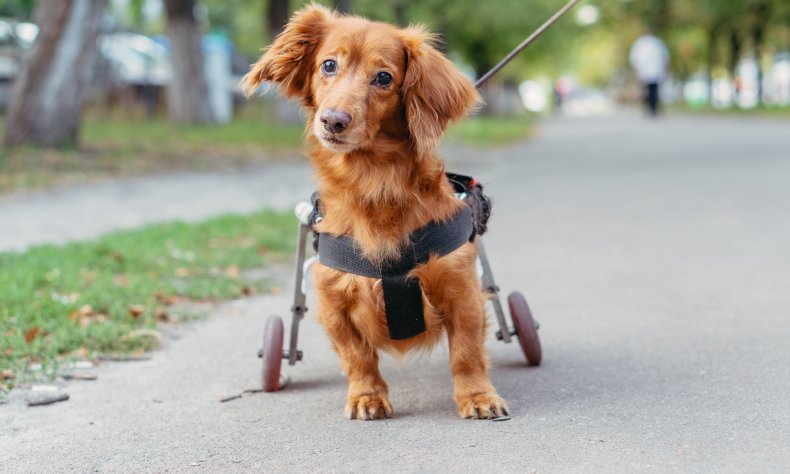 "[It] is a sport where you direct your dog through a pre-set obstacle course within a certain time limit. Courses typically have between 14-20 obstacles, which can include tunnels, weave poles, tire jumps, seesaws, and pause tables where the dog must stop for a set amount of time," AKC explained.
During competitions, dogs run around courses designed specifically for that day, relying solely on their handlers' cues and body language to weave around.
All breeds can participate in agility so long as they have the right temperament.
"Is he highly energetic? Does he enjoy running and responding to instructions? Does he get along well with other dogs? If so, agility could be a great fit," AKC said.
'Go Zip!'
According to Rover, Zip was energetic and intelligent. However, her handler, Sue Cohen, thought the border collie was "retired for good" following her accident. But Zip wouldn't give up that easily.
"When [Cohen] brought Zip along while training one of her other dogs, she could see the light in Zip's eyes the moment the dogs started running. After all the dogs were done, Zip's family took all the poles down and let Zip run a flat version of the course, and she loved it," Rover reported.
In the video, an excited, wheelchair-bound Zip runs the course alongside Cohen. Though the poles have been taken down, Zip still manages to hop through each gate, prompting laughter from the audience.
"Go little rockstar," said the video's narrator.
Once Zip has completed the course, Zip runs over to Cohen as the entire audience bursts into applause.
Viewers React
Budziszewski's commenters said the video brought them to tears, and many applauded Zip's resilient spirit.
"Her spirit was never broken," Ashley said.
"This made me cry like crazy," Ladyandtheblues wrote. "Dogs are so resilient and pure."
"Aww I'm crying that was so precious," rara said.
"You can take the dog out of the show but you can't take the show out of the dog," We Live on Stolen Land commented.
Anchor086 added: "True Athlete. Never be broken. Awesome spirit."
Other Viral Animal Moments
Newsweek obtained hilarious footage on Friday that shows a deer's startled reaction to being spoken to by a woman communicating to her through a Ring doorbell camera. Also on Friday, a dog owner went viral after sharing a video of their black labrador retriever, Mr. Moose, splashing around a lake while wearing a life jacket.
And TikTokers melted over a touching video of a rescue cat accepting kisses from its owner.