Watch Service Dog Lola Reunite With Her Family After 3 Long Years
A Michigan family was reunited with their service dog who went missing three years ago.
Debra and Steven Mejeur of Kalamazoo, Michigan were visiting a friend in Illinois with their black Labrador Lola, who was trained to help Debra Mejeur in case of a seizure, in 2017. The dog was in a fenced yard in Elk Grove Village when the couple discovered their pet nowhere to be found. However, Lola made it back into her family's arms on Saturday at DuPage County Animal Services in Illinois.
"Reunited and it feels so good! Debra and Steven Mejeur from Kalamazoo, Mich., were reunited with long-lost Lola at DuPage Animal Services this morning. Lola went missing while the Mejeurs were visiting friends in Elk Grove Village in October 2017. Congrats to the family!" the DuPage County Twitter account wrote along with a video of the happy dog greeting her owners.
The Mejeurs spent months searching for their dog while she was missing, returning to Elk Grove Village several times to look for Lola, posting missing-dog notices around town and forming search teams with volunteers and friends. The couple even paid a professional pet searcher to hunt for Lola, but each search led to no results.
It wasn't until late December when officers in DuPage County were notified about a dog that resembled Lola by a couple that lived in Glendale Heights, Illinois. That couple occasionally spotted the black Lab walking into a forest preserve nearby years ago and began leaving dog food for her, eventually gaining Lola's trust. When they finally got the dog in their possession, a microchip was able to help them determine her owners.
Debra Mejuer told the Detroit News that she was "completely stunned" to be reunited with her dog after all this time. "I still had an ounce of hope, I guess, but the majority of me was thinking she had already crossed the rainbow bridge," she said.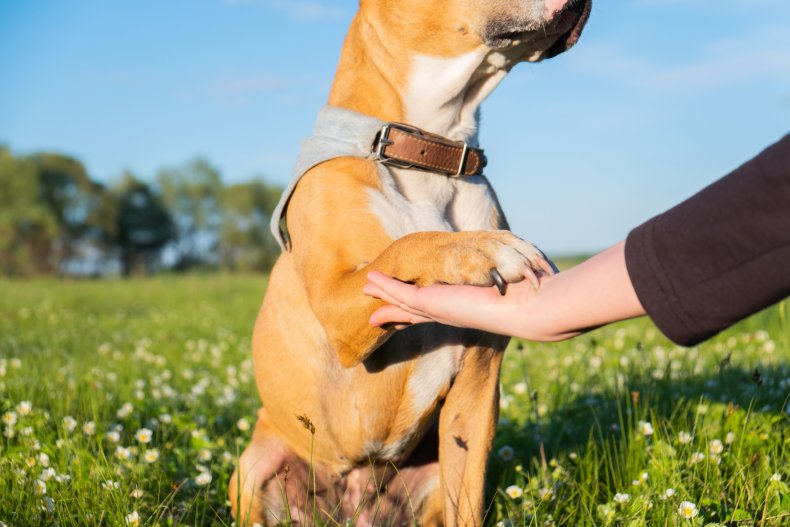 The video of the Mejeurs and Lola back together again spawned a lot of warm and fuzzy feelings from viewers on social media, who were equally shocked to see the couple reunited with their pet after three long years.
"I'm walking my own black lab, Jasper, through a park in CA and this popped up on my Google News feed?! I'm so happy for the reunited KZOO family w/their Lola, I'm crying tears of joy! Thank you for sharing this heartwarming story when everyone needs a win," one Twitter user wrote on Sunday.
Others were astonished that Lola managed to remember her owners after being separated from them for so long.
"Always amazes me how a dog can still recognize his/her owners after all these years! So happy for you guys!" one person tweeted.
Another wrote: "So happy to see them reunited with their long-lost pet!!!! After all, loyalty n love of animals is incomparable!!!"