The greatest scandal in NFL history—or at least the greatest involving the air pressure measurement of footballs—came to a head this week when the NFL upheld its four-game suspension of the New England Patriots' superstar quarterback, Tom Brady. It is alleged that Brady was involved or aware of efforts to deflate footballs in order to gain a competitive advantage in the AFC championship game in January.
Brady's denial and refusal to cooperate with investigators have caused the sudden besmirching of his once picture-perfect image, and they have led many people to speculate that he, or the Patriots organization, have been deflating balls for a while.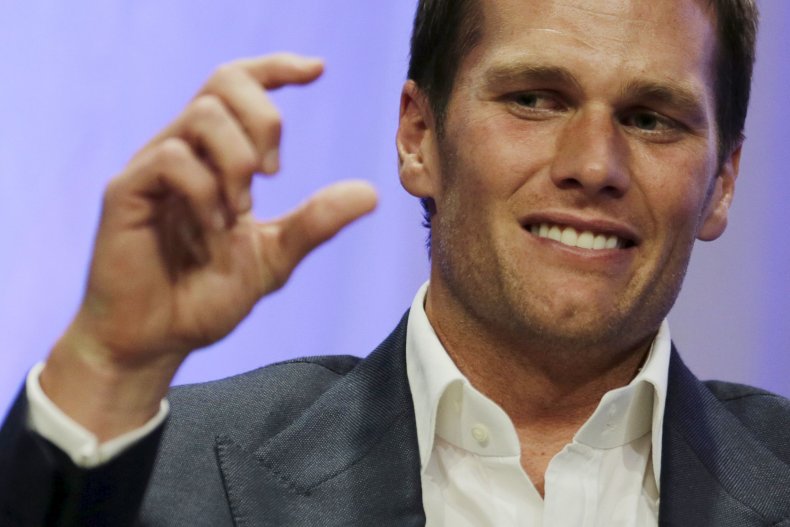 But Brady hasn't budged, and in the surreal landscape of a sports controversy, his various statements have resulted in some memorable moments. Here are, in Brady's own words, the myriad excuses for why he could not have been involved.
"Hahaha…I've Heard It All at This Point."
The morning after the AFC championship game, Brady, his teammates, the city of Boston, and droves of hungover New Englanders were still flying high after the Patriots' lopsided 45-7 victory over the Indianapolis Colts. As rumors about deflated footballs—first reported in the Indianapolis Star—began to circulate, Brady made his weekly appearance on The Dennis and Callahan Show, a Boston FM-radio program. When informed of the materializing allegations, Brady could be heard laughing over a rough phone connection, "I think I've heard it all at this point. Oh, God. It's ridiculous."
At the time, almost everyone in the sports world (especially in the Northeast) assumed that the controversy would dissolve by the end of the week—that is, until reports came out that 11 of the 12 Patriots' footballs used in the game were found to be significantly deflated. On the WEEI radio station website, host Gerry Callahan said, "They broke the rules, but it's a very minor rule. It's like stealing grapes in the produce section of the grocery store." At this stage, most fans agreed that deflating balls was—if anything—no worse than lifting grapes.
"I Don't Believe So"
Leading up to Super Bowl week, football fans were treated to a series of bizarre press conferences as the Patriots rushed to address the unfolding scandal. Speaking before reporters, Brady was asked straight up whether he was a cheater. "I don't believe so," he replied. He went on to say that he doesn't pay attention to the pressure or pliability of footballs.
"I get the snap, I drop back, I throw the ball," he said. "I don't sit there and try to squeeze it and determine that." To many sportswriters and talking heads, this explanation sounded like the equivalent of Stanley Kubrick not paying attention to what camera he was shooting with, Eric Clapton casually forgetting to tune his guitar or a wine sommelier failing to differentiate between a Cab Sav and a Pinot Noir. But at least it wasn't ISIS.
Brady and Peyton Manning were involved in negotiating a 2006 agreement that allowed NFL quarterbacks and teams to prep their footballs for game use during practice. But few people were even aware of air pressure rules before the scandal broke. So just before the biggest competition in the sport, the Super Bowl, the public suddenly learned that teams do not receive standardized equipment before kickoff; instead, they are free to scuff balls, put them in the dryer or rub them down with towels in order to achieve the desired texture and quality.
"I've handled dozens of balls over the past week," said Patriots coach Bill Belichick, defending his player. "The texture of the balls is very easy to identify. The pressure of the footballs is a whole different story. It's much more difficult to feel or identify." Belichick then backed up Brady during a press conference that resembled a science lecture, as he attempted to explain the ideal gas law to jocks.
"What Do You Guys Think?"
After the release of the Wells Report—the NFL investigation that determined it was "more probable than not" that Brady was "generally aware" that Patriots staff had intentionally deflated footballs—Brady made a previously scheduled stage appearance at Salem State University. That's Salem, Massachusetts, of course, not Salem, Oregon.
Brady told interviewer Jim Gray that the report had "absolutely not" detracted from the team's Super Bowl victory. Asked if the Super Bowl was now "tainted"—while students booed the notion—Brady smiled to the crowd, and asked "What do you guys think?"
Winning the Super Bowl did a lot to alleviate the pressure of the allegations. This is American football, after all. When it comes to shoplifting-level offenses, penalties are usually a matter of whether you get caught.
Does Brady Routinely Destroy His Cell Phones?
When the Wells Report led to a four-game suspension, Brady appealed the case to NFL Commissioner Roger Goodell. Goodell, according to The Boston Globe, said that Brady ordered his assistants to destroy his cellphone before he was interviewed by Wells. The allegation buttressed a general opinion among sports fans: that the cover up by Brady was worse than the actual crime.
According to the Globe's story, Brady testified during his hearing that he routinely destroys his phones and his SIM cards. The justification for this practice, presumably, would be to avoid leaked messages. Brady, after all, is a celebrity.
Lindsey Graham was not available for comment.
"I Did Nothing Wrong"
Wednesday, the day after the cellphone reports surfaced, Brady published a Facebook statement slamming the NFL. The statement read: "I replaced my broken Samsung phone with a new iPhone 6 AFTER my attorneys made it clear to the NFL that my actual phone device would not be subjected to investigation under ANY circumstances. "
The statement denied any intent to withhold evidence, but did not explicitly say whether the "phone device" in question—that is, the Samsung—was destroyed intentionally (per Brady's supposed personal protocol) or by accident.
Gisele Bundchen and 252,000 other people liked the post, which said "I did nothing wrong, and no one in the Patriots organization did either."
The issue will head to court just as New England's preseason training camp approaches. Hopefully the judicial system of the United States of America will finally resolve the curious case of Tom Brady's balls—and maybe lead fans to a real explanation.
Uncommon Knowledge
Newsweek is committed to challenging conventional wisdom and finding connections in the search for common ground.
Newsweek is committed to challenging conventional wisdom and finding connections in the search for common ground.
About the writer
Jack Martinez is a writer from Great Falls, Montana. He attended Stanford University, where he studied the Classics and received training in archaeology. He currently covers national politics for Newsweek.