Elderly Dog Abandoned at Airport as Owner Jets to Miami Finds New Home
A neglected Florida dog has found its forever home after being abandoned inside Tampa International Airport by its previous owner.
In November, Bama the dog was left at Tampa International Airport after his owner was told she didn't have sufficient paperwork to take him with her. According to police, she simply dropped Bama's leash and continued with her own travel to Miami.
"She left the counter and said she'd make other arrangements," Tampa Airport Police Chief Charlie Vazquez told Fox 13. "She came back but before she came back, she kind of dropped the leash and walked off, leaving the dog on his own in the airport."
"It's dangerous to leave a dog at the airport," he continued. "We have the doors that open and close; the dogs can go out there and get hit by cars, which has happened before. We don't want it to happen again. She should have found a reputable rescue group and contacted them."
Unlike Bama's owner, the airport did contact a rescue organization and enlisted the help of VIP Rescue. Corinn Smith responded to the call and attended the airport to help the shih tzu-mix.
Smith even made the decision to take in Bama herself, hoping to nurse him back to health from the neglected state he was left in.
"He was so scared and disoriented that he bit me several times. He was in so much pain from the large deep sores on his back and neck that were discovered once we got all of that matted hair. Now he's getting full body scratches and rubs where no doubt he has not been able to be touch in years due to the heavy matting," Smith told Newsweek.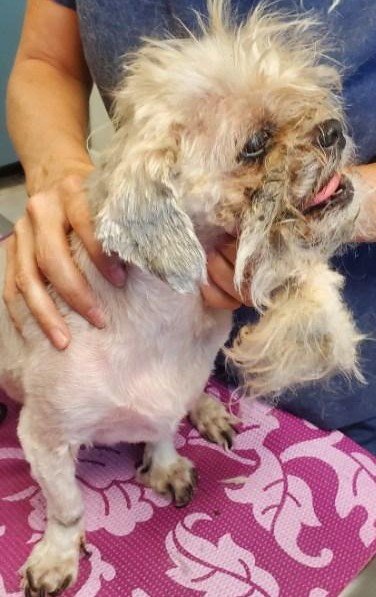 Bama while his matted fur was shaved off.
Corinn Smith
"We are treating the sores. I decided immediately upon seeing his poor condition that he suffering, he would be staying with us for the rest of his life. He's going to have some medical expenses and emotional trauma that is going to take a while to heal."
Bama was also discovered to have a severe heart murmur, a tumor on his back and several sores, plus "he was not housebroken," said Smith.
"Not many people are going to have patience with him so my pack of dogs are very good with new dogs of any situation. I wanted him to be taught by them how to trust and allow himself to feel safe, loved and cherished.
"My pups have shown him great tenderness and grace. He got to decide where he slept in the bed. They let him eat with them. He now kisses me and his tail wags when I approach him. He's still confused but we can love him through it and we will. He's a very funny, demanding, snorting guy."
Tampa International Airport Police said they have yet to find Bama's owner or file any charges, as she purchased a one-way ticket out of Tampa.
In November, another senior dog was rescued in a heartwarming story shared by Newsweek. Beagle Rusty had both eyes removed due to an ongoing eye condition, but was rescued just weeks later by a Pittsburgh family, despite fears he might struggle finding his forever home.
"The reason I adopted Rusty was he already had enough pain and grief in his life. Rusty was a senior dog with a disability and my heart would not let me leave him there so I adopted him right there. My family and I gave Rusty a new lease of life," owner Darrell Chulack told Newsweek.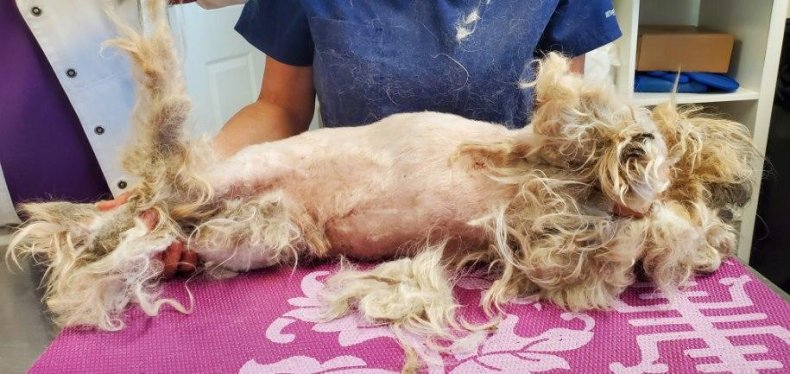 UPDATE 12/17/2021 at 3:57 a.m. ET: This article was updated to include comment from Corinn Smith.