Dog With Bite Wounds Hands Itself Into Rescue Shelter
A dog with bite wounds has handed itself into an animal shelter in South Africa, according to staff.
The Cape of Good Hope Society for the Prevention of Cruelty to Animals (SPCA), based in Cape Town, took the black dog named Rio in, and shared photos of him in a press release.
The shelter said that Rio had turned up unaccompanied without a human on January 14, seemingly seeking help on his own. Staff immediately took him in, fed him and secured him with a leash before attending to his injuries.
The Cape SPCA said they take in and process over 100 domestic animals such as Rio every month, meaning they treat well over a thousand pets a year.
Rio arrived without any identification and was not microchipped, the Cape SPCA said. Over 90 per cent of animals the shelter takes in arrive without any form of identification, making returning the animals to any former owners very difficult.
Consequently, they are currently urging pet owners in the area to get their animals microchipped, and currently provide this service.
Belinda Abraham, communications manager at the shelter, told Newsweek: "Rio had old bite wounds to his neck which had been left untreated and were infected... we suspect from another dog."
She said free roaming dogs are at a high risk of injury from many sources.
The shelter gave Rio immediate medical treatment, including antibiotics to help heal his bite wounds.
Shane Everts, senior strategist at the shelter, told Newsweek Rio has a "pleasant demeanor overall and our animal behaviorist has noted that he is showing some signs of fear, especially around other dogs or people at a fence which may be an indicator that Rio comes from a difficult past."
Abraham said: "The emotional scars often take a little longer to heal but he comes out of his shell a little more every day."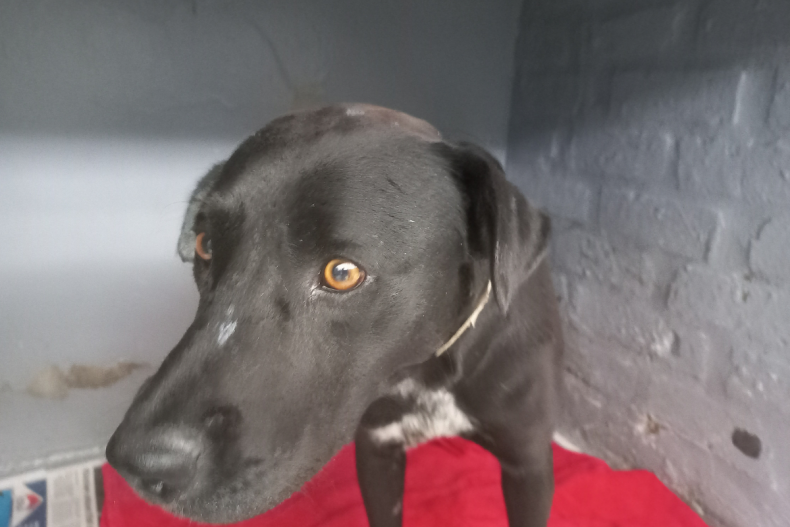 Everts said: "Bite wounds are quite a common occurrence at the Cape of Good Hope SPCA and we rank it under the top five surgeries performed daily.
"Fortunately, Rio's bite wounds were not as severe and he did not require surgical intervention. The bite wounds were cleaned and he was given antibiotics to prevent infection. Rio has made a full recovery."
The Cape SPCA said no one had turned up at the shelter to claim him since his arrival. The stray dog has passed behavior and clinical exams and was now among the other dogs they are hosting and putting up for adoption.