Dog the Bounty Hunter Claims Brian Laundrie's Parents Aided Escape
Duane "Dog the Bounty Hunter" Chapman joined in on the search for Brian Laundrie and the reality TV star has said he has had thousands of tips from members of the public.
The search for the missing Laundrie is continuing this week, with the FBI conducting a nationwide manhunt.
The 23-year-old has not been seen since leaving his parents' home almost two weeks ago.
Laundrie was named a "person of interest" in the disappearance of his girlfriend Gabby Petito, whose remains were found in Wyoming on September 19.
Chapman is now in hot pursuit of Laundrie and has shared that his recent findings took him to a Florida campground at Fort De Soto Park, where he alleges Laundrie and his parents, Chris and Roberta, entered in early September but only two of the party were seen leaving.
"They were registered, went through the gate. They're on camera. They were here," he told Fox News on Monday evening. "We think at least if he's not here right now, we are sure he was caught on camera as he went in the gate—that he was here for sure. Not over in the swamp."
Fort De Soto Park is located in Pinellas County in Florida and is about 75 miles away from the Laundries' home on Wabasso Avenue in North Port.
It spans more than 1,130 acres and consists of five keys.
Chapman later added: "Allegedly, what we're hearing, is two people left on the 8th. Three people came in on the 6th, and two people left on the 8th. I think he's been here for sure."
Attorney Steven Bertolino, who is representing Laundrie's parents, said that they are not aware of their son's whereabouts.
"They are concerned about Brian and hope the FBI can locate him," Bertolino said in a statement. "The speculation by the public and some in the press that the parents assisted Brian in leaving the family home or in avoiding arrest on a warrant that was issued after Brian had already been missing for several days is just wrong."
The lawyer said that any claims that his clients assisted in their son's escape are "just wrong."
Laundrie's mother called 911 on Chapman on Monday.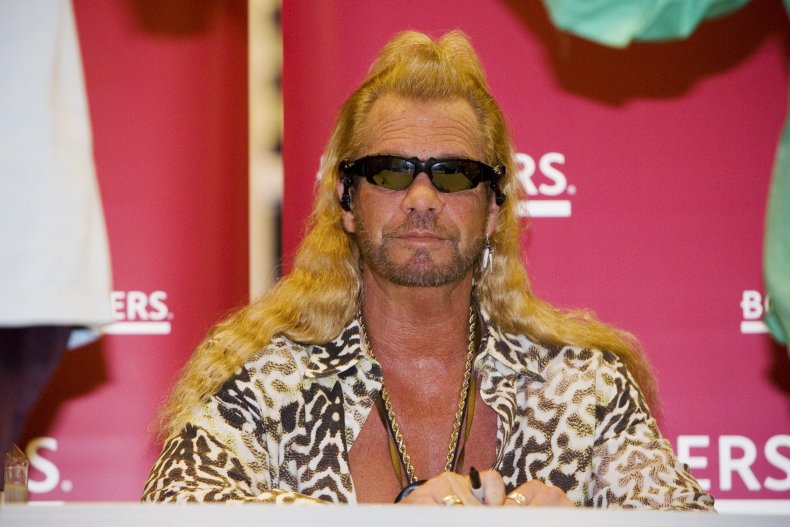 "It's a shame they wouldn't speak with us," Chapman said following this on Monday. "The police said we were welcome to knock on the door so we did. I wanted to tell the Laundries that our goal is to find Brian and bring him in alive."
Chapman spoke to Newsweek last week before he joined in on the search.
"He went straight home to tell his parents what happened. And then he took off. So we got to look at his background, look at his record, know, his friends, his family. He's not an experienced runner or criminal. Suicide is a very likely possibility—and it seems like he's kind of an outdoors kid," he said.
The TV personality also said when he searches for people, they often end up closer to home than expected.
Newsweek has contacted Dog the Bounty Hunter for the latest developments in his search for Brian Laundrie.
Chapman has his own anonymous tip line at 833-TELL-DOG for people who do not want to contact authorities directly.
Anyone with information on Laundrie's whereabouts is asked to contact the FBI at 1-800-CALL-FBI or 303-629-7171.
Newsweek has also contacted the Laundries' attorney for an updated statement.