Dog the Bounty Hunter Calls $1.3 Million Lawsuit 'Malicious and Bogus'
Dog the Bounty Hunter has called the lawsuit against him "malicious and bogus."
The reality television star—whose real name is Duane Chapman—is being sued by Michael Donovan, the president and CEO of Unleashed Entertainment, for a breach of contract in connection with his canceled TV show Dog Unleashed.
In court documents, seen by The Sun (and confirmed to Newsweek by Chapman's team), the bounty hunter is accused of making racist comments, using homophobic language and carrying an illegal taser while filming in Virginia.
The filing alleges that Chapman also used a taser to intimidate his way into someone's home.
Documents read: "Defendant is a disgraced reality TV star who was fired by Plaintiff after his company discovered that the Defendant had used racial epithets to attack Black teenage Black Lives Matter Activists.... Plaintiff's investigation into the allegations of racial epithets also uncovered illegal activity."
The lawsuit also alleges that the 68-year-old "illegally holstered and wore a taser device during filming in Virginia, which is illegal in the Commonwealth considering Chapman has been convicted of a violent crime."
Donovan released a statement confirming that Dog Unleashed was originally due to be released in April but that it was axed because of "actions taken by Mr. Chapman during the show's production that breach contractual agreements."
Chapman has refuted the claims made by Donovan and said he is confident the lawsuit will be dismissed.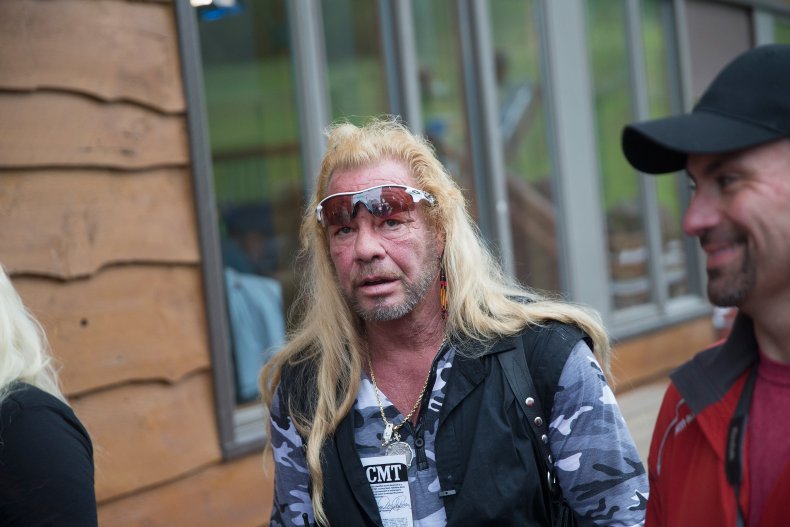 "The claims made against Dog Chapman by convicted felon Mike Donovan are malicious bogus claims without any merit," a representative for Chapman's legal team told Newsweek.
"The lawsuit is nothing more than a response to Dog refusing to enter into an agreement with Donovan and his business and becoming aware that besides Donovan's criminal background there were multiple active fraud investigations into his company Libre by Nexus from several state attorney generals.
"Dog is very confident that the fictional claims will be dismissed, and he then will pursue claims against Donovan for malicious prosecution."
Newsweek has reached out to Unleashed Entertainment for comment.
Chapman has been leading a high-profile search for Brian Laundrie—the fugitive who is wanted by the FBI as a person of interest in the death of his fiancée Gabby Petito.
The bounty hunter has since left the search due to an injury, it has been reported.
His daughter Lyssa Chapman confirmed that he has returned to Colorado to "handle some business," but his team is continuing the search in Florida.
"Dad is headed back to Colorado temporarily to handle some business. (Remember, he was in Florida on his honeymoon)," she tweeted. "We are still actively searching for #BrianLaundrie, leaving a team in place in Florida. As always, whatever I can share with you, I will."