Dog the Bounty Hunter Personally Adds $10K to Reward in Search for Brian Laundrie
Dog the Bounty Hunter has added money toward the reward for any information leading to Brian Laundrie's arrest.
A spokesperson for Duane "Dog" Chapman told Newsweek that the Chapman family has added $10,000 to the standing reward money, which stood at $170,000 before Chapman's contribution. Most of the funds have been donated by private individuals supporting Gabby Petito's family.
Petito went missing while on a road trip with Laundrie, her fiancé, last month. Laundrie, who returned to the couple's shared home in Florida without Petito, has also disappeared.
Two days after his family reported him missing, Petito's remains were discovered in Teton County, Wyoming.
Chapman, who starred in A&E's Dog the Bounty Hunter for eight seasons, joined the search for Laundrie last weekend while he and his wife were honeymooning not far from the Laundries' North Port, Florida, home.
Chapman's spokesperson told Newsweek he plans to be out in the field searching for Laundrie on Friday, accompanied by a plain-clothes police officer in cooperation with local law enforcement officials.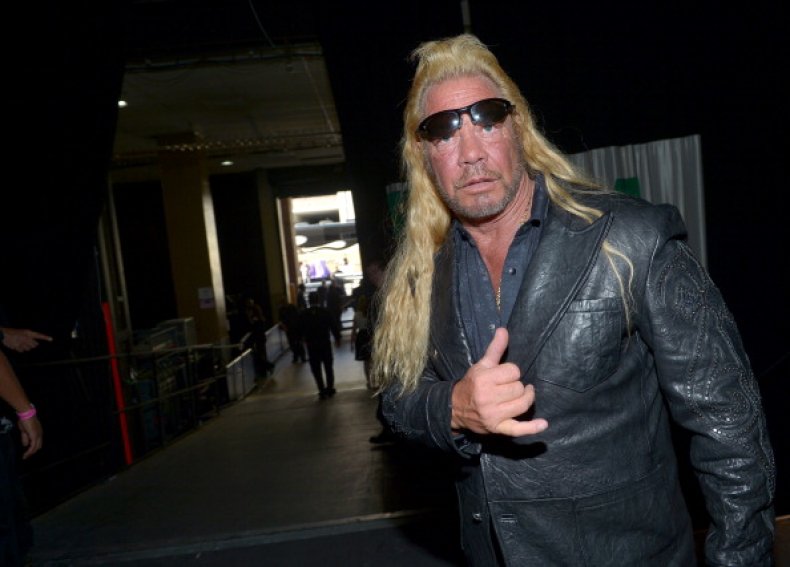 Chapman, who has set up a tips command center in Hawaii as well as a temporary headquarter in the Sarasota, Florida, area, recently received a tip that placed Laundrie's sister Cassie in Fort De Soto Park, the campground Laundrie traveled to with his parents, on September 6.
The tip, which was corroborated by the Laundrie family attorney on Friday, contradicts Cassie's previous statement, in which she maintained she had not spoken to her brother since he returned to Florida from his trip with Petito.
However, Laundrie was at Fort De Soto Park on the same day as his sister. The 23-year-old had been on a family camping trip with his parents from September 6 to 7.
Responding to criticism, Chapman has denied that he is involved in the national search efforts for publicity, saying that he does not care who brings Laundrie to law enforcement officials as long as he is apprehended.
"Whenever there is a case like this, people naturally send him messages and info because of his past track record as a bounty hunter," his spokesperson previously told Newsweek. "He and his wife, Francie, have been working tirelessly on all the leads pouring in and are glad to be able to help in some small way in the hopes that Brian Laundrie can be located."
Petito's family has called on Laundrie, who is the only person of interest in his fianceé's death, to turn himself in to the FBI.