Dog the Bounty Hunter has confirmed his team is following new Brian Laundrie leads after the reality TV star left the search due to injury.
The bounty hunter—real name Duane Chapman—has been leading a high-profile search for the missing 23-year-old, who is wanted by the FBI and is a person of interest in the death of his fiancée Gabby Petito.
A police search is still ongoing for Laundrie in Carlton Reserve near his family home in North Port, Florida. However, authorities said they have yet to find any evidence of the man, who was last seen by his family on September 13 after returning alone from his cross-country trip with Petito.
A spokesperson for Chapman confirmed that his daughter Lyssa Chapman is now taking the lead on the search in Florida.
"Dog's command center team led by Lyssa Chapman and Greg Zecca continue to assist in managing the search logistics and researching leads from Hawaii and Colorado, respectively," a spokesperson told Newsweek.
The bounty hunter has also confirmed that a broken ankle is the injury that cut short his search for Laundrie.
"Dog has not ended his search for Brian Laundrie," his spokesperson continued. "Dog and Francie Chapman need to attend to a variety of matters at home in Colorado, including Dog's ankle injury which occurred during the search.
"There is still a group of investigators working with Dog who remain in Florida and are researching regional tips."
They added: "Dog's tip line, 833-TELLDOG, is still active. Dog and the team will continue to search until Brian Laundrie is found."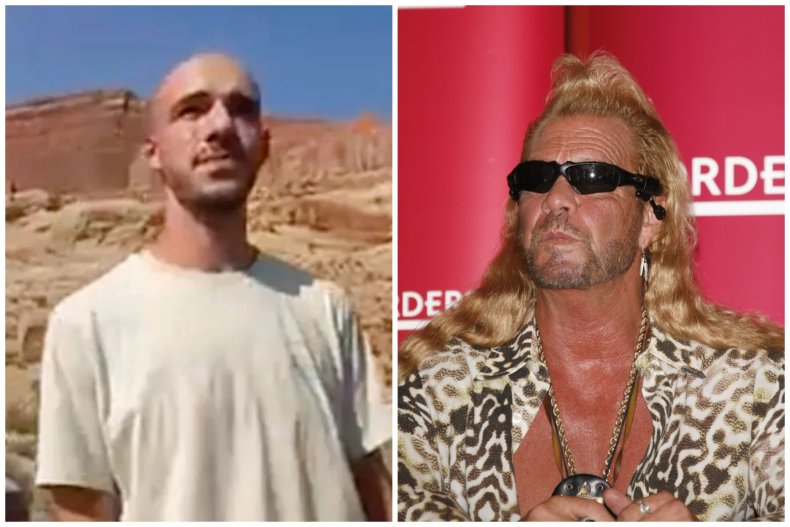 Lyssa Chapman confirmed that she was remaining on the search in tweets over the weekend.
"We are still actively searching for #BrianLaundrie, leaving a team in place in Florida. As always, whatever I can share with you, I will," she said.
The fugitive's survival is now being considered unlikely as the search enters its fourth week.
The coroner in Wyoming who performed the autopsy on Gabby Petito is set to hold a news conference today to discuss the post-mortem results.
The 22-year-old's remains were found in Bridger-Teton National Forest in Wyoming on September 19.
Dr. Brent Blue, the coroner of Teton County is expected to include a cause of death in his announcement to reporters and law enforcement.
Laundrie has not been charged for anything related to homicide at present, however, there is a federal arrest warrant against him for debit card fraud.