Dog The Bounty Hunter Unaware Producers Pitched Show Amid Brian Laundrie Search
Dog the Bounty Hunter was reportedly unaware that his show producers were pitching a new series amid his search for Gabby Petito's missing fiancé Brian Laundrie.
A spokesperson for Duane "Dog" Chapman told Newsweek the reality TV star did not know that Thinkfactory Media had revealed to the press on Wednesday that producers are shopping around a new show focused on Chapman's day-to-day life, which could include his current expedition to find Laundrie.
"Dog is not spending any time thinking about his next show—his team handles that for him. Instead, he's focused on apprehending a fugitive," Champan's spokeswoman said, adding that the show has been in the works for months without the bounty hunter's direct involvement.
Authorities continue to search for Laundrie, whose family reported him missing on September 17—two days before Petito's remains were discovered in Teton County, Wyoming.
The couple had been on a cross-country road trip together, but Laundrie returned to their shared Florida home without Petito. Laundrie is the sole person of interest in his fiancé's death, which has been ruled a homicide.
Chapman, who starred in A&E's Dog the Bounty Hunter for eight seasons, was spotted knocking on the door of Laundrie's parents' home in North Port, Florida on Saturday afternoon.
He has also posted videos to social media of his search, including one in which he said his search was in "a key area based on the intelligence we are receiving and researching."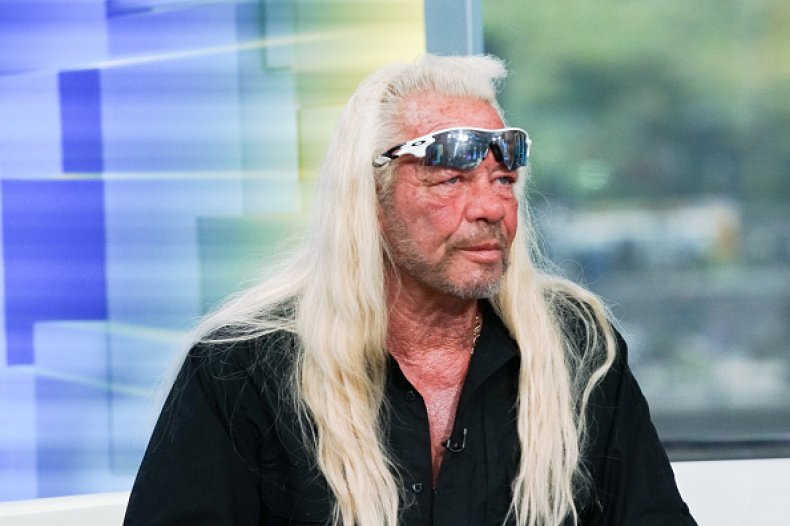 Chapman's team said he became involved in the case at his own expense, even interrupting his own honeymoon, and joined the national hunt for Laundrie in hopes of bringing closure to the case.
"He felt so much empathy for the Petito family, having lost a daughter about Gabby's age years ago," his spokesperson said.
"He and his wife, Francie, have been working tirelessly on all the leads pouring in and are glad to be able to help in some small way in the hopes that Brian Laundrie can be located," she added.
Members of the public have been known to send messages and information to Champan when there are cases like Petito's, due to his fame as a bounty hunter.
A federal court in Wyoming has issued an arrest warrant for Laundrie in relation to a grand jury indictment for his "activities following the death of Gabrielle Petito."
"While this warrant allows law enforcement to arrest Mr. Laundrie, the FBI and our partners across the country continue to investigate the facts and circumstances of Ms. Petito's homicide," Special Agent in Charge Michael Schneider said in a September 23 statement. "We urge individuals with knowledge of Mr. Laundrie's role in this matter or his current whereabouts to contact the FBI."
Chapman is running his own tips command center from Hawaii and has also set up a temporary headquarters in the Sarasota area while he follows other leads on Laundrie's whereabouts.
"This has been a very different search," Chapman said in a statement on Wednesday. "Social media has enabled us to do this alongside everyone out there. America is along for the journey with us and I'm ready to do more!"
Update - 9/30/21 10:45 AM ET - This story has been updated with additional comments from Chapman's spokesperson.