Dog the Bounty Hunter Will Stay in Florida to Help With Brian Laundrie Search Despite Injury
Duane "Dog the Bounty Hunter" Chapman has announced plans to remain in Florida to continue his search for Brian Laundrie despite recently injuring his ankle.
It was announced that Chapman would be returning home to Colorado due to the injury on Sunday, with the reality TV star's daughter Lyssa Chapman tweeting that her father was "headed back to Colorado temporarily to handle some business." However, on Tuesday "Dog" himself told WFLA-TV that he had a "change of plans and couldn't bring himself to leave" Florida.
Chapman said that he would continue the search for Laundrie from the Sunshine State. A short time earlier, a spokesperson for Chapman told Newsweek that his daughter Lyssa and team member Greg Zecca would be "managing the search logistics and researching leads from Hawaii and Colorado, respectively," while Chapman "had not ended" the search for Laundrie despite his plans to return home.
Laundrie, who disappeared from his Florida home last month, is wanted for questioning over the murder of his girlfriend Gabby Petito. A warrant for Laundrie's arrest has also been issued, reportedly based on charges that he fraudulently spent at least $1,000 using Petito's debit card on August 30 or September 1.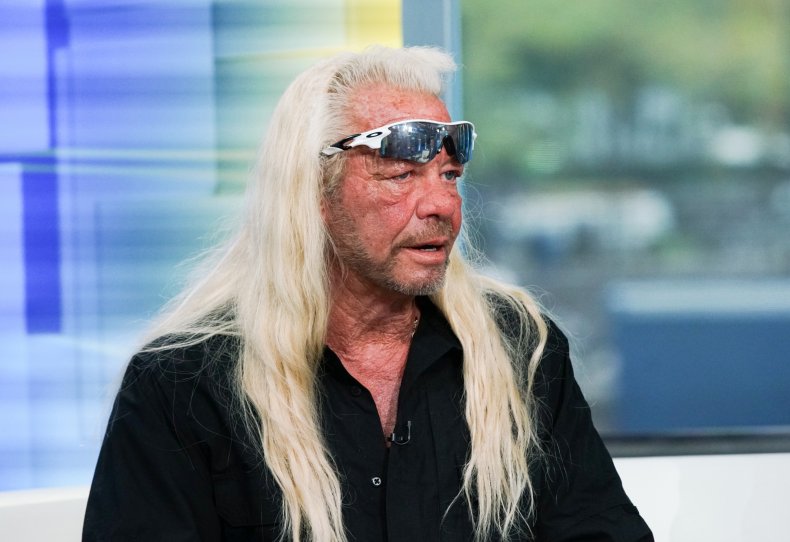 Petito's family lost contact with her in late August, while she and Laundrie were on a months-long road trip in her van. Laundrie returned to his Florida family home the van on September 1, with Petito being reported missing by her family 10 days later. Her body was discovered in Wyoming days after Laundrie went missing in Florida.
Chapman urged Laundrie to "turn himself in" during his WFLA interview, while accusing his family of having "aided and abetted a murderer" and noting that a Teton County, Wyoming coroner had determined that Petito's death was a homicide caused by strangulation on Tuesday.
"The coroner's report isn't good for the entire Laundrie family," Chapman said. "Brian's only chance is to turn himself in. He cannot run forever. The Laundries have stonewalled Gabby's family because they knew what Brian had done. And it looks like they've helped him run. And now it seems like, based on the report coupled with their behavior, they have more than likely acted and aided and abetted a murderer."
"Strangulation is not an accident," he added. "It looks very bad right now for the Laundrie family. Brian: make a deal and turn yourself in right now."
The FBI and Florida police are continuing the official investigation and search for Laundrie while Chapman and his team push forward with their independent investigation. Authorities have focused their search on the Carlton Reserve due to Laundrie's car being discovered in the area shortly after his disappearance.
Since Laundrie has been missing for nearly a month, some experts have expressed doubts that he is still alive due to the survival skills needed to weather the Carlton Reserve for an extended period. Chapman and others have speculated that he is hiding somewhere else, likely with outside help.
Chapman's decision to launch an unofficial investigation into Laundrie's disappearance has been heavily criticized, with his estranged daughter Cecily Chapman deeming the search a "publicity stunt" and others expressing concerns that the reality star could interfere with or hinder the official investigation.
Newsweek reached out to the FBI for comment.