Dog Breaks Window When Delivery Driver Leaves Package in Viral Video
A home security camera captured the moment that a dog broke a window just after a FedEx delivery driver placed a package by the front door of a house. Comments were split under the video, which was viewed on TikTok more than 1 million times.
The video, which was posted to Britney Harper's TikTok account @britneyharper859, opens just as the delivery driver put the package next to the front door. A barking dog is heard off-camera, and just as he started to walk away after knocking on the door, the window shattered.
"Godd**n!" the delivery employee exclaimed, covering the side of his face. He paused to turn around and saw the broken window.
A dog continued to bark off-camera and the uninjured delivery employee continued down the driveway, glancing back at the house before the video ended.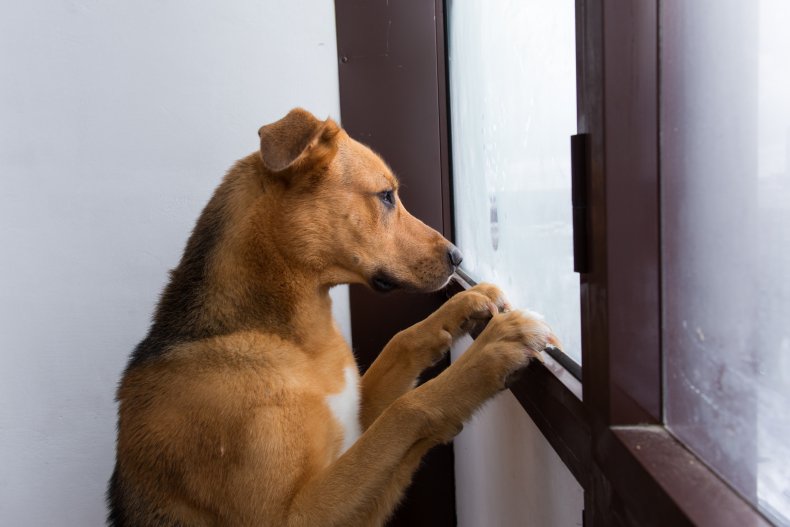 "As a dog owner, I am embarrassed that dog isn't trained better than that," commented TikTok user Lynn Terri. "They should have a no delivery list for houses like this."
Other commenters echoed the sentiment.
"Omg the glass literally hit all over that man smh," wrote Victoria Moon. "I understand accidents happen but he can sue if glass had gotten on his eyes or something."
Shawna Hull wrote it was not safe for the delivery employee, noting the situation could have been much more serious. Liz Stasieczko wrote it also wasn't safe for the dog.
According to the Animal Legal Defense Fund, a pet owner may be sued if their dog bites a person or attacks another animal.
The law may vary in different areas, but the person who was attacked may be able to file a complaint to declare the dog dangerous.
While many commenters shared their concern, others were less worried.
"Y'all always see part of it and assume the WORST, if that dog wanted to cause harm he would've jumped right out of that window after it broke," Kayla commented.
Haley Berliner suggested the window breaking may have been an accident.
"He could have easily got over excited and his paw hit the window in just the right way for it to break," the TikTok user wrote.
In a follow-up video, Harper explained that the FedEx delivery driver, Tim, told his manager, who then notified her that her dog, Gus, broke the window but was still in the house.
"We have very old windows, they're old, they're thin, they're single-pane," Harper said. "I'm not very surprised because he's a very strong dog."
She continued and said Gus is not aggressive, but when the family is not home, he "protects" the house.
Following the incident, Harper said she spoke with Tim, who was not hurt, though he was worried about Gus. She noted the only injury Gus suffered was a small cut on his leg.
Viewers of the latest update were relieved to hear both Gus and Tim were not hurt.
"Poor baby didn't mean to break the window," haely_eileen commented. "Also s/o to tim for making sure Gus didn't get out or wasn't hurt."
According to a statement sent to Newsweek, the safety of FedEx employees is the company's highest priority.
"Couriers and service providers are encouraged to operate as safely as possible when making deliveries, which includes remaining aware of their surroundings and using discretion to avoid potentially harmful situations," a spokesperson said.
Newsweek reached out to Britney Harper for comment.