'Unconditional Love': Dog and Cat That Are Best Friends Melt Hearts Online
A video of a cat and dog who are best friends has melted hearts online after going viral on TikTok.
Shared a week ago on the popular video-sharing app, Lee Babirad—who uses the handle heyitslee_bekind—posted the adorable clip showing her cat Twig and dog Meadow curled up together on the couch.
The text overlay reads: "I took Meadow to pick out a kitten the day after my service dog passed in 2020. I'm glad I did. These two have been best friends ever since."
Meadow—a 3-year-old German shepherd and coonhound cross—and Twig a 1-year-old Russian Blue/Gray Tuxedo cat—live in Buffalo, New York. Babirad took Meadow to pick out her new friend in July 2020.
Dog training site Clicker Training says that these friendships between cats and dogs aren't that unusual. They report: "Even though they differ in some major areas, there are other areas where cats and dogs are similar. A dog and cat may develop a close friendship, sharing a bed, eating each other's food and playing together."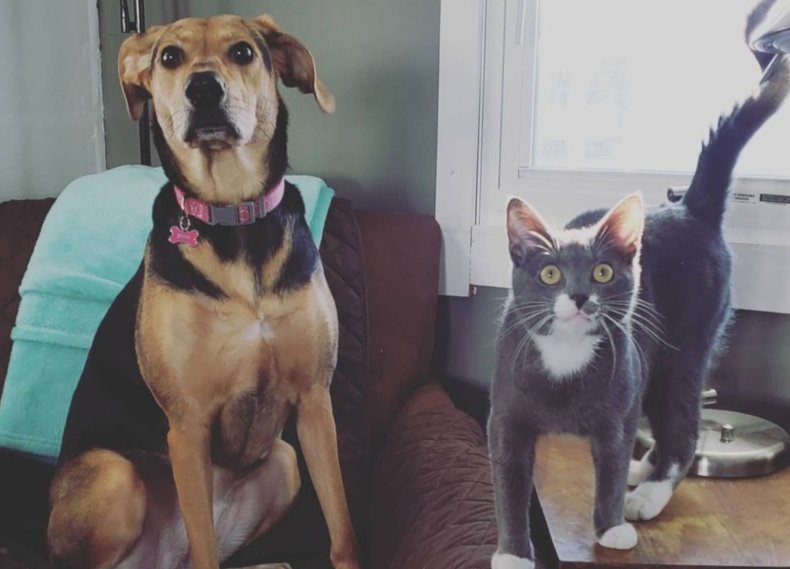 With more than 3.3 million views and thousands of likes and comments, TikTok users were overjoyed by the video.
One commenter wrote: "Amazing. The love they have for each other is amazing. If only people could be like this, the world would be a better place."
Another commenter said: "Well my heart just melted," and one viewer wrote: "They obviously very much needed each other!"
In the video, Meadow the dog has her paw over Twig the cat, who is patting and licking her canine friend.
Babirad told Newsweek: "Sharing with others what I get to experience while watching Meadow and Twig is a priceless gift. Love and kindness is my jam, but these two take it up a few notches."
"I have the urge to go watch Homeward Bound now," wrote one TikToker.
On the TikTok account heyitslee_bekind, the pet owner shares other feel-good videos of the best friends, including the pair eating together, playing and being "best furiends."
​​A recent study by the American Pet Products Association (APPA) found that 69 million households in the U.S. own at least one dog—making them the most widely owned pet across the country. Cats were the second most popular pet, with around 45.3 million households reporting having a feline friend.
A nation of pet lovers, in 2021 around 70 percent of American households owned a pet— an increase of approximately 25 percent since 1988, according to the APPA.
The heartwarming video has spread happiness as the views increase on TikTok. One user commented: "Isn't this what the world needs more of, unconditional love."
While another viewer said: "Wow, animals love without boundaries or restrictions."
"I'm super-blessed to have Meadow and Twig," said Babirad: "It's encouraging to have platforms like these to share their love with others."
These pet friends aren't the only ones to capture hearts online.
Another dog cuddling up to his feline companion has received lots of love this week. The dog called Sarge and orange cat Conan went viral on TikTok, receiving over 2.4 million views as the pets cozied up for a cuddle.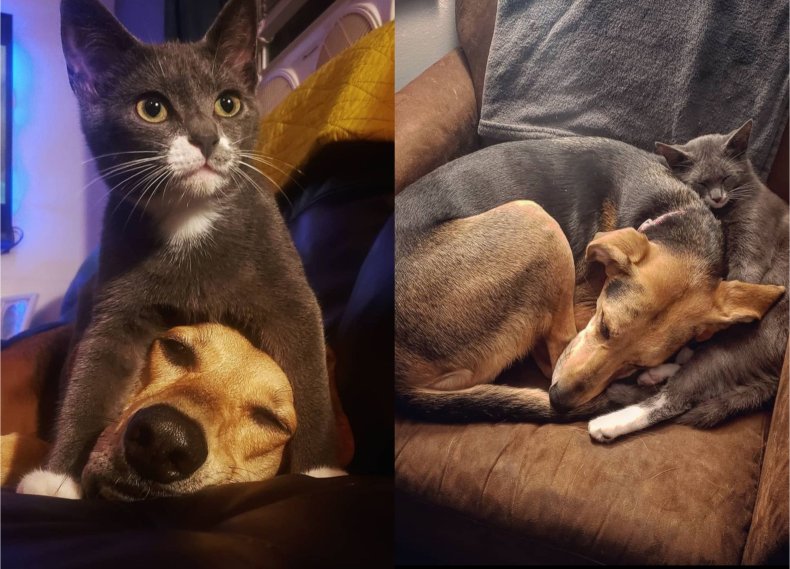 UPDATE 04/08/22 at 5:15 a.m. ET: This article was updated with new images, video and comments from the poster.