'My Dog Is a World Famous Surfer'
I specialize in the training of neonatal puppies from birth to eight weeks of age while their brains are still developing. I started my non-profit for this work, Puppy Prodigies, in 2006 and in 2008, a golden retriever named Josie came to me while she was still pregnant. I knew there were going to be ten puppies because we had done an ultrasound and I was planning to keep a female puppy to train for Puppy Prodigies. When we got to the 9th puppy, there were only a couple girls, so I turned to Josie and said, "OK, Josie, let's make the next one a girl with a patch of white fur on her chest." It was just a comment that popped into my head at that moment. But the next puppy that was born was a girl with a patch of white fur on her chest. I kept that puppy and named her Ricochet.
Ricochet is 13 and a half years old now and we've been together since she took her first breath in my hands. The initial plan was to train her to be a service dog for someone with a physical disability. She was brilliant at first, and then somewhere around 14 to 16 weeks she shut down; she wasn't interested in training anymore. In addition, she developed a propensity for chasing birds. That was a big issue because she couldn't do that if she were placed with a person with a disability.
In the meantime, when Ricochet was eight weeks old, we learned that she had really great balance on a boogie board. We worked up from her "surfing" in a kid's pool to the ocean. A water handler takes her out into the waves on a surfboard and then pushes her into the wave which she rides to shore. Back in 2009, she would surf, but then get distracted by birds and chase them.
Then, when Ricochet was 15 months old, we planned a fundraiser to help a young boy named Patrick who is quadriplegic. He was 15 at the time and is an adaptive surfer, so my idea was that the two of them could surf side-by-side to show what they had in common. They rode a couple of waves like that, and then at one point Ricochet jumped off her board and onto Patrick's board. It was her idea to surf with him!
It was like Ricochet was born again in that water that day. All of a sudden, she was so enthusiastic. It was almost like she was saying: "This is what I'm here to do." That fundraiser was extremely successful and is where it all started. From that moment I decided to listen to Ricochet and let her do what she wanted to do.
Dog surfing started here in California as a fun way for an animal shelter to raise funds. Then, over time, it grew into a competitive sport with some very skilled dog surfers.
I never really planned for Ricochet to compete, but a contest was taking place locally and the organizers had heard about her and invited her to take part. I thought it would be good exposure for the therapy work she also did. She actually came in third place that day.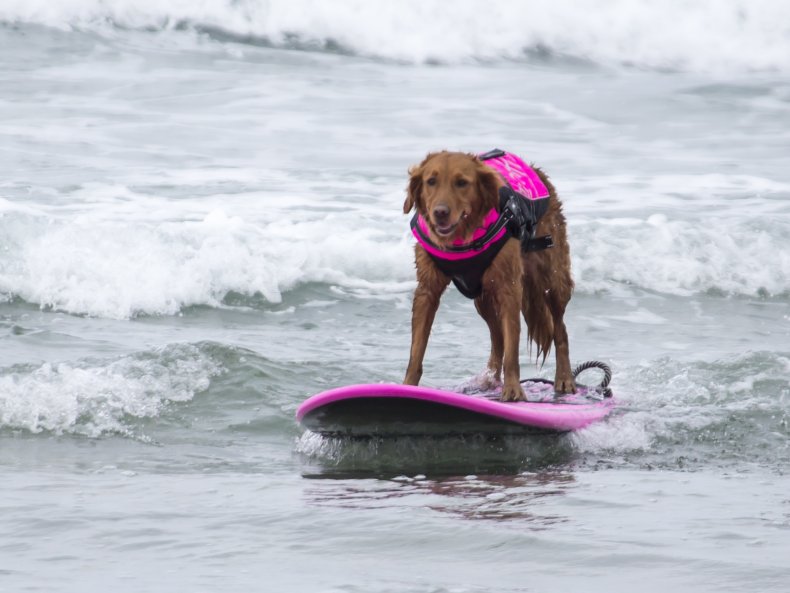 After that, we kept entering contests and Ricochet became one of the first competitive surf dogs in California—and probably in the world—at that time. Shortly after the first contest, she won first place at another event, and I remember it being really exciting. She always ended up placing either first, second or third after that. She even surfed with a surfing baby goat that lived about five hours from where we live and has also surfed with professional surfers like Rob Machado. It was the first and only time she laid down on a board. Every other time she stands because she knows she's responsible for whoever is on board with her.
But after a while, the therapy work and competitive work didn't jive well together for me, so I decided to stop competing and just focus on Ricochet's therapy work. She retired from competitive surfing in 2014 after winning first place, so we went out on a high.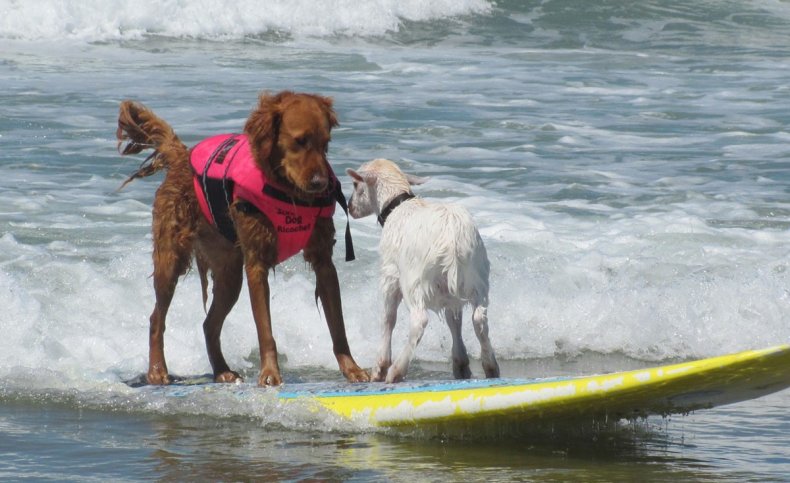 Now, she just surfs with kids who have special needs and people with disabilities. She also works with veterans and service members. She balances boards, and lives! Ricochet has been a certified therapy dog since she was 18 months old and has been doing therapy work with various organizations here in California since then.
We started working with active duty service members, who have PTSD or other trauma in 2012 through Pawsitive Teams' Canine Inspired Community Reintegration (CICR) program. It's a six week program that lasts two hours a week. The dogs help these service members get out into the community and be around people.
What I noticed happening with Ricochet was that she would alert to their triggers, anxiety and pain. The way she alerted was to stop and not move, which I call "planting." I'm not told anything about the service members or veterans she works with, so when she was alerting like this, I asked the individual questions based on Ricochet's behavior. If they didn't want to answer them, they didn't have to. But if they did, it would typically validate what Ricochet was telling me through her behavior. Ricochet seems to have an ability to reach deep inside a person's soul and pick up on their trauma.
Unfortunately, COVID-19 stopped that program and it has only just now started up again. But it's our favorite; I'm always learning and Ricochet is healing people and helping them recover.
Ricochet also works with a lot of kids with special needs and kids with autism at an autism surf camp. Kids with autism can need a lot of supervision, but when they're on the board with Ricochet it's just them and her, because Ricochet can counterbalance the board. I see that the kids are really empowered by it. When they come back to shore, I always say, "thank you for teaching my dog how to surf" to reinforce that feeling of empowerment.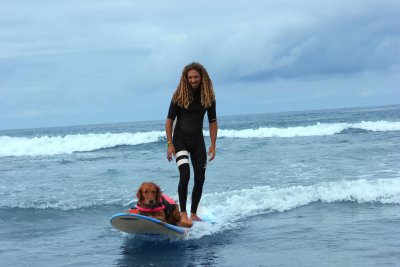 Ricochet worked with a boy with autism for a while, so she knew him quite well and one day, somebody took a slow-motion video of them surfing. Often kids with autism don't make much eye contact, but in the slow-mo video, the boy and Ricochet jumped off the board at the shore and Ricochet turned to look at him and didn't look away until he made one second of eye contact. Then, and only then did she run to the beach knowing he was ok.
Outside of her therapy work, her favorite game is lure coursing, which is chasing a plastic bag around a course. She's very chase oriented and loves squirrels and any little critter; she can sit and watch them for hours. But with the work she does, she takes on a lot of negativity and I think her way of releasing that is digging, so my yard is full of holes.
I never used to take any credit for what Ricochet does but over the years I have realized that we couldn't do what we do without each other. We're a team and we share a passion for helping people. It's more than love, it's a relationship that is very unique and powerful.
Ricochet will probably be doing this work until her last breath. But, if she tells me she doesn't want to do it anymore, we'll stop. However, I don't think she'll want to, it's just who she is and what she loves.
Judy Fridono lives and works in San Diego, California with Ricochet and her other dogs, Cori and service dog in training, Balboa. You can find out more about Ricochet and the therapy dog work she does at surfdogricochet.com or on Instagram @SurfDogRicochet and Facebook @SurfDogRicochet.
All views expressed in this article are the author's own.
As told to Jenny Haward.