Dog Chills Out With Relaxing Massage in Adorable Video
If you are feeling stressed out, this video of a little dog relaxing to the max may be just what you need to view.
In footage, posted to TikTok by Hannah Cassidy, known online as Softblond, we can see her performing a massage on her sweet Jack Russell Terrier, whose name is Turtle.
The video is stitched on to a clip of veterinarian Dr. Adam Christman, whose account name is dr.adamchristman52, explaining, "I am going to show you the number 1 place to massage your dog, guaranteed to work. They are going to love this."
The camera then cuts to the animal lying on her back on some white pillows, as Cassidy, who is based in Los Angeles, pushes her thumbs into Turtle's chest, and her fingers around her shoulders.
Her manicured fingers are moving in circular motions.
The adorable clip which was posted on July 10, is captioned: "I think the @dr.adamchristman52 technique works. #dogmassage #hernameisturtle."
The video, which can be viewed here, has so far been viewed a whopping 8.5 million times and received more than 1.9 million likes.
Cassidy told Newsweek: "I adopted Turtle (who came with that name) about four years ago thinking she would be an energetic companion to my older lab—I was very wrong. She naps, cuddles, lounges, and loves being touched or held.
"I tried out the massage technique out of curiosity and since she was already laying next to me, but could never have expected the response.
"I've always felt Turtle could be a star, so maybe this is her 15 minutes (or more) of fame. I'm still waiting for her to pay her share of the rent though..."
Many people flooded the comments section with their thoughts on the funny clip.
One TikTok user, Kitsunia_chan, wrote: "My dog almost fell asleep until I stopped then they growled at me and was mad for the rest of the day."
Another person, Bobblack Ross, added: "Your dog fell into the abyss and he likes it."
Christina Cavazos typed: "I started doing that when my pup is bein crazy and its the only way to calm him down."
Cameron Cool joked: "People need to stop making these videos. My wife keeps sending me them saying 'why don't you do this to me' I'm like I doooo just not that often."
NanCanHol stated: "Exactly the face I make when I get massage."
Tatania revealed: "Just did it and I think I paralyzed my dog."
Komiics.art commented: "I always do this with my aunt's dog and she falls asleep after two seconds."
To all the positive messages, Cassidy responded: "Omg thank you for all the love! Turtle is a sweet little nugget who sleeps all day, cuddles all night, and might be from another planet."
The American Kennel Club recommend massaging your pet pooch, writing on its site: "Massage may reduce stress and anxiety, increase circulation, decrease pain, and strengthen the bond between you and your dog.
"Also, it can help to identify new growths at an early stage. The best part? You don't even have to leave the couch."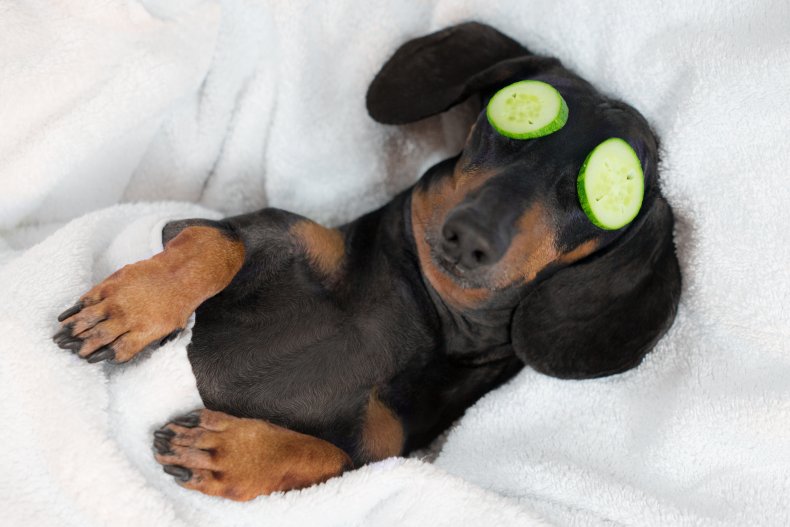 Update 7/16/2021, 2:52 a.m. ET: This article was updated to include quotes from Hannah Cassidy.