Family Blames FedEx Delivery Driver for Pet Dog's Death After Package Tossed Into Backyard Fatally Injures Animal
A family said their beloved pet dog had to be euthanized after he was crushed by a package tossed over a fence by a FedEx delivery driver.
Keiko Napier and Mitchell Galin told CBS Los Angeles that Cooper, their Yorkshire Terrier, had been been sunbathing in the backyard of their home in Venice, California, recently.
They said a FedEx delivery driver threw a large package over a fence outside their home. The package, landed on Cooper, who weighed just 4 pounds.
Galin said Cooper was rushed to the vet after he picked up the package and found the tiny dog lying in a pool of blood. "So I immediately picked up the box and Cooper was in a puddle of blood," Galin said to CBS Los Angeles.
Newsweek subscription offers >
The vet told the couple that Cooper had sustained severe injuries to his lungs and liver, Inside Edition reported. As a result of his serious injuries, the couple opted to have Cooper euthanized.
"We've just had a horrible weekend," Napier told CBS Los Angeles. "It was painful to watch your dog in pain," Galin added.
Napier and Galin urged FedEx to implement a policy that bans the company's drivers from taking shortcuts during deliveries and throwing packages.
Napier said the couple and their family members, including their grandchild, often play in the yard outside their home. The package could have struck them and caused "very severe damage," she said.
Newsweek subscription offers >
According to Inside Edition, the package that struck Cooper had contained a heavy glass bowl and a Scrabble set.
FedEx said it is working with the couple to address their concerns and would cover the vet's bills.
"We extend our deepest sympathies to Ms. Napier and Mr. Galin regarding the recent loss of their beloved dog Cooper," the company said in a statement to Newsweek. "FedEx Ground understands the importance of people's pets in their lives and deeply regrets the pain that this has caused the family."
The statement added: "We are working directly with those involved to address concerns, including covering Cooper's veterinary bills. The security of our customers' shipments is a top priority and all service providers contractually agree to handle packages with the utmost care."
The company added that it is continuing to review the circumstances around the incident and are "committed to taking the appropriate action to prevent this from happening again."
Newsweek has contacted Napier for further comment.
Update: This article has been updated to include a statement from FedEx.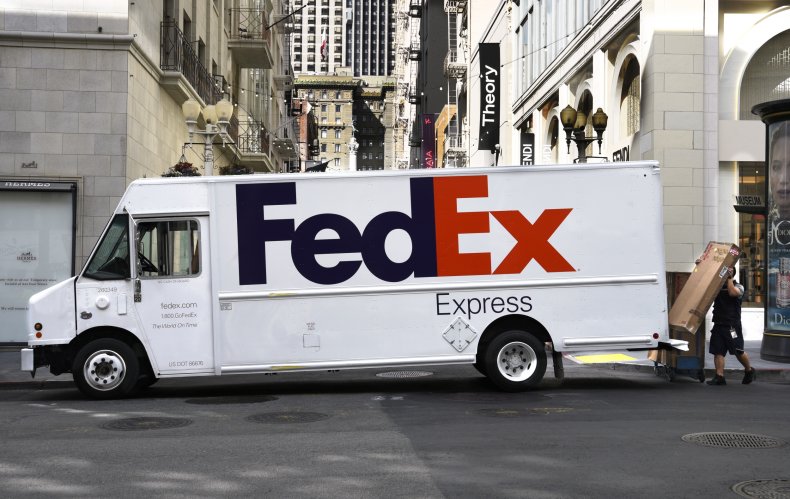 Family Blames FedEx Delivery Driver for Pet Dog's Death After Package Tossed Into Backyard Fatally Injures Animal | U.S.