Dog Dies After Being Buried Alive in Heartbreaking Abuse Case
Volunteers at Detroit Pit Crew Rescue were contacted by Detroit Animal Control on Friday after the latter picked up a dog found in a horrifying situation.
The dog had been discovered buried alive by his owner when a neighbor noticed the animal's nose poking out of the ground and rushed to dig him out.
"I woke up to go to the bathroom and I heard the dog yelping and crying, I checked both basements, I don't see anything," the neighbor told Fox 2 Detroit. When the cries did not stop, she rushed outside to take a look. "The second time around I see the ground moving, and I see his little nose poking out, I started digging at the ground," she said.
In a post on its Facebook page, the Detroit Pit Crew Rescue explained that the owner's reasoning for burying their dog was that he was sick.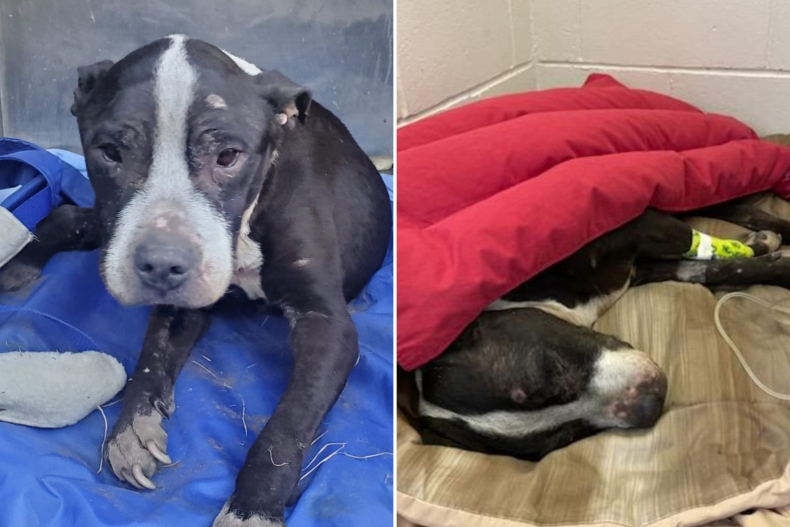 The rescue team named the dog Ghost. Cold, lethargic, and not able to stand or walk, he was rushed to an emergency veterinary hospital where staff worked hard overnight to try and save his life.
Theresa Sumpter, executive director of Detroit Pit Crew Dog Rescue, told Newsweek: "The dog was originally picked up by Detroit Animal Control [DAC] after a resident called them to report that she had found a dog buried alive. After DAC officers picked up the dog, they immediately turned him over to us for care and we rushed him to an emergency veterinary hospital where veterinarians worked hard overnight to try to save him. Sadly, his condition was continuing to worsen so we had to make the difficult decision to have him euthanized."
The Humane Society of the United States previously reported that intentional cruelty to animals is strongly correlated with other crimes, including violence against people. Meanwhile, surveys suggest that animals whose abuse is most often reported are dogs, cats, horses, and livestock.
Detroit Pit Crew Rescue is a non-profit organization that picks up stray dogs that are sick or injured of any breed from the streets of Detroit. It also assists police departments in the area and holds dogs on behalf of law enforcement in relation to animal cruelty or neglect cases.
Since it was founded in 2015, the organization has helped over 2,000 dogs by providing medical care and emergency support.
"I was and still am heartbroken over this case. It's very disheartening and disturbing to think that anyone would bury a dog alive," said Sumpter.
Despite a sad end for Ghost, he was eating a treat and surrounded by love before he was put down.
"Our hearts are broken for this loss," wrote the rescue group on Facebook: "We wanted to give Ghost a better life here on earth but ultimately we were not able to do that.
"Rest easy poor boy and know that your life mattered to us."
"We expect to see justice in this case and hope to get continuing updates from the Wayne County Prosecutor's office who is handling this investigation," said Sumpter.