Garbage Collector Jumps Into Dumpster to Rescue Puppy Buried by Trash
A dog that was rescued from a dumpster by refuse operators, after reportedly being dumped inside, has had a happy ending in a new forever home.
Riley, renamed Duke by his new family, was found last week in Columbus, Ohio by a refuse operator working in an apartment complex.
Dave Carlson was servicing the dumpsters in an East Side apartment complex when he discovered the puppy attempting to surface from underneath piles of trash. Carlson quickly contacted his supervisor, Logan Sieg, to report his finding.
Sieg also came to the complex and climbed inside the dumpster to rescue the puppy. "It's shocking seeing a dog in the dumpster. It was upsetting to see someone just throw it in there and get rid of it like that," Sieg told 10TV.
In a tweet, the Columbus Department of Public Service called the act by Carlson and Sieg "going above and beyond service."
Debbie Briner, a spokesperson for the Columbus Department of Public Service, told Newsweek that it appears the puppy was "intentionally dumped in there."
"Our driver and his supervisor said there was no way the pup could have made it in there on their own," she added.
"Fortunately, our driver saw the dog and our supervisor was able to climb in the dumpster to lift him out and bring him back to our refuse station for water and crackers. Even better is how quickly the pup was adopted through the Franklin County Dog Shelter. We're thrilled about the happy ending."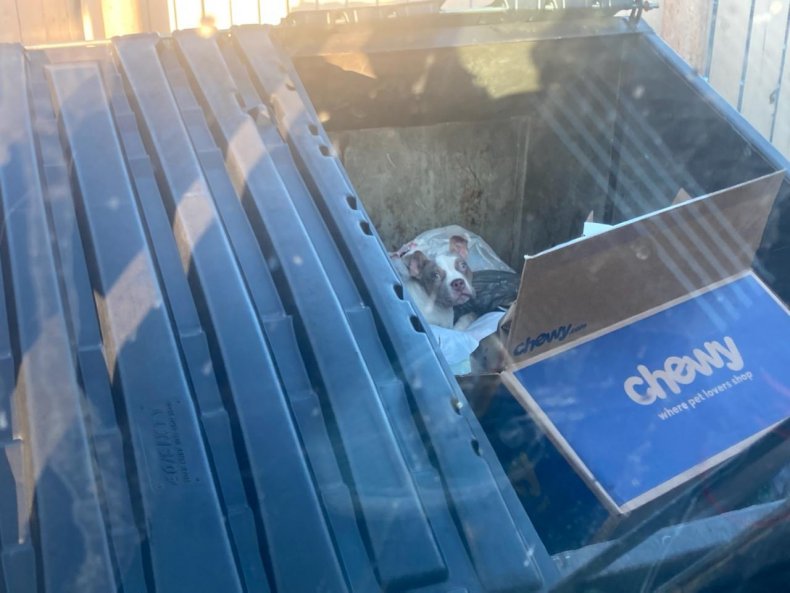 A day at work turned into a live-saving day for dog Riley, who is now settling into a forever home. Sieg and Carlson contacted the Franklin County Dog Shelter after rescuing the puppy.
While waiting for volunteers to arrive, Riley was allowed to roam and explore in the Alum Creek Station, along with feasting on peanut butter crackers.
On Saturday, the Franklin County Dog Shelter announced that Riley has found an adopter and has since been renamed Duke.
"We are happy to share with you that 6-month-old Riley has been adopted and is doing great in his forever home," they wrote on Facebook.
"Thank you to all who helped rescue Riley, to his adopters and to our community for their continued support. Together, we can make a BIG difference in the lives of those who cannot speak for themselves."
Newsweek has contacted the Franklin County Dog Shelter for comment.
Unfortunately, this isn't the only recent report of four-legged friends being found in dumpsters or trash bags. In January, a sheriff's office in Florida responded to an abandoned dog found inside a garbage bag.
DeSoto County Sheriff's Office responded to a call from a resident who noticed an "oddly shaped" trash bag near an intersection. The caller had opened the bag to find an older, malnourished dog inside.
Officers called the scenario "absolutely unacceptable," and warned that: "There is absolutely NO reason to treat animals this way; not when there are shelters available and/or people who would gladly adopt a pretty little lady like this one."
Update 05/03/22, 04:05 a.m. ET: This article was updated with comment from the Columbus Department of Public Service.