Dog Escapes Kennel, Makes His Own Way Home While Owners Are on Vacation
A Kansas couple were away on vacation when their dog broke out of a kennel and found his own way home.
Sarah and Jeremy Henson, of Johnson County, had left their 5-year-old dog Dexter with a pet care service while they took a trip to Las Vegas, according to FOX4
But their doorbell camera system alerted them to some movement on the front porch of their home on Wednesday night.
When they checked the footage, they realized it was Dexter trying to get into the home.
The video shows Dexter scratching at the front door and whimpering as he tried to get inside, according to the station.
Dexter had apparently escaped from the kennel and made his way back to the family home about 2 miles away.
The couple said they comforted their pet over the doorbell camera's app while someone from the kennel service came over to retrieve him.
The kennel told the couple that Dexter had probably jumped over a 6-foot fence to escape the facility.
Sarah Henson told FOX4 that Dexter is used to being taken on long walks, and that's probably why he was familiar with the neighborhood and able to navigate his way back home.
"It didn't surprise me that he was on our front steps. I was just concerned that they didn't know, so I called them. I was like—my dog's on your front porch, but I think he's supposed to be there," Jeremy Henson told the station.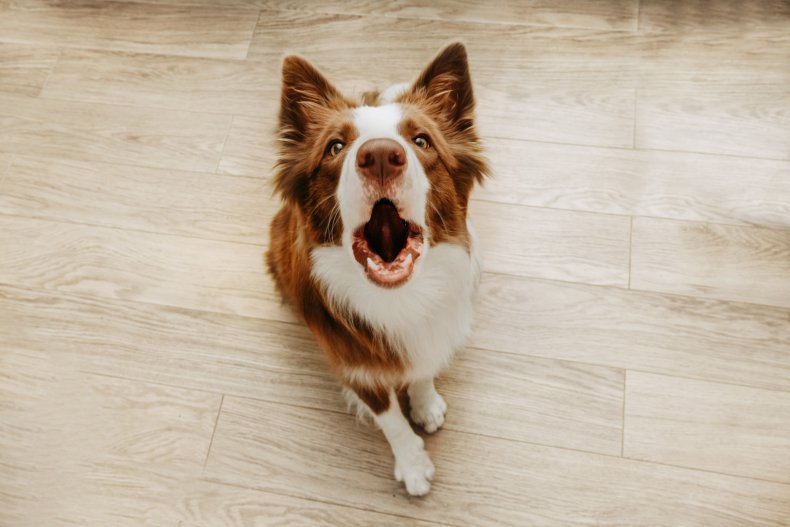 He said Dexter had been put in the kennel in the past without many issues.
"His older little brother is no longer with us anymore. I think he used to be fine hanging out there with him," he added.
The couple could not immediately be reached for further comment.
In January, a dog at a Pennsylvania animal shelter escaped his kennel after it was accidentally left unlocked.
Employees at the Bedford County Humane Society said the dog, Gilligan, didn't make a mess or escape the building, but spent the night playing with squeaky toys.
"He went through each toy one by one to pull out each squeaker," employee Joyce Ross told a local news station. "And the ones that didn't have a squeaker, he pulled out and left alone. He skipped all the ones that didn't have squeakers. He only wanted the squeakers.
"By his look, I saw he was excited and had a great night all night. He was proud, very proud."