Person Caught Throwing Dog Feces at House with Black Lives Matter Signs
A man caught on camera the moment a dog owner threw dog feces at his front door, in what he believes was a targeted attack because of his Black Lives Matter lawn signs. The video shows the dog owner walking past the man's home in Roseville, near Sacramento in California, at 3 a.m, as reported by CBS.
The person in the video—who is believed to live in the neighborhood—can be seen walking with an unleashed German Shepherd in the early hours of the morning. The dog walks by first, followed by the owner who throws the dog feces at the home.
Anthony Taula-Lieras found the feces on his doorstep the following morning. Taula-Lieras told CBS Sacramento that he has two young children who live at the home and that his five-year-old child asked him: "Daddy did somebody put poop on our door because of our sign?"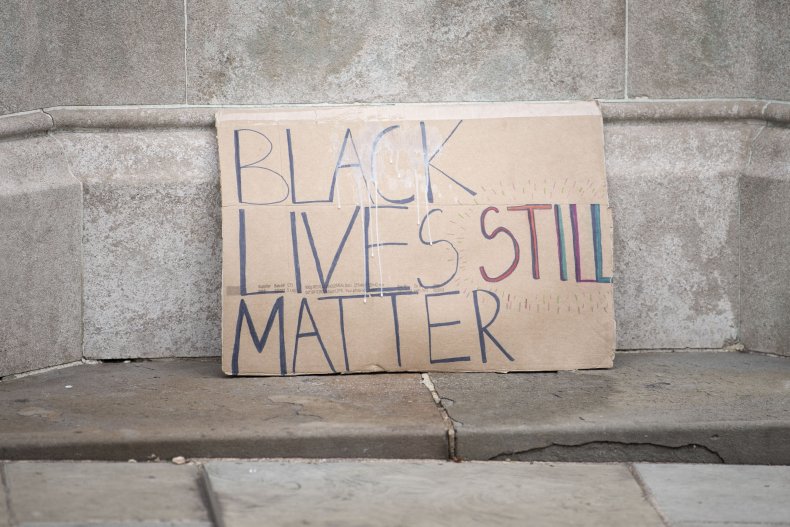 Taula-Lieras has lawn signs in support of the Black Lives Matter movement in front of his house. The incident has made Taula-Lieras feel "a little more on edge" and has made him question whether he and his family are as safe as they thought they were.
However, Taula-Lieras has said that he is willing to forgive whoever is responsible, and wants to put it down to a lapse of judgment, telling CBS: "Although the harm is done and the fear is instilled, I think it's still important to forgive people."
He has not filed a police report but says that if it happens again, his family will feel more threatened and he will then file a report.
This is not the first time displaying political signs in a yard has attracted a vile protest. Earlier in October, a President Donald Trump supporter in Denver, Colorado, was targeted with dog feces, reported by WTRF.
The man, who wants to remain anonymous out of fear of retaliation, caught a woman on his security camera throwing the dog feces into his yard and spraying graffiti on the front of his home. He believes he was targeted due to his lawn signs supporting Trump and one that said "All Lives Matter."
In September, police in Maine launched an appeal to find a woman suspected of putting dog feces through the letterboxes of Trump supporters, allegedly targeting homes that displayed Trump signs in their yard. At least three mailboxes were found to have feces in them, and the woman was suspected of vandalizing the signs as well.