Video Shows Moment Family With Dogs Flee as Moose Appears in Front Yard
A family was left stunned after being approached by a moose outside their home in Colorado.
Footage of the encounter was captured on a nearby Ring security camera. It chronicles the extraordinary moment when the family members, out on a dog walk, found themselves being approached by the moose. While the clip makes for stunning viewing, moose encounters of this kind are usually best avoided.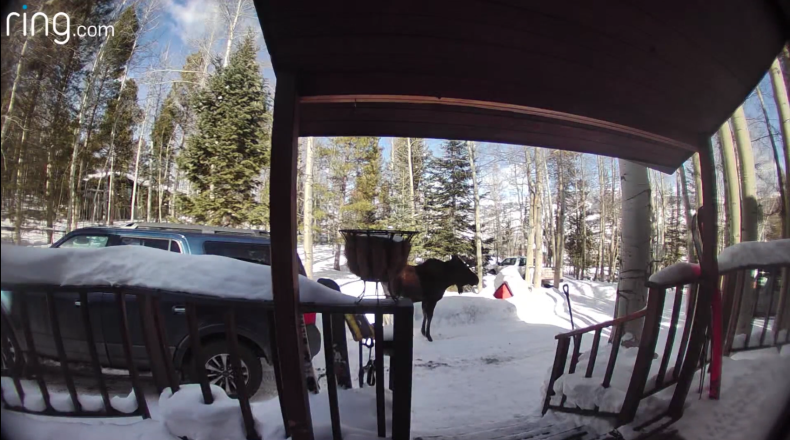 According to the Colorado Parks & Wildlife department (CPW), Shiras moose are the state's largest game animal. Adults weigh between 800 and 1,200 pounds, with bulls standing up to 6 feet at the shoulder.
Moose do not fear humans as much as other animals and have been known to approach them and their property. However, homeowners are advised to keep a distance, particularly if they happen to own a dog.
"A major catalyst in serious moose conflicts is the presence of dogs," the CPW department warns. "When people, dogs and a defensive moose interact, there is a significant risk of serious injuries to humans and pets."
The CPW department estimates that, since 2013, there have been at least 15 moose conflicts. These have resulted in minor to serious injuries involving humans. In all but two of these instances, dogs were involved.
"Moose react to all dogs as they would to a wolf, one of their primary predators, by attempting to crush it with their hooves," the CPW department explained.
That might go some way to explaining the alarmed response of the homeowner, which is heard on the clip.
In the video, filmed in Silverthorne, a male voice can be heard calling two dogs away from the moose. A woman is seen picking up a third canine and carrying it away from the scene.
"We had just finished walking our dogs, plus two wiener dogs that we were watching for a friend," the homeowner told Ring. "I was walking up the drive when I saw the moose right next to our car, so I booked [hurried] to our Jeep to get the dogs in there. Then, we waited about three to four minutes for him to wander off."
The homeowner was very much aware of the risk posed by the moose, particularly with canines in close proximity. "[I was] worried about the dogs when I saw him so close," they said. "Moose are fun to see, but at a distance. This was the first time I was a bit nervous."
The incident is the latest in a string of moose encounters in Colorado. It is not dissimilar to another in which a moose was found wandering around a residential neighborhood in 2021.
Another moose climbed into the bed of a homeowner's truck in November. These encounters can result in serious harm, though; one hunter ended up being gored in September 2022 after coming across a moose in woods in Colorado.
Do you have funny and adorable videos or pictures of your pet you want to share? Send them to life@newsweek.com with some details about your best friend, and they could appear in our Pet of the Week lineup.