A dog food manufacturer has expanded its recall of several brands after discovering high levels of a naturally occurring mold byproduct.
Sunshine Mills Inc. which is headquartered in Red Bay, Alabama, announced on October 8 it would expand its previously announced recall of certain pet food products to 21 brands, according to the company's statement shared by the Food and Drug Administration (FDA).
An investigation conducted with the FDA determined that additional corn-based pet food products produced between April 3 and 5 may contain corn with elevated levels of aflatoxin, a mold byproduct that can be harmful to pets if consumed in significant quantities.
"Sunshine Mills, Inc. has chosen to expand its voluntary recall to include these additional products as a precautionary measure in furtherance of its commitment to the safety and quality of its products," the announcement reads.
Sunshine Mills first initiated a recall on September 2 of three of its brands after the Louisiana Department of Agriculture and Forestry performed a routine sampling and found some of the dog food had elevated levels of aflatoxin.
Aflatoxins are produced in certain foods, including corn, out in the field or during storage when moisture content and temperatures are conducive to mold growth, according to The Merck Manual of Diagnosis and Therapy. Most animals can generally tolerate dietary levels of aflatoxin without experiencing side effects, but clinical disease and death can occur if they consume too much.
Pets with aflatoxin toxicity (aflatoxicosis) can show such symptoms as sluggishness, lethargy, reluctance to eat, vomiting, diarrhea, a yellowish tint to their eyes or gums and, in some cases, death, according to the company's announcement.
Animals experiencing any of these symptoms after consuming one of the recalled products should be taken to a veterinarian, the statement reads.
Some of the affected brands are Champ, Field Trial and Good Dog. For a full list of recalled products and their lots codes (found on the back of each bag), go to the FDA's website.
No other Sunshine Mills pet food products are affected by the recall, and no illnesses have been reported in association with the recalled products to date, according to the announcement.
The affected products were distributed in retail stores throughout the U.S., and two were exported exclusively to distributors in Japan and Colombia. All of the retailers have been contacted and asked to pull any remaining inventory from their shelves, the statement said.
Anyone who has purchased the recalled products should stop using them and can return the unused portion for a full refund, according to the statement.
Newsweek contacted Sunshine Mills for further comment but did not hear back in time for publication.
According to its website, Sunshine Mills is Safe Quality Food certified, which is "one of the most globally recognized food safety programs in the world."
"As a pet owner, you can be assured that the Sunshine Mills products you purchase can be done so with absolute confidence knowing that we apply the same standards of manufacturing to the food you feed your pets as to the food you feed your families!" its website states.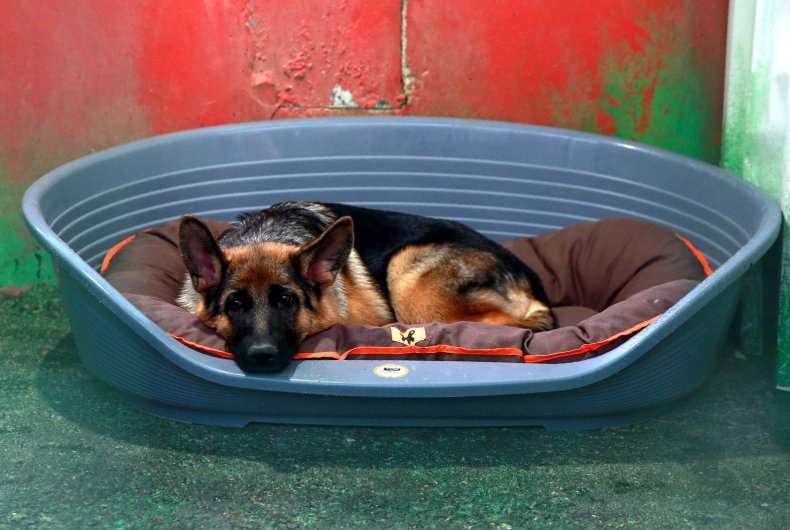 Humans are also at risk of aflatoxin exposure. The mold byproduct is a naturally occurring carcinogen, meaning it has a cancer-causing potential. The primary disease associated with aflatoxin intake is liver cancer, according to the book Aflatoxins—Recent Advances and Future Prospects.
Aflatoxin exposure is a problem primarily in developing countries that have poor regulatory authorities for food processing and storage, as well as high levels of malnutrition, according to the book.
Humans can be exposed to aflatoxins by eating contaminated plant products or by consuming meat or dairy products from animals that ate contaminated feed, according to the National Cancer Institute (NCI). Agricultural workers are at an additional risk because they may be exposed by inhaling dust while handling contaminated products.
Humans can reduce their aflatoxin exposure by consuming only major commercial brands of nuts and nut butters and discarding nuts that look moldy, discolored or shriveled, according to the NCI.
In addition to posing serious health risks to humans and animals, aflatoxins create a significant economic burden. They are responsible for the destruction of an estimated 25 percent or more of the world's food crops each year, according to the World Health Organization.