Dog With Front 'Spider' Legs Baffles Internet in Viral Video
A dog has gone viral for posing like a "spider" in a video shared on social media last Friday by its owner, leaving the internet baffled.
The video, which was shared on TikTok by Abbs_ah, shows the dog, Liō, standing with his front legs bent, making him look like a spider. The video was accompanied by a caption saying that "the thunderstorm had him tweaking" and by a Bo Burnham song called "Spider."
The post has now reached over 1.2 million likes, 28,900 comments and 69,000 re-shares, and the internet can't stop laughing at the "dog spider."
According to data from the American Society for the Prevention of Cruelty to Animals, one in five American households has acquired a cat or dog since the beginning of the coronavirus pandemic. That's approximately 23 million American households.
The vast majority of these households still have the pet—90 percent for the dogs, 85 percent for the cats—and are not considering re-homing their pet in the near future.
Most users were left in stitches by the dog, while others made all kinds of jokes. Father Christmas said: "The demon in my closet but he looks so cute." And Toki Wise added: "Bros in fight mode 24/7."
Another user, incognito1214712, commented: "Returned to normal mode is what got me the most." And kirsty said: "Check for a zipper." Sadie Autumn asked: "WAS HE DOING IT ON PURPOSE[?]"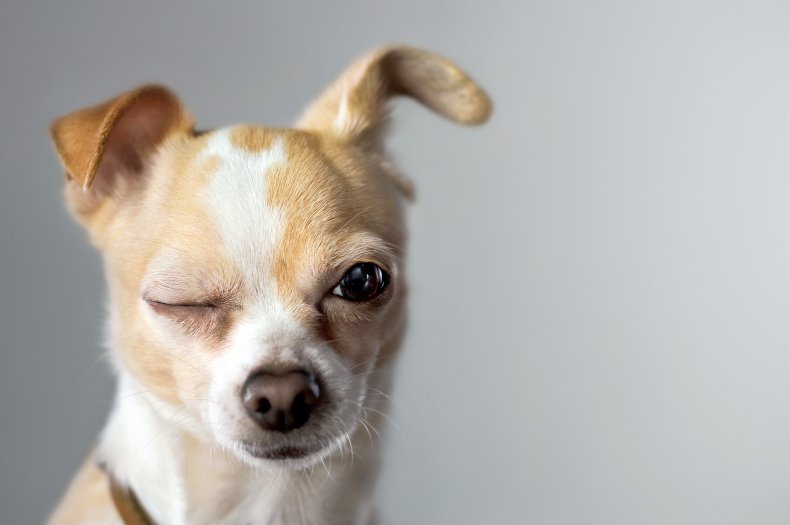 Uhmanda said: "That is most definitely not your dog anymore." And laur asked: "WHAT IS THAT[?]"—to which laceyyypikeee answered "a spider." Evelyn Robinson added: "Dog spider, duh."
DonPeturs commented: "bro went into 4 wheel drive." And COMRADE joked: "bro thinks this town ain't big enough."
"What's wrong [with] the dog?" asked Brijoy. And ri1ey2 said: "Imagine it sprinting at you at night."
Athena Keeshond added: "What in the [Stranger] Things is happening?!"
User201106716967 said: "This is super sad because that dog is standing like that either out of pain or some other illness. That ain't right and people joking about it is sad."
Chelsea Cantrell answered: "Looks like angular limb deformity. My [partner's] dog has it. She's fine lol."
Do you have funny and adorable videos or pictures of your pet you want to share? We want to see the best ones! Send them in to life@newsweek.com and they could appear on our site.