Dog Has Priceless Reaction After Being Caught Red-Handed Chewing On Shoe
A video of a dog's reaction after it was caught chomping on a shoe has left the internet in hysterics.
In the viral clip, U.K.-based TikTok user teddyboycocker said her cocker spaniel had been "up to no good as usual."
In the 27-second video, Teddy Boy can be seen happily bouncing around the living room with a rubber slide in his mouth. The clip was captioned: "When you didn't realize mum was in the room and would catch you red-handed."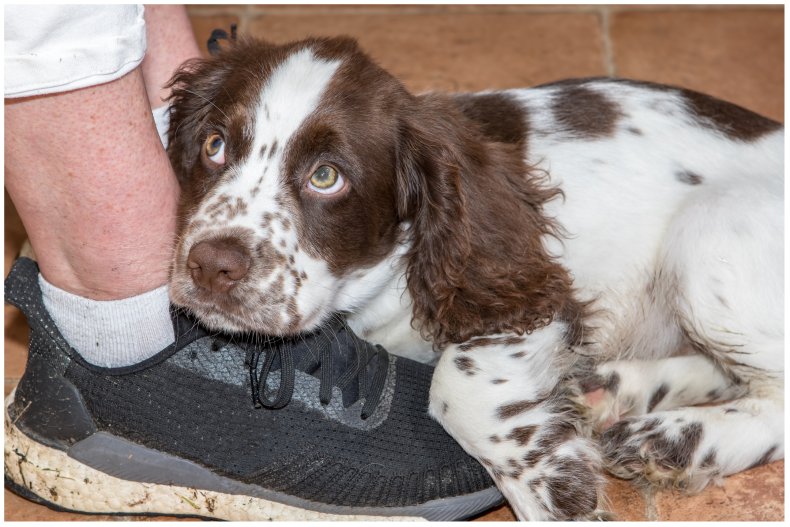 It was clear Teddy Boy was completely engrossed by his newfound chew toy as he darted around the room.
Moments later, though, the spaniel stopped in his tracks, finally noticing that he was being watched—and filmed.
His right eye, which was closest to the camera, comically wandered toward his owner, while the spaniel attempted to stay as still as possible.
Cesar's Way, the website of animal trainer and Dog Whisperer star Cesar Millan, suggests there are numerous reasons why dogs chew shoes.
According to a 2020 post on the site, puppies will often chew shoes because they are teething and looking to relieve the discomfort.
It went on: "But if your adult dog is taking chunks out of your Chucks, then it could be because they're experiencing some kind of anxiety or stress. When dogs feel stressed they might chew on things to help alleviate their anxiety."
Since the video of Teddy Boy was shared on Tuesday, February 7, it has been watched more than 18 million times and attracted some 3.5 million likes.
Most of those who commented were tickled by the dog's attempt to escape his owner's notice.
TikTok user Rowoman wrote: "He trying to disappear into thin air."
Darwinfishstix added: "The way his little eyes just slowly look from the shoe to mom."
Shae commented: "The slight eye turn after he stops is perfection."
Democrat581 posted: The 'uh oh, I think I've been spotted' look is just so precious."
Millan's website suggests that pet owners who are concerned about shoe-chewing should "look for other signs of stress that might be accompanying such behavior like excessive licking, decreased appetite, increased sleep, isolation, digestive distress, shaking, excessive barking or bathroom accidents.
"If you think that your dog might be experiencing stress then it's best to talk to your vet about the appropriate course of action to take to get them to stop."
Newsweek has contacted Teddy Boy's owner for comment.
Do you have any adorable videos or pictures of your pet you want to share? Send them to life@newsweek.com with some details about your best friend, and they could appear in our Pet of the Week lineup.