Dog's Heart 'Burst' After Texas Man Threw Mother's Pet When She Wouldn't Let Him Have Sex in Her Home: Police
A Texas man has been arrested after he killed his mother's dog by causing its heart to "burst," according to police.
In the buildup to the incident on October 24, James Garcia's mother wouldn't allow a woman to enter her home so Garcia could have sex with her in his bedroom, KSAT.com reported citing police. The 39-year-old has sporadically lived with his parents for the past four years, the arrest affidavit seen by the news outlet stated.
Following his mother's refusal, Garcia became upset with her and the pair argued. His mother told police that as they argued, Garcia turned on her dog, Roxy. Her son violently threw her pet to the ground, she said.
According to documents seen by NBC affiliate News 4 San Antonio, Garcia launched the small dog 18 feet across the home. The animal hit the hard kitchen floor. The suspect then left the property.
A neighbor helped Garcia's mother, who wasn't idenfied by name in reports, take Roxy to the vet, where she was pronounced dead.
The vet concluded Roxy was thrown to the ground with such force that it caused the pet's "heart to burst, eventually bleeding to death," according to police.
While officials were at the home, Garcia returned to the property and apologized for harming the animal. He told officers he "didn't like hurting the dog."
Bexar County documents show Garcia was arrested on Saturday, and faces animal cruelty charges. His bond was set at $5,000 for third-degree felony.
It is unclear what breed the dog was.
Texas law states animal cruelty is a felony punishable by a $10,000 fine, and up to two years in jail, according to the Society for the Prevention of Cruelty to Animals (SPCA) of Texas. The state's animal cruelty laws relating to domesticated, rather than livestock animals, are known as Loco's Law after a puppy whose eyes were gouged out.
SPCA Texas urges anyone who suspects an animal is being abused to fill in its online complaint form. Its Animal Cruelty Investigations Unit focuses on: Dallas, Hunt, Kaufman and Van Zandt. Outside of these locations, local law enforcement should be contacted.
The unit features three full-time humane investigators, one chief investigator, one case manager, and one dedicated veterinarian. The force receives between 3,000 to 5,000 cases in the state each year. Of those, around 3,000 animals are rescued.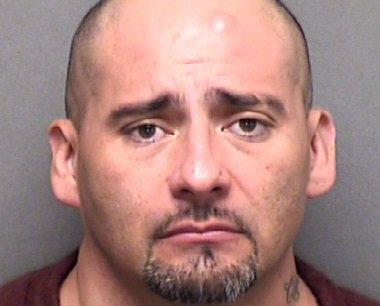 Jame Garcia, who killed his mother's dog after she wouldn't let him have sex with a woman in her home, according to police.
Bexar County Sheriff's Office
Dog's Heart 'Burst' After Texas Man Threw Mother's Pet When She Wouldn't Let Him Have Sex in Her Home: Police | News