Dog's Hilarious Expression Perfectly Caught on Camera: 'Time of His Life'
A photo of a dog was taken at just the right moment to capture his hilarious expression, as he went wild over "zoomies."
The snap of Ted, a Golden Retriever, was shared on Reddit's WhatsWrongWithYourDog forum Wednesday where it racked up more than 20,000 upvotes.
"A photo of my sister's dog having the time of his life," u/Dodzer89, a.k.a. Kevin, captioned the snap.
Kevin, from Dublin, told Newsweek: "He was just excited zooming in the park near his home and they captured this funny photo of him.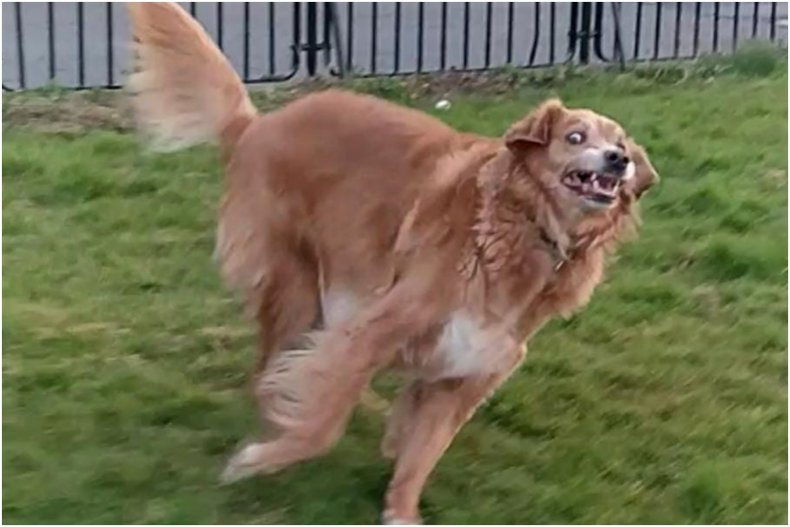 "He's just a big loveable fool—he barks at balloons because he is scared of them."
Referencing zoomies, he said as the 10-year-old is "getting old now, so it's less frequent."
The internet fell in love with Ted's expression, as NeoLuminne thought: "Seems more like he's running for his life."
Bl-nero thought: "I think this photo deserves a captioning contest."
Cheesyfacemelt joked: "Everyone's 7th grade yearbook photo."
Plainkale250 advised: "Mmm frame it. Beautiful moment."
BlueSerenityJourney raved: "Lol, yes clearly having the best day! That expression."
Elleadler commented: "The eyes say it all. They are the windows to the soul."
Katlion1450 thought: "He looks extremely concerned about something happening off camera."
Meanwhile, DeepClassroom5695 added: "Zoomie wild eyes!! 10/10."
Dogs are often known for their episodes of "zoomies," with the American Kennel Club (AKC) explaining they're also known as frenetic random activity periods (FRAPs.)
"Zoomies often feature frantic, repetitive behavior such as running in circles or spinning around.
"A frequent cause of zoomies is an excess buildup of energy that dogs hold on to, which is then released in one big burst," the AKC's site read.
It also said dogs may exhibit zoomies more often in the mornings and evenings, although after a bath or a stressful situation, such as visiting the vet, can also bring them on.
And they're not just reserved for puppies, as the site noted: "The phenomenon can strike dogs of all ages and breeds at times."
The behavior is perfectly normal and has no cause for concern, but just make sure your dog doesn't injure itself.
As Kevin noted, Ted is getting on in years, with the AKC putting the average lifespan of a Golden Retriever at between 10 and 12 years.
Golden Retrievers make excellent pets and have made the top 10 list of breeds for pets in America in 2010, and a decade later in 2020, according to the AKC.
They were ranked fifth in 2010 and moved up a place to be fourth in 2020.
Meanwhile, in top place a decade apart are Labrador Retrievers.
The chart below, provided by Statista, shows America's most popular dog breeds.
Do you have funny and adorable videos or pictures of your pet you want to share? We want to see the best ones! Send them in to life@newsweek.com and they could appear on our site.