Before my husband Dennis and I met, he had started an art business in Cottonwood, Idaho, specialising in wooden carvings of dogs. He found it was a niche that really resonated with him and with other people; he discovered that dog people have a very strong affinity to their dogs. The beagle breed became his speciality, because of its popularity.
Dennis had previously had his own construction company so he decided to build the first "little" big dog, a beagle, as an interesting art project. It sat on a mound of dirt by the highway: the lonely "little" big dog.
It was certainly a roadside attraction and it brought people to the carving studio and gift shop we have. So, a few years later, Dennis decided to build a bigger beagle. At the time, we didn't even have a lodging unit in mind. It was just going to be a larger roadside attraction. We figured if a 12ft tall dog caught people's attention then a 30ft tall dog would be seen from even further away.
Then, in the early process of planning it, we had the idea to fatten the 30ft dog up a bit so it could be a building of some sort. We began construction in 1999 but it was something we worked on when we felt like it and when the weather was nice, so the bigger dog wasn't fully ready for guests until the summer of 2003.
Our first guest was a travel writer from New York, who had somehow got wind that we were building this structure. He and his wife stayed for several days and he really enjoyed it. He left with these words: "Just you wait. This is going to be special."
We really didn't know what he meant, but as the next few years went by we began to understand: people would come and the business would grow. In the past few years we have booked up long before the season starts.
The only access to the inside of the beagle is through an exterior set of stairs that begin at its hind quarters and lead to a door in its belly. When you walk in, you're greeted by a queen size bed that sleeps two, with a headboard that comprises 26 carvings of dogs. We often say that our guests get to sleep with 26 dogs, but they still get a good night's rest!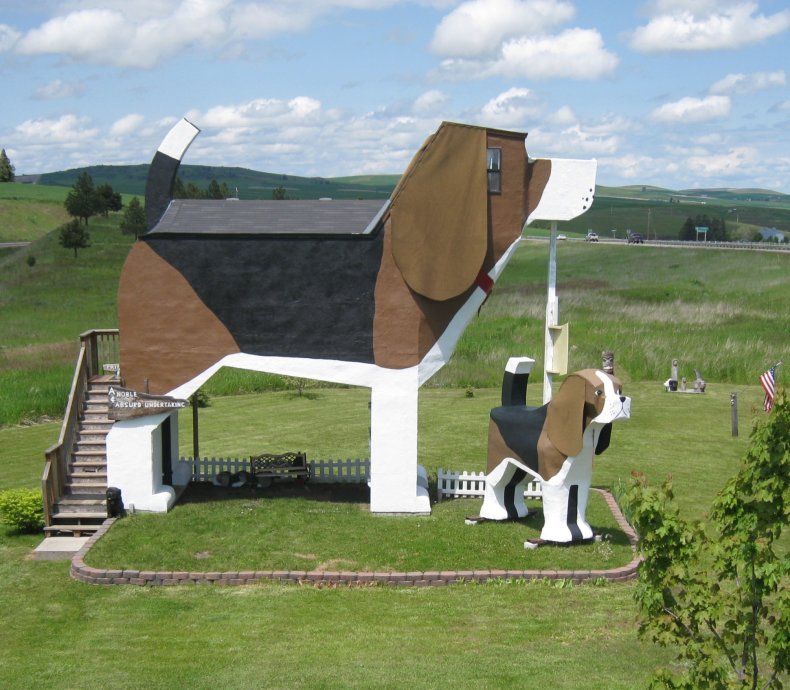 There is a section to the right of the bed that I call the hospitality area. It has a fridge and cabinets with dishes and food. Unlike traditional American bed and breakfasts where you are served a breakfast at a certain time, the food is already there when guests arrive. We provide breakfast foods and evening snack foods, so whenever they like, they can eat my homemade granola, coffee bread and muffins, and a selection of fruit and cheeses and yoghurts. It works well if people arrive from urban areas where they're used to restaurants being open quite late. Here in our small town setting, places close quite early.
The dog has a full-size bathroom off the right side of the main quarters, and on the left side there is a set of steep stairs that lead to the loft space, located in the head of the dog. It's a small, cosy space but large enough to accommodate two fold out floor mats for an additional two guests.
There is also a reading nook in the snout of the dog with lots of pillows where you can lie back, read and dream. Kids often like to pull a mat into that space and sleep in there, but we once had a 55-year-old man stay in the dog with his parents. He was sleeping upstairs and he told us that the kid in him had made him curl up and sleep in the snout of the dog.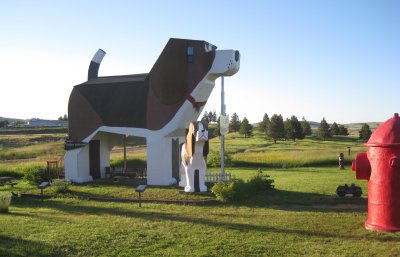 Because information is shared about us in pet enthusiast groups on social media, we get dog lovers who come just for the novelty of sleeping inside a dog. Some are actually beagle owners. Though the space is pet friendly—and some pets and their families stay —many of our guests come from afar and traveling with a dog can be difficult.
We have a spectrum of guests, from couples to small families and retirees, but people aren't always pet lovers. Some just want an experiential stay that's unique. A lot of people are interested in travelling the "back roads" of America, and often, guests who come from other parts of the country, or from overseas, will say that the area reminds them of 40 years ago.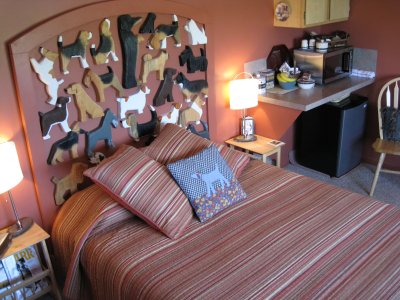 We had quite a few international visitors before the COVID pandemic. The guests who travelled farthest to get here, so far, were a family from the Punjab region of India, but we've also had guests from Japan, Korea and Europe, the U.K., South America and Mexico. The U.K. comedian Dave Gorman even stayed here for a book he was writing.
People often say they are glad they finally got here, because our reservation slots fill up so quickly that it sometimes takes a few years for guests to be able to visit.
We've even had people stay for their honeymoons and for anniversaries. And we have guests who, if they don't come every year, they stay at least every two years. We get to see them as they grow and as children are added to their family.
Originally, Dennis and I lived in another town and commuted, but a few years ago we built our own residence here on the land in Cottonwood. We don't plan to ever leave, we call it our "last house."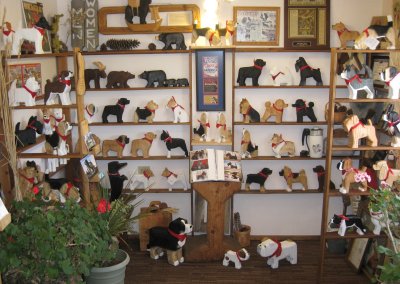 Next year will be our 20th season running the Dog Bark Park Inn and we now have 150 years between the two of us, so we understand there will come a day where we can't run the hospitality side.
We don't have family members who will take over, so we expect that the bigger dog will most likely be here until someone wants to do something with him. Or, until nature takes him down.
Frances Conklin is a co-founder and owner of Dog Park Bark Inn in Cottonwood, Idaho. You can find out more and book your stay at dogbarkpark.com.
All views expressed in this article are the author's own.
As told to Jenny Haward.