A dog that helped her owner search for her missing brother is being applauded online.
In a clip shared to TikTok by user @axelleontherun on September 18, Idy the Staffordshire bull terrier can be heard calling for her brother Atlas, a pitbull-boxer crossbreed who had gone missing in the woods.
"My little girl is helping us to find Atlas," Axelle wrote alongside the post, which has so far received over 90,000 likes and more than 670,000 views.
Ten Million Missing Pets
According to American Humane, roughly 10 million pets go missing every year in the U.S., with one in three becoming lost at some point in their lifetime. Only 32 percent of missing pets handed in to shelters are reunited with their owners, and according to pet microchip firm Peeva, 80 percent are never found.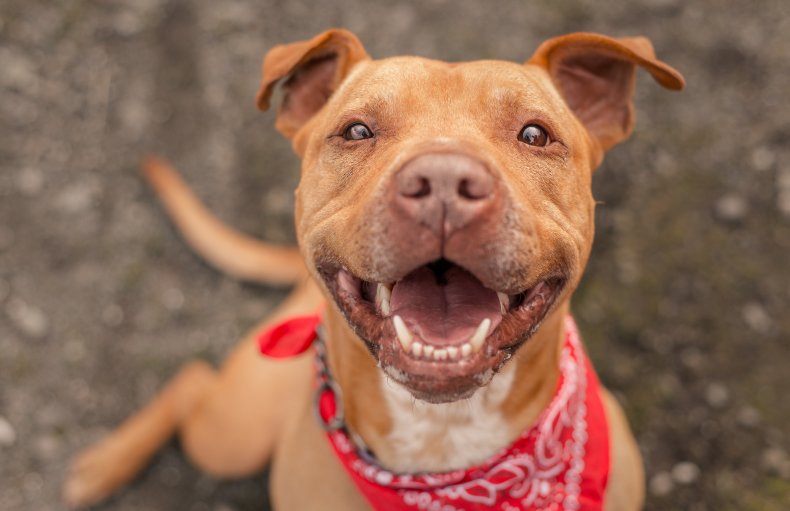 Pets with microchips were more likely to be found than those without. Peeva surveyed 676 owners (or former dog owners) whose pet had gone missing. Out of the 155 canines recovered, 78 had microchips. Of those, 26 animals were reunited with their owners after a vet scanned the chip, while the other 52 were scanned at a shelter.
However, that doesn't mean traditional techniques are fruitless. Thirty-eight of the 155 dogs found came home thanks to a "missing" poster, while 31 were found by the owner repeatedly calling shelters. Six were recovered due to an ad in the local paper, and two were found via a social media post.
'Clever Dog!'
In the video, Idy howls for her brother Atlas in between her owner's shouts. The pair live with Axelle and her other dog, a pitbull named Dea, in British Columbia, Canada.
"Atlas ran away in the woods," said Axelle in the post's caption. "I was very anxious because he was gone for a while.
"Idy my staff felt my stress and started to help calling her brother!"
Users were touched by Idy's concern for her sibling, showering her with praise in the comment section.
"Aww she was helping," said Katrina Trace. "Smart little girl."
"Clever dog!" wrote longdogs123. "The howling would have been heard a long distance away so your other dog could hear it."
"She's a good girl, a pack never leaves a member behind," commented Naomi.
While user8125341121270 dubbed Idy the "second emergency service."
Other users were concerned for Atlas, requesting an update. In the comments, Axelle confirmed that he'd made it home safely.
"Yes he did [come] back after 30 minutes!" she said. "Felt like hours!"
"Guess he finally heard her," said ORCAS79 Linda.
"So good glad he came home," wrote Kirsten K Dalrymple.
However, Baby Bat recommended Axelle "put a tracking device on your dog just in case that happens again."
Newsweek has reached out to @axelleontherun for comment.
Do you have funny and adorable videos or pictures of your pet you want to share? Send them to life@newsweek.com with some details about your best friend and they could appear in our Pet of the Week lineup.