Ohio Woman Licked by Dog Wakes up From Coma to Find Arms and Legs Amputated
A woman from Ohio has gone through life-altering surgery after bacteria believed to be from the saliva of her dog infected her body and caused her limbs to go gangrenous.
Marie Trainer from Stark County had just come back from a holiday in the Caribbean with her husband Matthew, when she started to feel sick.
After her temperature spiked, she was taken to hospital, where she quickly developed sepsis. She deteriorated quickly and was put into a medically-induced coma as her limbs began turning necrotic and then gangrene set in.
Doctors at Aultman Hospital tried to remove clots from her limbs but the damage to the tissue was too great and they had to amputate to save her life.
"When I opened my eyes, I didn't know where I was. It was very hard to find out that they had to remove my legs and my arms…very hard to cope with," she told Fox 59.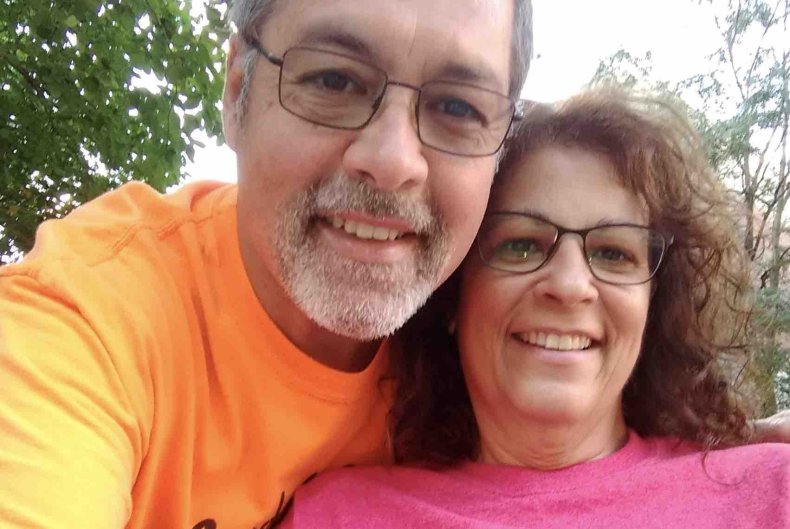 Margaret Kobe, medical director of Infectious Disease at the hospital said Marie was suffering from the effects of capnocytophaga, which is a bacteria commonly found in the saliva of dogs. Such a severe reaction is very rare and only happens to roughly one in a million people.
The Trainers have two dogs at home and suspect one might have licked a small scrape on Marie's arm.
"That organism is very virulent. It has the ability to induce your immune system to do some pretty horrible things," Kobe told Fox. "If you get bit by a dog you definitely need to go on antibiotics and to wash your hands when playing with a dog, especially with an open cut," she added.
Marie said she would keep her dogs and was looking forward to returning home. She paid tribute to her husband who has been helping her every day with her recovery.
She said: "He's here every day for me… every day he feeds me, and dresses me here every day. I mean what do you do? I had to learn how to sit up, roll over, it's been just very hard."
After eight surgeries and being hospitalized for more than 80 days, she faces intensive physical rehabilitation and has set up a GoFundMe page to help with the costs.
Last year, a man from Wisconsin, Greg Manteufel, had to have both his hands and legs amputated after he picked up an infection from the tongue of his dog, USA Today reported.