Dog Missing for 14 Years Discovered Over 1,000 Miles Away, Reunited With Owner Thanks to Microchip Identification
Dutchess, a toy fox terrier that disappeared from a Florida home in 2007, was found alive in Pittsburgh, Pennsylvania. Now, thanks largely to the microchip implanted in the dog, Dutchess and her owner have been reunited.
"I was at work, and my son, who was 12 years old, accidentally opened the door in the afternoon after school one day and we never saw her again," Katheryn Strang told KDKA. Strang, a Boca Raton, Florida resident, was afraid she would never see Dutchess again.
However, the dog was discovered over 1,000 miles away under a shed in Carnegie, Pennsylvania. Hungry and shivering, Dutchess was taken to Humane Animal Rescue (HAR) in Pittsburgh where her microchip brought up Strang's information after it was scanned.
When Strang got a telephone call from HAR in Pittsburgh saying they had her missing pet, she was surprised.
"I can't believe you're calling me right now," Strang said over the phone. "I can't believe this is happening."
Strang made the 14-hour-long drive to Pittsburgh to retrieve Dutchess, who is now 14 years old. Dutchess will soon be a resident of Florida again, living with Strang and her other pets, including two other wire fox terriers.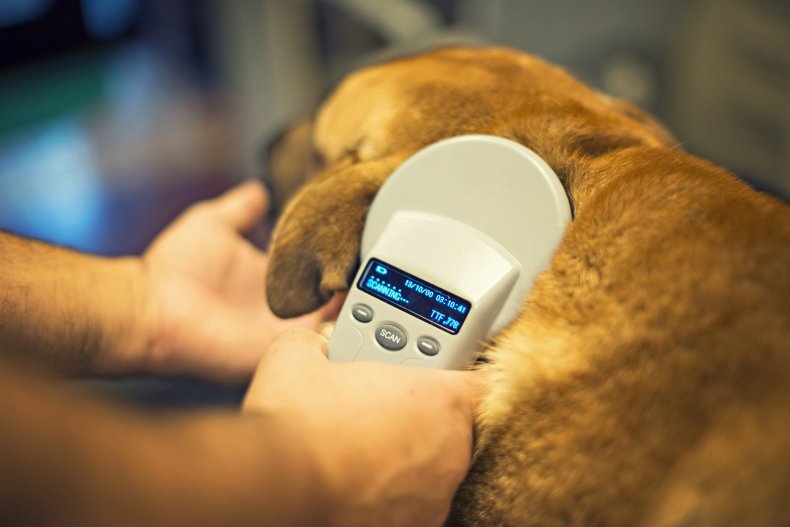 Having your cats and dogs microchipped can be an effective tool for recovering your beloved pets if they do become lost.
According to the American Kennel Club, the microchip used for pets is a radio-frequency identification device about the size of a grain of rice. The chip is placed under the loose skin around the animal's shoulders. Each microchip has an identification number that can be picked up by a scanner at a shelter or veterinarian's office.
When registered with a pet recovery database, the owner's information will correspond with the ID number transmitted by the microchip.
"I held out hope because I paid for that microchip every year," Strang said. "It was $15 a year, I wasn't going to give up hope for that. Always hope."
Data from an Ohio State University College of Veterinary Medicine study indicates that owners of rescued microchipped animals were found 73 percent of the time. Out of that number, 74 percent wanted to retain ownership of their pets.
Kimber, a German Shepherd in California, went missing in 2015, according to The Press-Enterprise. She made the journey from her home in Grass Valley to the town of Fontana 500 miles away. After being found and taken to a shelter in Jurupa Valley, Kimber's microchip was scanned.
Kimber and her owner are now back together after four years apart.