Dog Moving 'Erratically' Found To Have Ingested Meth on Walk
A dog that began moving erratically in San Diego was found to have ingested meth while out on a walk.
Roger Dunn had just arrived home from walking his dog—named Zelda—when he noticed she was not acting like her usual self, KFMB reported.
When Dunn and the 3-year-old dog returned, the dog "began moving her leg erratically."
According to Dunn the movement become "more and more complicated," and Zelda became "very frightened."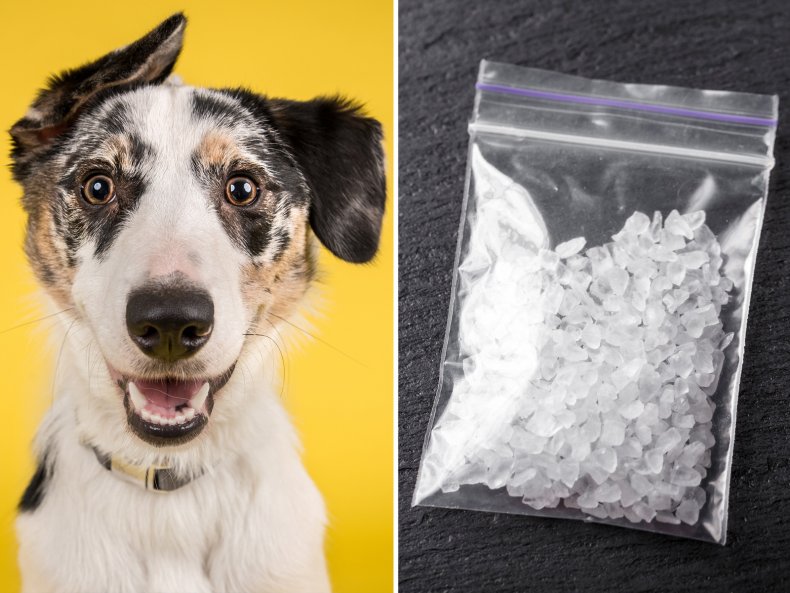 After a rushed visit to the vet immediately afterward, it was found that the dog had traces of methamphetamine and amphetamine in her urine. Both drugs target the central nervous system and can have serious side effects.
The dog was treated through an IV and given a sedative, KFMB said. After 36 hours of treatment, the veterinarians assessed her for any liver damage. The dog is now recovering at Dunn's home.
Dunn took to NextDoor to warn others in his community about what had happened. It is not clear how the dog came to be on the drugs. However, it would not be the first time a dog has come into contact with powerful stimulants by accident.
As unusual as it may seem, this is not the only such incident to unfold in recent days. The vet who treated Zelda said there had been similar instances recently.
"Several people have replied their dogs have had a similar events happen, so there's reason for concern," Dunn told KFMB.
There are several signs dog owners can watch out for if they are concerned their dog has drug poisoning. These include hyperactivity, shaking, lack of coordination, rapid heartbeat, panting and more.
Before Zelda's leg had started shaking, she had been very energetic on her walk. However according to Dunn, this is not unusual behavior for the pooch, as she usually has lots of energy.
If drug poisoning in dogs goes untreated, it can result in severe side effects to their central nervous system, and cause organ damage. Dogs can even die if it goes unnoticed.
The recovery from drug poisoning in dogs largely depends on the size of dog, breed and how much was ingested.
Dunn told KFMB: "In the years that I've lived here, as everyone on this block and these blocks will tell you, things have gotten considerably more hectic through the years."
In 2021, Fox5 reported that San Diego was facing a meth crisis. A report released by officials at the time showed a total of 722 San Diegans were found to have meth in their system upon death in 2020.