Dog Owner Hilariously Forced To Improvise After Cone of Shame Is Too Small
A woman's hilarious adaption to her dog's too-small surgery cone has the internet in stitches.
In a video shared to TikTok by Tasha Jamison (@bombingatmomming), Mabel—a German short-haired pointer—can be seen rocking her cone, along with a few small tweaks.
"Mabel, Mabel," Jamison says in the footage. "Show the people your make-shift cone. I added paper plates."
It turns out, Mabel's cone was too small, allowing the sneaky pup to lick her wounded paw. So, Jamison improvised, sticking paper plates to the rim using duct tape.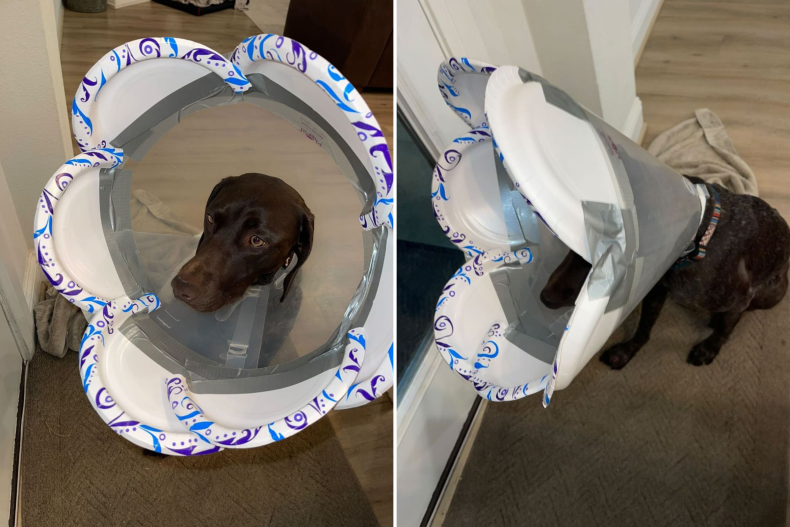 Fellow TikTokers found the footage hysterical, with Mabel's unimpressed face racking up over 950,000 views and more than 100,000 likes.
However, in a follow-up video, Jamison explained that the paper plates didn't last very long.
"Not only did the paper plates not survive, I duct-taped a sock to her foot," said a frustrated Jamison.
"She chewed through the sock and licked all of the freakin' hair off of her paw. Girl, for real."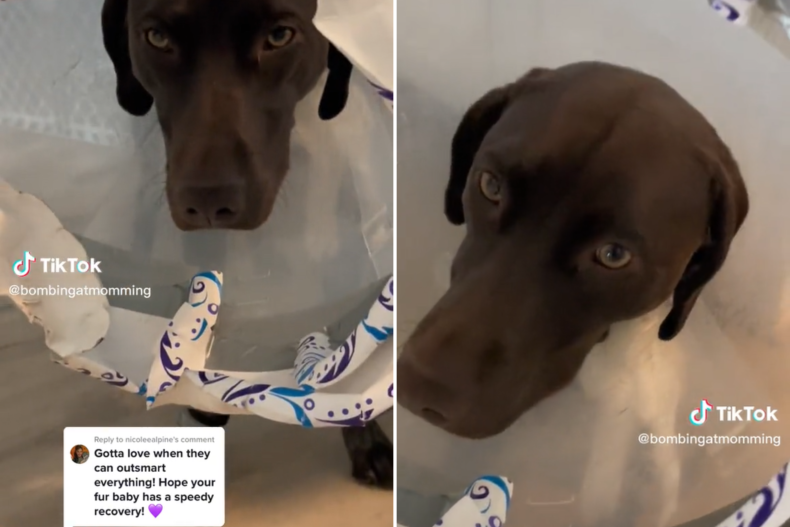 Why Do Dogs Hate Surgery Cones?
Although most dogs find cones—also known as Elizabethan collars—annoying, they are essential for helping pets heal after surgery.
"The cone prevents dogs from licking, biting, scratching, chewing and otherwise tampering with their surgical site so that it completely heals," Dr. Carol Osborne, an integrative veterinarian at Chagrin Falls Pet Clinic, told Newsweek.
"Most need to stay on for 10 to 14 days, or until the sutures are removed."
However, it's important to get the right size cone for your dog, otherwise, they'll just figure out a way around it.
"If the cones are too large, dogs simply slip them off and if they are too small, they don't work at all," said Osborne.
"Cones should be three to four inches longer than your pooch's snout otherwise they can still chew, lick, and otherwise traumatize their wounds."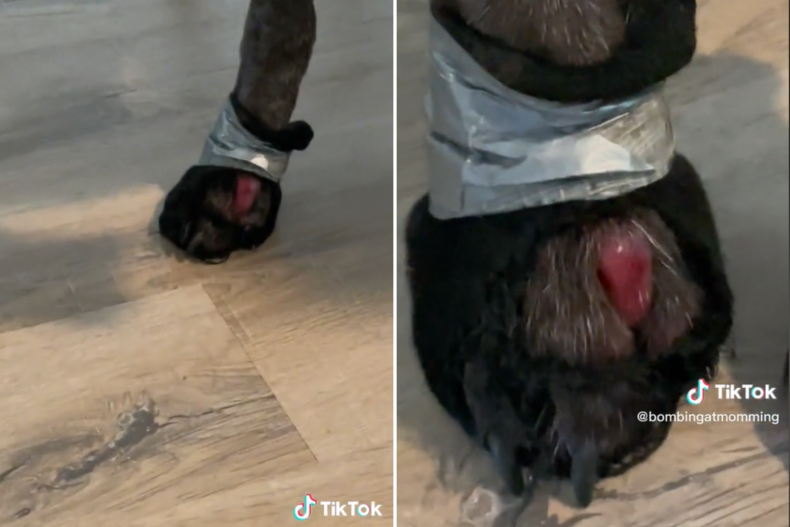 To make life easier for your dog while they're wearing a cone, Osborne recommends clearing pathways around your home.
"[Make sure] your dog can easily navigate without knocking over your furniture or getting trapped in his own domain," she said.
"Finally, be sure to reward your dog for accepting the cone and with lots of love, praise, rewards and patience and your dog's surgery site will heal without incident."
'Cone of Shame'
Mabel needed a cone after getting a nail infection in her right front paw. However, after returning home from the vet, Jamison realized that the cone was too small and she could still reach her paw.
"The office was now closed, so I improvised and added paper plates to add length and then duct taped a sock to her paw thinking that would fix the issue overnight," she told Newsweek.
"The next morning when I got her out of the crate, I saw that she had mangled the paper plates, ate through the sock and had full access to her paw despite my ingenious engineering."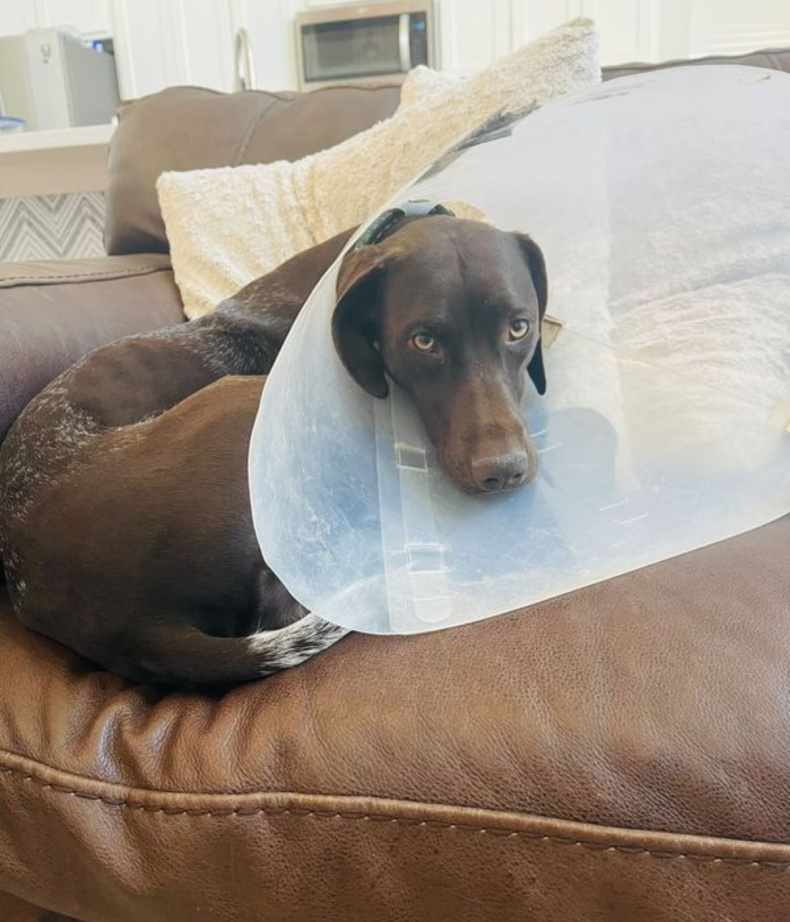 Jamison returned to the vet and got Mabel a larger cone. She's still on antibiotics, but her foot is healing nicely.
"She's running around like nothing ever happened, and still wearing the cone of shame," she said.
'The Angriest Little Flower'
TikTok users loved Mabel's stylish new cone, with Kaleigh Anne Henders commenting: "Looks like a bouquet."
"The angriest little flower," said Dianna.
"Paint the plates yellow and you've got a sunflower," suggested Haley Russom.
"This dog is so unamused," wrote whimsybat.
"PFFT SHE LOOKS SO DONE," joked Corbin Steik187.
"Mabel is now a satellite," said Lilly Roman.
"It's giving Stranger Things vibes," commented Sina.
"Hahahahhaa looks like a newly formed demigorgon," agreed Rosalie Dragono.
While Izzy4545 said: "Lady GaGa is taking notes as we speak."
Do you have funny and adorable videos or pictures of your pet you want to share? We want to see the best ones! Send them in to life@newsweek.com and they could appear on our site.