Dog Owners Reveal Reason Puppy Was Chosen: 'Could Not Resist'
Dog owners have admitted, in a viral video, the real reason they adopted their golden retriever puppy.
In the clip uploaded to TikTok with over 360,000 views, user airbudkobe explained they have a golden retriever called Kobe.
The clip starts with a young Kobe darting around the room around his owners before it cuts to him sleeping.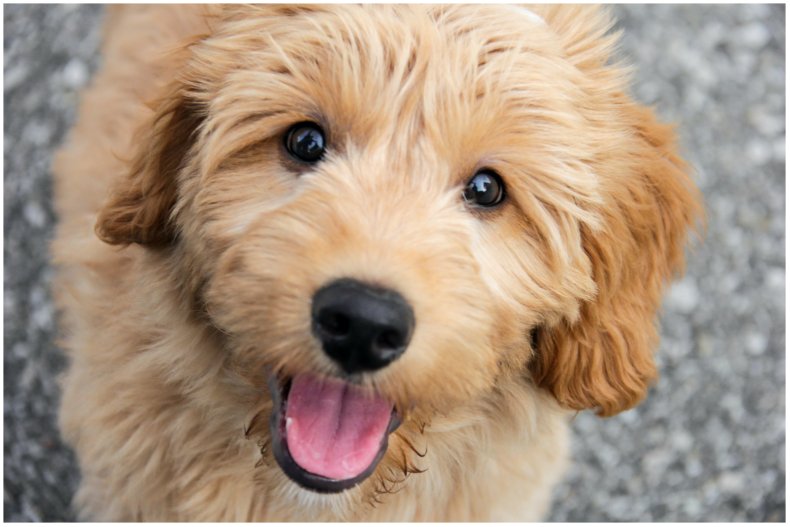 The American Kennel Club said the average size of a male golden retriever is between 23 and 24 inches, while females measure on average between 21.5 and 22.5 inches.
The AKC added that the breed is very affectionate with family members, as well as being good with both children and other dogs.
A caption on the TikTok video reads: "I don't think many people know the real reason we picked Kobe over his litter mates."
The clip then continues and reveals Kobe towering over other puppies in his litter group.
More captions continue: "Look at this big boy. Literally three times the size of some of his litter mates. We could not resist the chonk."
Since being shared on January 28 by the owners, the TikTok video has attracted more than 45,600 likes.
The overwhelming majority of people who commented on the video also wrote that they had similar reasons for choosing their own dog.
TikTok user Katie Walker posted: "We picked ours for the same reason. And now he's a little chunky."
Rainbowshinelove added: "My boy is the same way. He is huge even compared to his mother once he was grown."
Claire commented: "I did this with my childhood dog, he was meant the be a border collie but ended up bigger than a German Shepard. Chonk."
Beanbag84 posted: "My sister picked the chunky one of his litter for me." DeadPancreas wrote: "My black lab was the smaller of the litter. Now she's around 80lbs at 9 months."
Other videos on the airbudkobe TikTok account show Kobe, now grown, fully involved in family life. One video on the channel states that Kobe has recently turned 3 years old.
It is not surprising that videos and content involving dogs are popular, as the U.S. is a nation of dog lovers.
According to the American Veterinary Medical Association, there were 83.7 million dogs in the U.S. in 2020.
The AVMA added that 45 percent of homes own at least one dog and that 65 percent of those homes have just one dog.
This represents an increase over 2016 when 76.8 million dogs were owned as pets across the U.S.
Newsweek has contacted airbudkobe for comment.