Deaf Dog Taught Sign Language Finally Adopted After 240 Days in Shelter
A deaf dog has finally been adopted after spending more than 240 days in a shelter.
For most of that time, staff didn't know she was deaf, but once they realized they were able to teach her sign language—a skill that helped her at long last find her forever home. Now, she's settling in and mastering her newly learned skill.
Xyla's new owner, Gianna Luciano, described the pairing as an "immediate match" and said that "there was no hesitation" that she was the one for her—whether she could hear or not.
White pit mix Xyla, who was previously named Aspen, was almost euthanized while originally at the Bastrop County Animal Services shelter, but she was fortunately saved by the Austin Humane Society in Texas.
Initially Xyla had struggled with life in the shelter, but it wasn't long until Austin Humane discovered that was for one big reason—she is deaf.
"Determining whether a dog is deaf isn't as easy as you might think," explained Katie Kennedy, Austin Humane Society's director of communications. "Dogs are really smart at figuring out what a human is asking from them even without a verbal cue. Our friends at Bastrop and our intake team at AHS strongly suspected Aspen was deaf based on initial interactions, but she responded to our commands when she was being initially evaluated by our vets."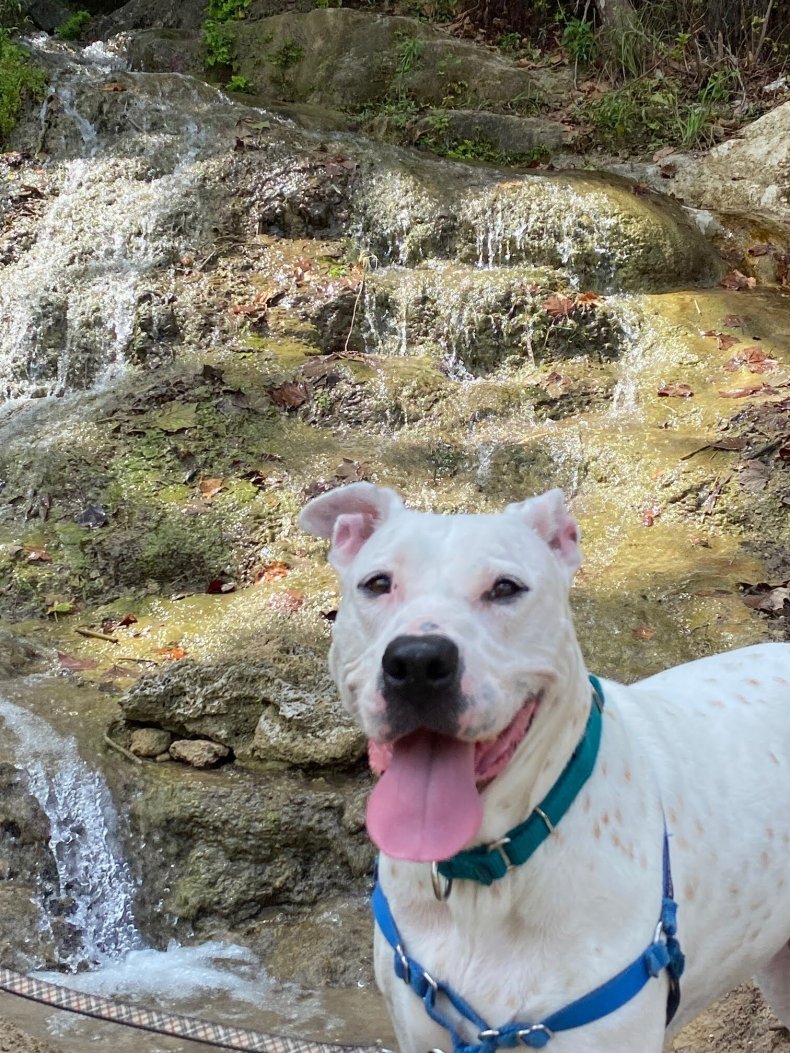 "The first goal was to establish a 'yes' marker – this was a signal that Xyla was shown when she did something correctly. For dogs who are not hearing impaired, we typically use a clicker to signal when they've done something right. For Xyla, our staff and volunteers would give Xyla a thumbs up and a treat or affection to reinforce good behavior. The next command that Xyla learned was "watch me". This command gets her attention and moves her focus to the handler. She then learned commands like "sit", "down", "attention" and "wait". "
Xyla's newly learned commands were displayed on her kennel for potential adopters to finally be able to communicate with her. "Xyla's training seemed to make her more confident. As she became more comfortable, we started to see her personality blossom – and we soon learned that she was a big goofball with so much love to give," explained Kennedy.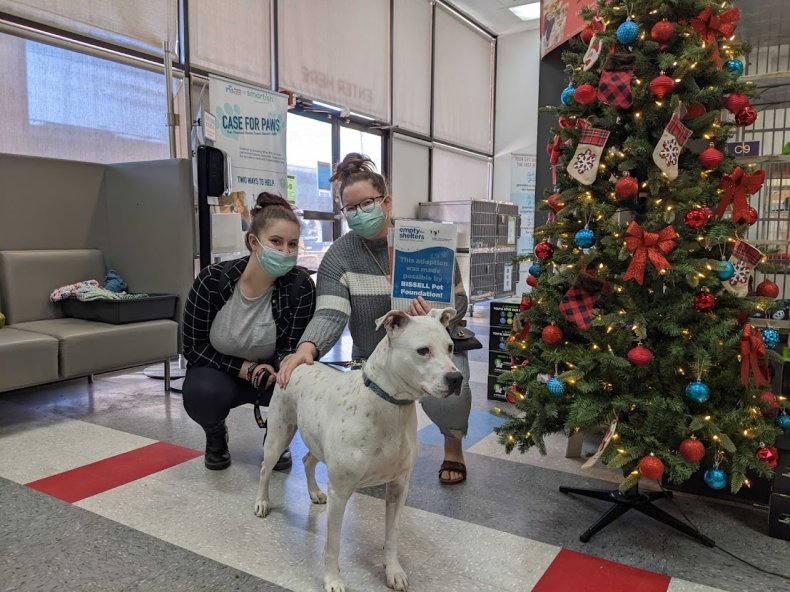 It wasn't long before Xyla found her forever home, in the form of Luciano and her roommate, who told Newsweek: " it was definitely obvious to me and my roommate that it was an immediate match. She was extremely excited to meet us, and she sat right on my feet and looked up at me. There was no hesitation. We knew we wanted to take her out to meet her when we saw that she had been in the shelter so long, and because she was deaf. I imagine those two go hand in hand, as having a deaf dog can be intimidating."
According to the Austin Humane Society, it seemed Xyla had an inkling her future was looking rosy, as staff snapped an adorable photo of her smiling while sleeping, just as Luciano was signing the adoption papers.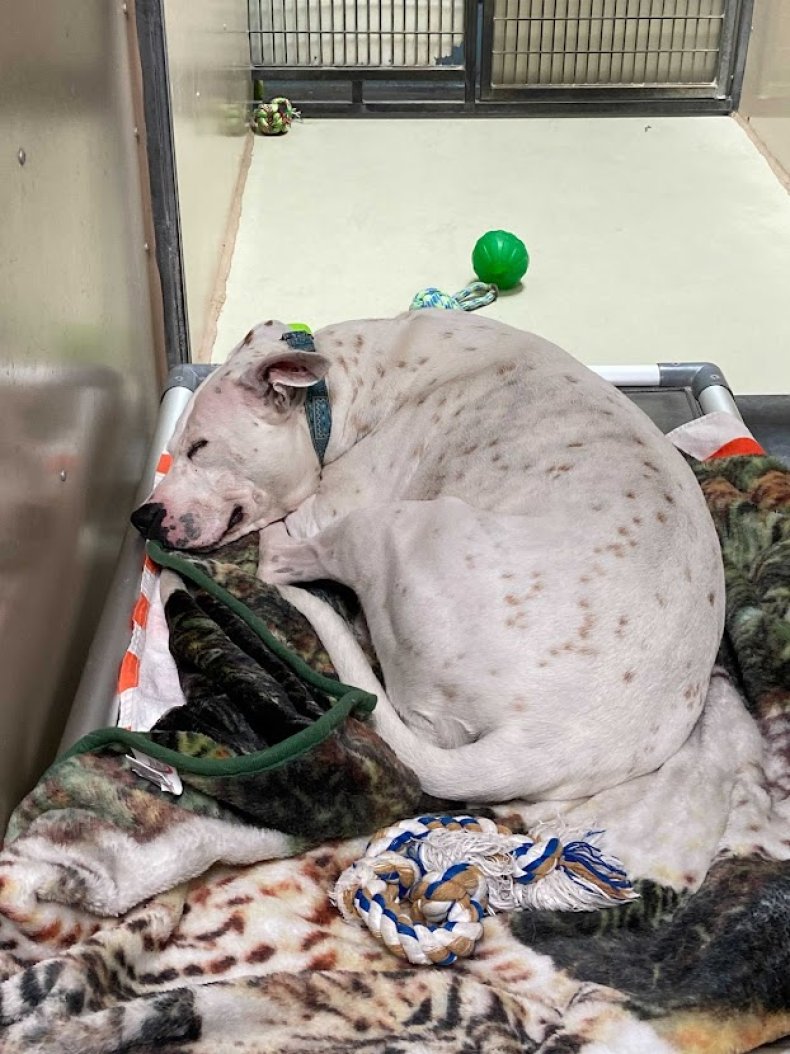 "We do use hand commands with her! It works well. We also admittedly talk to her a lot even though she can't hear us. She's great with 'sit' and she knows when we're tapping to get her attention vs just petting her. She's been practicing 'wait' and 'lay down' recently. She does decide to be stubborn and look away when she doesn't want to listen to us," said Luciano.
"She needs extra love and care. My roommate and I are new to Austin, so we have nothing but time and attention to give to her."
Although Luciano acknowledged that caring for a deaf dog can be a task many owners just don't have the time or patience for, she's been finding benefits too—"[It] eliminates some of the obstacles that you would [get with dogs that can hear]. Other dogs barking, outside noises, storms, none of it bothers her because she can't hear it! But with that, she also can't hear us telling her to get off of the counter, or get out of the garbage, so we had to get a vibration collar to adapt."
"She really is the sweetest, most loving animal I've met. She greets us at the door every time one of us comes home, and if she isn't greeting us she's sleeping right by the door. We are extremely lucky to have her, and I'm thankful that the Humane Society was able to take her and care for her as long as they did until she found her forever home," she added.
Luciano was able to adopt Xyla and give her the life she deserves thanks to BISSELL Pet Foundation's Empty the Shelter's holiday promotion, which meant the adoption fees were just $25