Dog Pooping During Halftime at College Basketball Game Goes Viral
The halftime entertainment at a college basketball game was given an instant rating by the very dog that was providing it in the first place.
During Louisville Cardinals' game with Virginia Tech Hokies at the KFC Yum! Center on Tuesday night, supporters were to be entertained by a frisbee-catching dog. Instead, they were treated to the sight of the canine pooping on the court.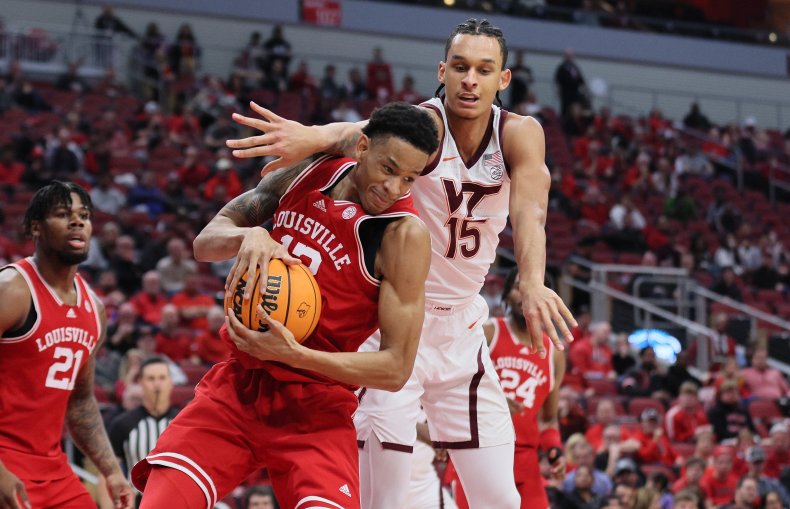 A video of the moment that the dog decided that it had to let go has gone viral with more than 1.3 million views. Some commented that the animal was responding to Louisville's wretched season on the court so far.
The dog first displayed its frisbee-catching skills before the call of nature arrived and the hound squatted down to relieve itself on the court.
The State of Louisville social-media team was quick to share the video and write that it was a response to how the Cardinals had been playing.
The team tweeted: "Perfect summary of 2022-23: Frisbee dog took a big ole [poop] on the court."
There were plenty of Twitter users who agreed with this in the comments, especially as the Cardinals crashed to another defeat, losing 71-54 to Virginia Tech.
One user replied: "Dog has some thoughts on Cards season thus far," while another added: "Haha, perfect for a 4-26 [win-loss] team."
A third wrote: "Being at the game too I also experienced the desire to c*** on the court."
When the dog hunkered down, there was an audible groan in the arena as fans responded immediately to the act.
The dog's trainer immediately rushed onto the court to retrieve the hound mid-poop before it could add to its initial deposit.
This was met with a smattering of applause from supporters. This hasn't been a sound heard much lately in the arena where the team is in danger of recording its first single-digit-win season since 1941-42.
The Cardinals are under first-year head coach Kenny Payne, but their struggles started well before the former Philadelphia 76er took over in March 2022.
It was 2019 when Louisville last made it to the NCAA (National Collegiate Athletic Association) Tournament. They last won a game in the Big Dance, the top division, in 2017.
Payne, 56, has been coaching since 2004 and was an assistant for the New York Knicks from 2020 to 2022.
He was part of the Louisville team that won the 1986 NCAA championships, but it would seem that there is a way to go before the Cardinals are at that level again.
Do you have a tip on a sports story that Newsweek should be covering? Do you have a question about college basketball? Let us know via entertainment@newsweek.com.