Officials from the Cincinnati Fire Department rescued a dog on Sunday that had been trapped between two concrete walls for five days.
Firefighters from the department responded to the 1600 block of Thompson Heights in Cincinnati, Ohio, around 9:40 a.m. local time on Sunday after a homeowner at the building heard a dog crying behind a garage wall, according to local Fox News affiliate WXIX.
Vanessa Rolland said that she called the authorities on Sunday morning when she realized that noises from her garage were a dog and explained that she was aware that the animal was missing.
"We were just excited. We were like, I can't believe, cause we knew it had been a while, so we thought like this is exciting, and hopefully, she's okay," Rolland said on Sunday following the rescue.
The firefighters quickly realized that a dog, named Gertie, had fallen down a small crevice and was trapped between two concrete walls, according to a statement from the department shared with Newsweek on Monday.
In order to get Gertie free from the small gap, the firefighters used a sledgehammer and a saw to knock a hole through the wall. It took them 10 minutes to break down part of the building and bring the dog out to safety.
The department released a short clip of the final minute of the rescue operation, showing a firefighter break through the wall with a sledgehammer before pulling Gertie to safety, who wagged her tail after being picked up by the official.
Gertie was later reunited with her owners, Connie Frick and Lynn Herman, who told WXIX that the dog was doing fine despite being a bit tired after the ordeal.
The fire department said that missing posters had been up for five days after the dog went missing on Tuesday, as Frick and Herman said Gertie ran away into the woods on that day when the latter opened the front door of their property. The department said that it is believed Gertie was stuck inside the gap for the full five days.
The owners said that they were grateful to their neighbors for alerting the authorities to Gertie's cries, while Frick explained her emotions, saying: "It was just so sweet, just wagging that little nub tail, and she was just so, she was so excited."
Gertie's rescue came just a few days after firefighters in California saved a naked woman after she became trapped between two buildings in a space that was around 8 inches wide.
The woman, who was trapped in the small gap between two automotive businesses in Santa Ana, California, on Tuesday, was rescued by firefighters after employees at one of the bodyshops heard her crying for help.
The police were unaware how the woman got trapped in the small space and were not sure why she was naked. She was saved after officials drilled a hole through the building.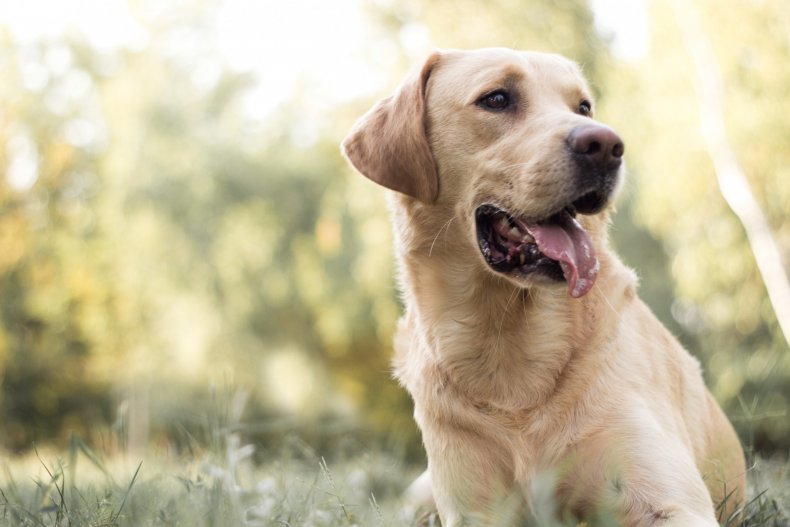 Update 7/19/2021 11:50 a.m. ET: This article was updated to include further context throughout.