Dog Runs Straight to Grandmother's Grave on First Visit to Cemetery
A moving video of a dog apparently recognizing the grave of his owner's mother, who passed away eight years before the pooch joined the family, has made people emotional on TikTok.
In the video posted by Toronto-based @coolleenyau, which has been viewed 706,000 times, Wes the goldendoodle can be seen standing in a snowy graveyard in between two headstones, eventually settling down close to one.
The caption reads: "It was Wes' first time meeting our mom and he ran straight to her grave! My mom passed away in 2012 and we got Wes in 2020. He's never met her in person before or been to her grave. This was so weird!"
Wes' owner can be heard in the video saying, "So this is really messed up, but we let Wes off the leash, and he went directly to mom's grave. He never knew—he's never been here before and he knows exactly where to go."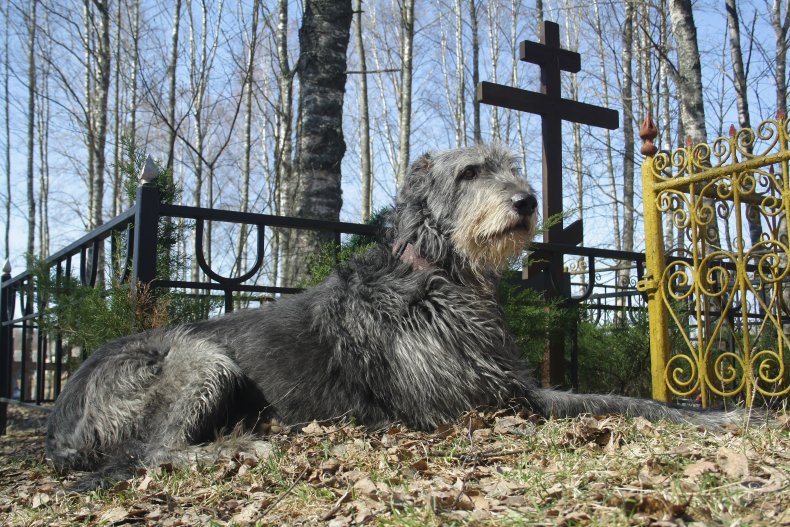 One user commented, "Dogs are sensitive to spirits. They just know."
While there is no scientific evidence that dogs can sense a loved one who has passed on, it can be comforting to believe it. The American Kennel Club notes "so much of animal behavior is uncertain that the possibilities of a dog sensing something a human can't is not out of the question."
The AKC reports that one's own perceptions may play a part in such behavior. Speaking to the AKC, Dr. Mary Burch, director of the AKC Family Dog Program and certified animal behaviorist said, "When someone is inclined to believe in the paranormal, some dogs may exhibit behaviors that make it look like they are perhaps sensing an apparition is nearby. This may be the dog that stops and stands still at a given point in the house, and the owner later finds out someone died there."
Dogs have long been studied to understand whether they have the ability to predict impending natural disasters thanks to their powerful sense of smell, which can be anywhere between 1,000 to 10,000 times stronger than a human's. A change in barometric pressure and natural phenomena have smells that are too sensitive for human noses to pick up on—but dogs can sense these changes, according to the AKC.
In response to the video, TikTok user Bobbi Murphy wrote: "Animals and babies can see spirits no joke."
Noah wrote: "My dog ran to my grandmother's room in the nursing home without ever being there before."
Sue Jiffy commented: "Is it just me hoping the dogs can see the spirits standing by their graves? And/Or is it their sense of smell?"
Newsweek has reached out to @coolleenyau for comment.
Do you have funny and adorable videos or pictures of your pet you want to share? We want to see the best ones! Send them in to life@newsweek.com and they could appear on our site.