Dog Saved by Opioid Reversal Drug After Overdosing and Collapsing During Her Walk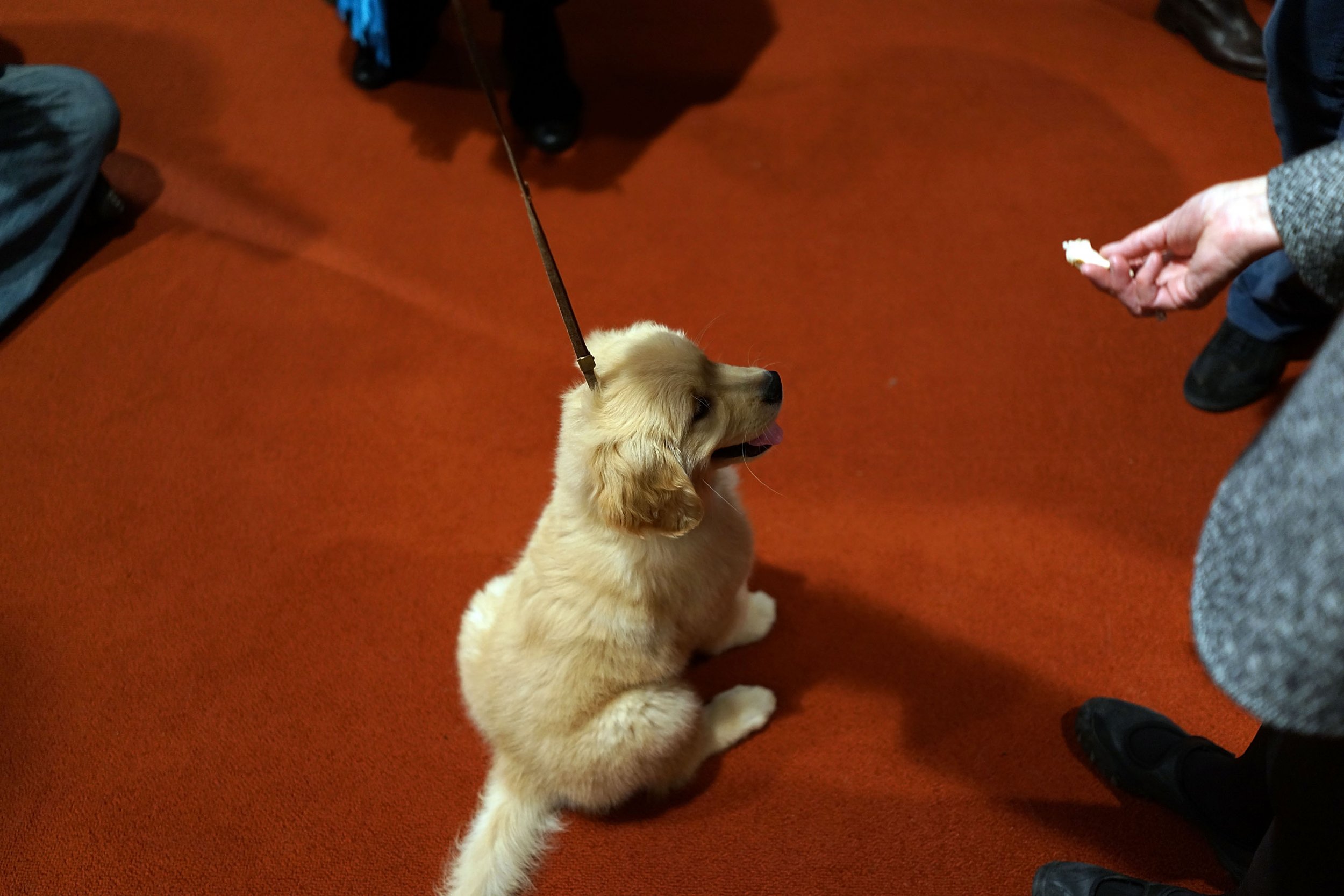 As America's opioid epidemic continues to take lives at a devastating rate, it's now also affecting our furry friends. In the latest case of pet overdoses, a puppy fell victim to the deadly crisis, which President Donald Trump declared a public health emergency on Thursday.
Peter Thibault of Andover, Massachusetts, was walking his 3-month-old yellow lab named Zoey when he noticed that she was chewing on a pack of cigarettes. Thibault immediately took the box out of her mouth, and then she collapsed, according to The Eagle-Tribune.
"I had no idea what the issue was. She was just lying there. I picked her up, took her home and laid her on the floor," Thibault told the newspaper. "It seemed she was getting progressively worse; her eyes were rolling back, and her tongue was hanging out of her mouth."
She was then taken to a local veterinary hospital and given multiple doses of a lifesaving drug. Fortunately, Zoey survived thanks to naloxone, a medication that can reverse opioid overdoses. This isn't the first time Krista Vernaleken, Zoey's vet, has seen cases like this, and she doesn't expect it to be the last, either.
"Given the huge opioid crisis in this country, these cases will be happening more and more frequently," Vernaleken said. "I don't think people are aware that this is a dangerous thing their pets could get into. We have always seen a lot of marijuana ingestion from dogs. Where you have drugs around, animals can get into them. I am especially concerned about these more potent drugs, like fentanyl or heroin. They are more lethal."
It's likely that Zoey was exposed to fentanyl—a powerful synthetic opioid—because heroin would require more doses of naloxone, her doctors noted.
Sadly, other dogs have suffered similar experiences. Charlie, a golden retriever in Denver, ate a bag of heroin after a suspected drug dealer threw bags of the opioids onto the property of a doggy daycare, KTLA reports. Like Zoey, Charlie was also saved by naloxone.
American pups aren't alone. A Canadian pug also suffered a near-death experience but was revived by the antidote.
Narcan, the brand name for naloxone, is a nasal spray that's most often used on humans. On Tuesday, Walgreens announced that all of its pharmacies will now carry the medication.
"By stocking Narcan in all our pharmacies, we are making it easier for families and caregivers to help their loved ones by having it on hand in case it is needed," Rick Gates, Walgreens group vice president of pharmacy, said in a statement. "As a pharmacy, we are committed to making Narcan more accessible in the communities we serve."