Dog Caught Snoozing on School Desk Delights Internet: 'Studied Too Hard'
An adorable video of a dog appearing to be asleep in a classroom setting has gone viral on TikTok, where it received over 4.7 million views.
The clip, shared by TikTok user @adelin.mrt, shows just the face of a dog fast asleep on a classroom table. The dog appears to be wrapped inside some type of blanket or perhaps a person's coat, with its eyes closed and just one of its paws sticking out.
A study by researchers at North Carolina State University, which was published in December 2020 in the peer-reviewed Scientific Reports, found that most dogs have two windows of "activity peaks" during the day. One is from around 8 a.m. to 10 a.m., while another is a longer active period from about 5 p.m. to 11 p.m. All dogs were found to be more active during the weekends than weekdays, according to the study.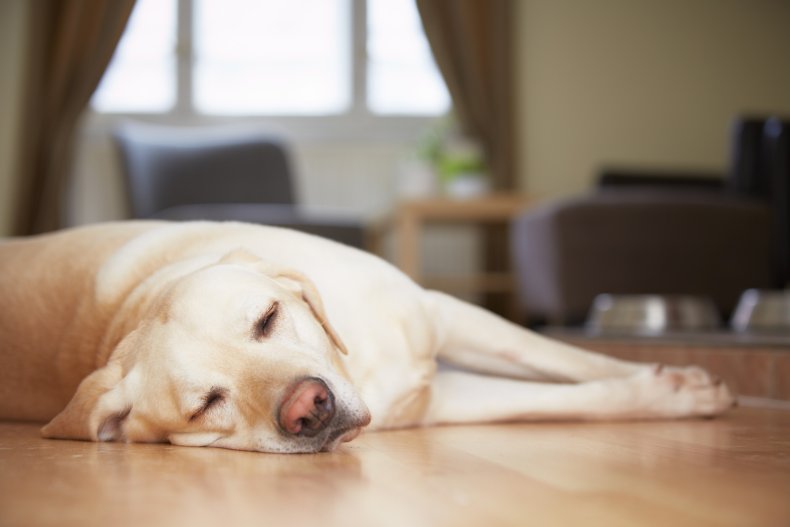 Our canine friends can spend as much as around half of their days asleep and like humans, dogs can sleep in a variety of positions.
Veterinarian Dr. Jerry Klein, the chief veterinary officer at American Kennel Club (AKC), told Newsweek in August dogs' sleeping positions can be "interesting to understand as they shed a little light into their behavior and much of it is inherited from their more primitive canine ancestors."
Their sleeping postures can vary depending on their general levels of comfort, anxiety, safety and environmental temperature.
Sleeping on the side, as the pup in the latest viral TikTok appears to be doing, is one of the most common body postures for dogs.
Dogs in this position typically have their head on the floor or another surface, with their legs comfortably extended. This position indicates the dog is feeling safe and relaxed, secure and comfortable in their surroundings.
Mary R. Burch, a certified applied animal behaviorist and the AKC family dog director, told Newsweek in August: "These dogs are often having 'sweet dreams' where you can see the paws moving. We often assume the dog is dreaming about chasing a rabbit or is running through a field in the dream."
The latest viral video has delighted and amused users on TikTok.
In a comment that got 6,566 likes, User02828228 wrote: "Bro [brother] was working last night," while SARAH agreed, saying: "Bro had night shift [crying laughing emoji]."
Pet said: "bro probably failed his math exam [crying floods of tears emoji]."
User kbiat00 na2 said: "the dog is [tired] of listening to the professor too."
User jazzy said: "bro studied too hard."
Newsweek has contacted the original poster for comment. The latest video not been independently verified.
Do you have funny and adorable videos or pictures of your pet you want to share? Send them to life@newsweek.com with some details about your best friend and they could appear in our Pet of the Week lineup.