Finland Becomes Second Country to Use COVID-Sniffing Dogs at Airport
Four dogs are sniffing airline passengers in Finland's Helsinki Airport in a hunt for COVID-19.
The pilot program, which began Wednesday and will be analyzed by researchers at the University of Helsinki, is expected to deliver results in about ten seconds, screening for positive coronavirus cases in less than a minute per person.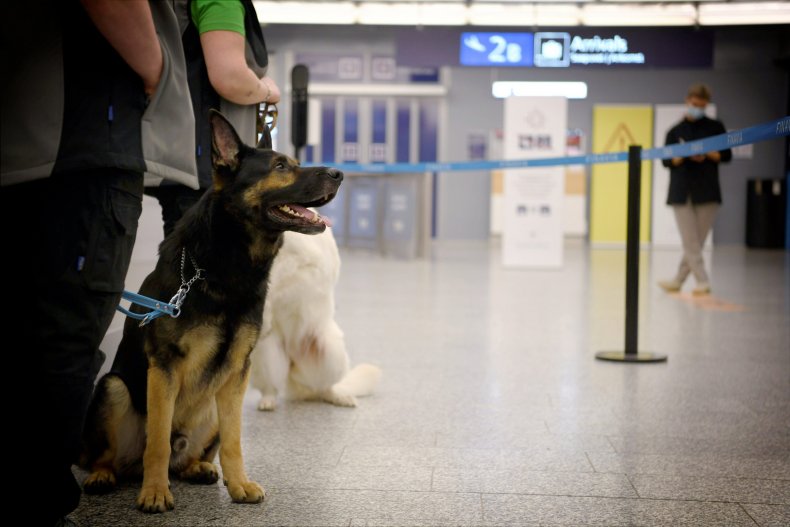 Tests will be conducted on arriving passengers, particularly those from abroad, and are conducted on a voluntary basis. Subjects don't have direct contact with the dogs, but instead use a wipe on the skin of their neck, which is brought to the dog in a separate booth. Whether the dog indicates a positive detection of COVID or not, a subsequent polymerase chain reaction test—the standard nose swab—is offered free to arriving travelers for comparative data.
Helsinki Airport introduced the COVID detection plan in a Saturday tweet, featuring a photo of a dog capable of detecting the coronavirus.
Regardless of whether they test positive, they will be urged to take a standard polymerase chain reaction (PCR) coronavirus test, so that researchers can monitor the dogs' accuracy. All tests are free for travelers arriving at the airport.
International researchers have evaluated the use of dogs in detecting COVID-19, but according to The Washington Post the Finnish airport trial is among the largest and most advanced efforts yet.
In the first stage of the Finnish trial, trained dogs were able to detect the virus in asymptomatic carriers and more quickly after initial infection than the standard PCR test. A total of ten dogs are expected to be deployed at the Helskini Airport by November.
Finland's canine COVID detection program follows similar efforts launched at the Dubai International Airport in the United Arab Emirates in August, which began randomly screening a tenth of arriving passengers with a swab of armpit sweat. Initial data suggests the dogs are as much as 94.5 percent accurate in detecting the coronavirus.
Other research into using canines for COVID detection include a study at the London School of Hygiene and Tropical Medicine; police and firefighter dog training in France; and a nine dog trial at the University of Pennsylvania, which successfully trained a dog to detect coronavirus-positive urine.
Previous research has demonstrated dogs can detect cancer, diabetes, bacterial diseases and viruses. Dogs trained to detect COVID aren't smelling the virus directly, but instead learning to recognize and indicate a specific profile of volatile organic compounds released in cell deaths and other physiological reactions caused by the virus. While advances have been made in artificial "noses," a dog's sense of smell is so sensitive that their abilities are hard to measure.
Should the Helsinki Airport dogs prove a viable method of accurately sniffing out the coronavirus, there are still hurdles to widespread adoption of canine detectors, particularly the investment in training required. But some veterinary researchers are hopeful that training techniques developed and data gathered in coronavirus programs may provide a pathway for more comprehensive use of canines in disease detection going forward.
"To me, it's a world project," Professor Dominique Grandjean, of the national veterinary school of Alfort in France, told The Washington Post. "Once COVID is over, then there will be other viruses."