Heartwarming Moment Dog Stays Alert Until Owner Returns From ER
A dog showing how loyal he is has made TikTok viewers emotional with more than 399,000 views.
In the video, Copper, the 2-year-old black mouth cur, German shepherd, pit bull mix, can be seen on security camera sitting on a bed, looking alert and not relaxed. The text explains, "Daddy was rushed to the ER with a very bad nose bleed. Copper stayed alert until he returned," while the caption reads, "Sorry to scare you bud."
Black mouth curs are bred in the United States for hunting, herding and protection. They are not recognized by the American Kennel Club because of ambiguous origins but is recognized by the United Kennel Club.
Can Dogs Sense Danger?
Dogs have been used by humans for protection for thousands of years, and many dog owners rely on their dogs to look after them. It could be a service dog sensing an epileptic seizure, protecting a home from intruders, or even sensing allergens in food.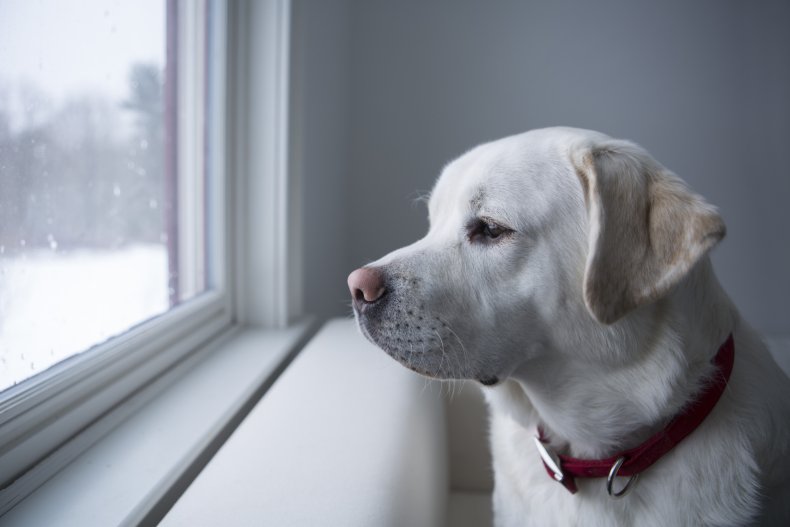 Dogs are highly sensitive to pheromones that humans can't sense, making them often act out before a human has realized there's something wrong. According to The Dodo, "They can get to know about the intention of a person we meet by sensing their subtle facial expressions and body language. Not only can dogs make you aware about any danger from a person, they are also good at detecting bombs, drugs, etc."
Researchers have also found that dogs can predict serious diseases in humans, even when they are in the early stages, by recognizing the difference between malignant and normal tissue.
"A woman from California noticed that her dog used to lick her right breast, and when she went to doctor she was diagnosed with breast cancer," according to The Dodo, "In a research, a trained Labrador retriever was able to successfully detect colon cancer in people with more than 90 [percent] accuracy."
Service dogs can also help people suffering with conditions like diabetes and epilepsy, by predicting when you have low blood sugar and seizures.
Users on TikTok were full of sympathy for the dog.
Mary Kay Donegan wrote, "They definitely know when something is going on."
DarkMysterious said, "Aww my puppy did that when I went into hospital for a week last year."
Logan2098 commented, "I about cried watching this poor copper was worried about dad."
Newsweek reached out to @alyssarobro via TikTok for comment.
Do you have funny and adorable videos or pictures of your pet you want to share? Send them to life@newsweek.com with some details about your best friend and they could appear in our Pet of the Week lineup.