Florida Dog Steals Car and Drives in Circles Until Police Come
A Labrador retriever named Max in Port St. Lucie, Florida, got behind the wheel of a 2003 Mercury Sable and spent the next hour or so driving in reverse around a cul-de-sac until police arrived.
The Treasure Coast Palm reported that Max's owner made a wrong turn into the cul-de-sac at Southwest Edith Court. The man got out to ask for directions, leaving the engine running.
Max jumped into the front seat and hit the gearshift, causing the transmission to shift into reverse. That also caused the car's doors to lock. The Sable began turning in circles around the cul-de-sac with the dog trapped inside.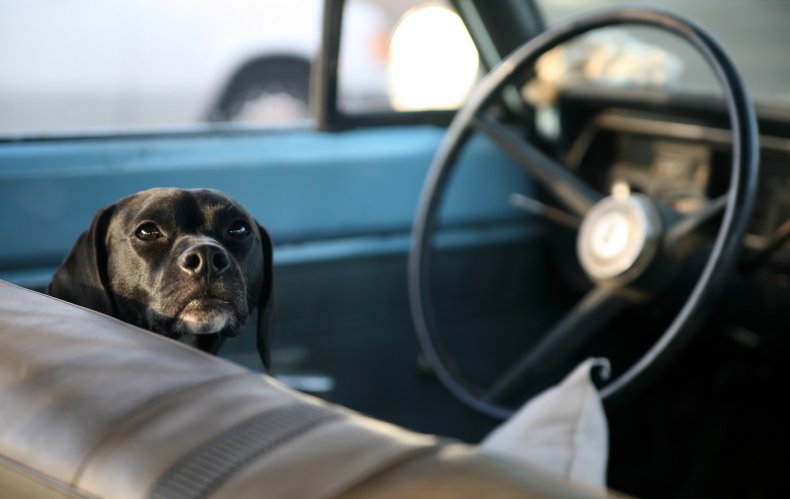 Residents quickly called police and the fire department after the car smashed into a mailbox and some garbage cans but continued to move. When responders arrived, the driver gave them a wireless key fob to unlock the door, but its batteries were dead and they could not open the door.
Officers approached the moving car and entered the unlock code into the driver's side keypad, freeing Max and shifting the car into park. The car sustained minor damage, but Max was unharmed.
Police spokeswoman Senior Sgt. Lisa Marie Carrasquillo summed up the situation, saying, "The dog is happy and fine."
No charges were filed against the driver or the dog, and the driver promised to pay for the damages.
Max isn't the first canine car thief to make it into the books. In July 2016, a pair of terriers were left in a car by an elderly woman, who left the motor running so the air conditioner would keep them cool.
One of the dogs knocked the car into gear, which began slowly moving toward a store; the other dog lowered the window. An employee inside a Walmart saw the vehicle moving and paged its owner, who did not arrive in time. The car eventually made hit the building, but no significant damage was incurred to either, and the woman drove her pets home.
While these dogs drove by accident, a trio of animals have actually been trained to operate cars. The New Zealand SPCA opened a driving school in 2012 to show how intelligent its rescue animals are by teaching them to drive.
On a closed course, animal trainer Mark Vette used specially modified Mini Clubman cars with controls adapted to the animals' paws. Vette started with teaching the dogs to steer wooden carts pulled on strings, and in just eight weeks they were behind the wheel of a real car.