Dog Stuck in Frozen Pond With His Owner Rescued by Police
A dog and his owner have warmer times ahead of them after this freezing incident earlier this week. Hot Springs, Arkansas, resident DeVon Fowler and his 14-month puppy Max fell into a freezing pond on Monday, and local Police Officer Tyler Ward rescued them.
Max had been wandering around, sniffing the ground, but his curiosity got the best of him when he fell into the pond. "The pond looked like land, and he just kept running right out onto it and went about 20 yards out, and he just fell through," Fowler recalled, via NBC affiliate KARK. Fowler called 911 while he tried to rescue his dog.
He asked for animal control to come help, but because of the snowy weather, Fowler wads told that it may be a while. "Well send someone over to check on me I'm going in," Fowler told them. He crawled out onto the ice to rescue Max, but the surface fractured, ultimately bringing Fowler into the water. "I was about five yards from him, and the ice started cracking underneath me and I'm like well here we go," he said.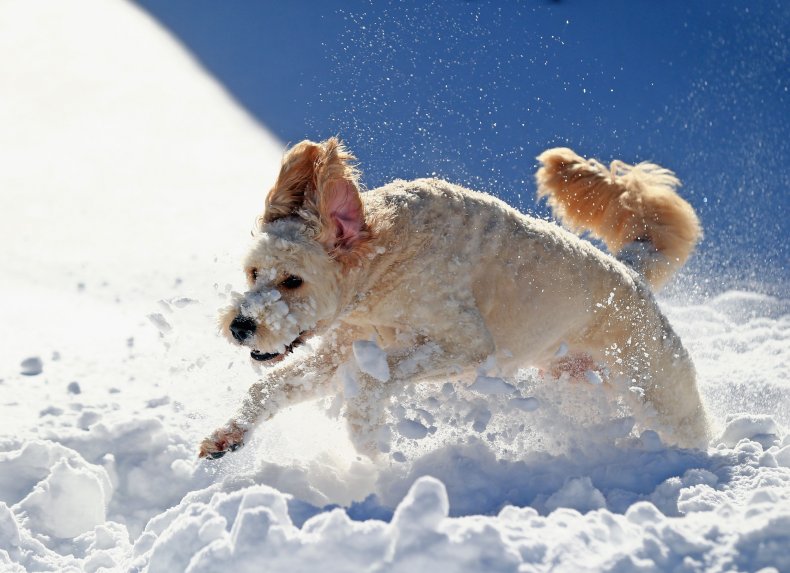 After Fowler was in the water, Ward pulled up to the scene. He helped get Fowler and Max safely out of the freezing pond. First, the two men got Max ashore by shoving him across the ice. "He pushed the dog to me. It slid a little ways, didn't break the ice and I started calling to the dog and I said, 'Come on, come on, come on,'" Ward explained, ultimately coaxing Max off the freezing surface.
Fowler was exhausted after Max got to safety. "I was so tired I was ready to stop, and he was very encouraging telling me that was a bad idea and to keep moving and not stand there in the water and freeze to death," he said. But Ward created a path for Fowler to move swiftly through the icy water.
"As he got closer, I was able to peel my jacket off and step down in the water. I threw him my jacket he grabbed it, pulled him to me," Ward said. Fowler and Max were grateful for Ward's help.
"We're lucky to have somebody like Officer Ward in this neighborhood," Fowler said after the incident.
The Washington Post advises folks to remain calm, should they fall in a freezing body of water. They should also use their winter clothes as a "buoy," and head back toward where they originally fell in, using the solid ice to hoist themselves out of the water. Once they get out, remain horizontal and not standing up quickly will keep the ice from cracking again.