Dog Survives on Rainwater, Food Scraps for a Month After His Owner Died
A dog named Gunner is lucky to be alive after police rescued him from being alone, left only with the dead body of his former owner.
The Oklahoma County Sheriff's Office posted Gunner's story to Facebook on Wednesday. Police were called Saturday to Gunner's former home near Luther, Oklahoma, where they found the remains of his 64-year-old owner, who had been dead for "as long as a month," police said.
Gunner was in the backyard kept in a large pen, according to police, who said that he was able to survive off rainwater and a small amount of food Gunner had found. In police photos of Gunner's yard, there are two large bowls collecting rainwater, overgrown with plants. One bowl of water is greenish-brown, while the other appears to have clear water, albeit with things floating in it.
Though he was able to survive, it was only barely, as police reported that he was covered with "thousands" of fleas and ticks, and that his muscles had wasted away to the point where he couldn't stand.
A veterinarian contacted by police said that had Gunner been found even hours later, the dog would have died. Police took him to the Bella SPCA Rescue Center in Oklahoma City, which is where Gunner got his name, as his original name is unknown.
"Cases like Gunner's are what Bella was built for and when we post stories of animals in need, it always has a secondary effect for our organization. The increased traffic to our social media pages and our website generates lots of interest in the animals we have for adoption and brings us new volunteers and supporters," EJ McCune, the cofounder and vice chair of Bella SPCA told Newsweek.
"We may be saving Gunner but his story will save dozens of other pets," he added.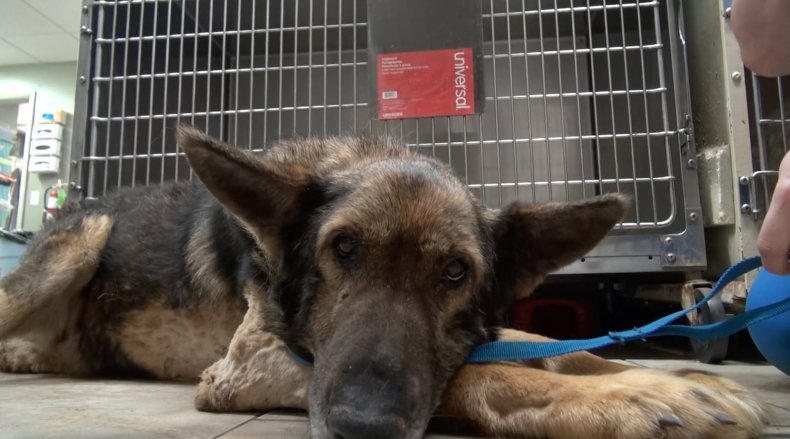 Bella SPCA says it will cover all costs for Gunner's care, but the Oklahoma County Sheriff's Office recommended people donate in his name to Bella SPCA if they can help pay for his recovery. Any funds raised beyond what Gunner needs will be used to help other animals, Bella SPCA said. As of press time, over $1,600 has been raised to pay for his care.
"We don't have a total on the funds raised yet but the response has been amazing. Not only monetary donations but inquiries about food donations, offers to foster him, and of course offers to adopt, have all come in," McCune said.
Gunner is in critical condition, according to Bella SPCA, and is being taken care of at the organization's partner vet, the Woodlake Animal Hospital in Oklahoma City. Thankfully, Bella SPCA says it's likely Gunner will pull through.
"Gunner is doing better every day. I actually stopped by to see him at lunch, he is being treated at the same vet where I take my own dogs, and although you can tell he is confused and sad, he is eating and has begun to walk more. He still has a long road of recovery ahead of him and may need additional procedures after he is stronger but he is hanging in there," McCune told Newsweek.
Once Gunner is back to health, he will go home with his former owner's relatives, Bella SPCA says, but the organization will inform the public if that changes. Should that happen, however, it's unlikely Gunner will have to look hard for a new home, given the many offers to adopt or foster him should the need arise.
"More than anything, we just want to say Thank You to everyone that has donated, offered support, and offered well wishes. We started Bella 16 years ago and to this day I am still amazed how people from different backgrounds come together for animals. Gives me some hope for the future!" McCune said.
Update 5/19/2022, 8:10 p.m.: This article has been updated to include comment from EJ McCune of Bella SPCA.