Vet Shows Consequences of Not Brushing Your Dog's Teeth: 'Brutal'
How often do you brush your dog's teeth? If your answer is a confused shrug, there's a Tiktok video you should probably see.
Uploaded by vet_techs_pj, the viral clip is titled "Do you brush your dogs teeth? I'm removing impacted hair and food from this 11 yr old dogs teeth." The 17-second clip shows a vet tech tenderly removing a clump of horrendous-looking gunk from the upper teeth in a dog's mouth.
The account belongs to "Peter & Jaycee," who refer to themselves as "Vet Techs, saving lives & having fun doing it." The video has attracted over 3.2 million views and more than 1,300 comments, some of which expressed their utter surprise that dogs need to have their teeth brushed, while others responded with exasperation that so many are unaware of the importance of dental hygiene for pets.
Tiktoker @calamityhannah commented, "I just... if you don't brush them weekly at least give them ways to keep their own teeth clean," while @mellymoo03 wrote, "I feel like there should be a week course for pet owners."
@dogstufff wrote, "that's brutal."
Platform user @denisepolley959 commented, "been around dogs for 60 years and NEVER seen anything like that...." to which Peter & Jaycee responded, "See it like 6 times a week."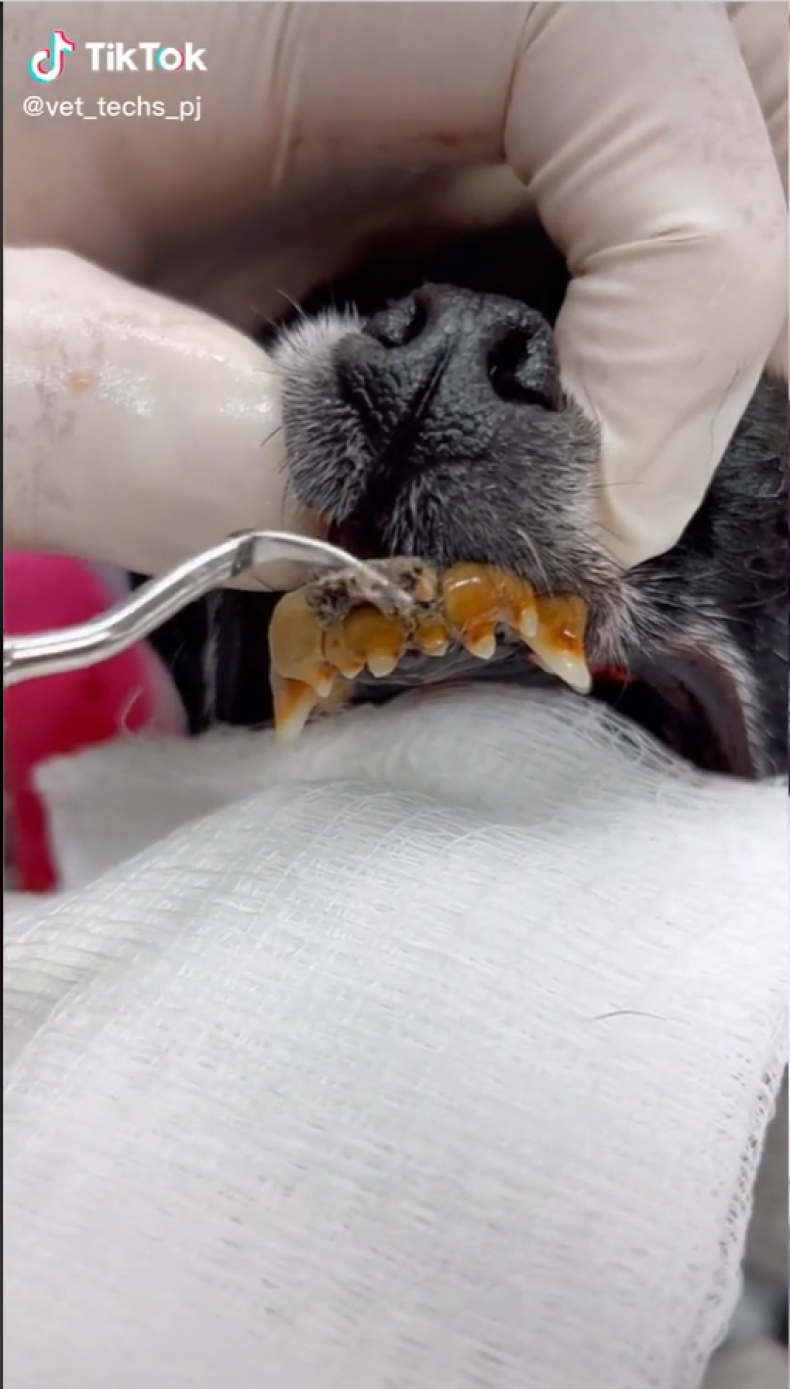 Similarly, @tim___312 wrote, "Does this happen to cats too?" eliciting the following response from Peter & Jaycee: "Yup, and humans."
@evilworm94 simply wrote, "How do they get to that point omg." The answer to that question can be found in a piece of research published in 2020, which shows that many owners have difficulty assessing their pet's teeth and gums.
Researchers note that periodontal disease (gum disease) is "one of the most common diseases affecting dogs, with a reported prevalence of at least 80% in dogs over 3 years of age." In light of this, the study focused on how owners perceive their dog's dental health.
After examining a cohort of more than 65,000 dog owners, researchers found that one in four "experienced difficulties when inspecting the dog's teeth," mostly due to their dog being uncooperative. It was found that one in 12 of the dogs had experienced problems with gum disease. Researchers concluded that the results "highlight the need for routine professional assessment of periodontal health, as well as education of dog owners and training of dogs to accept dental care procedures."
Fortunately, many fellow Tiktokers appear to keep on top of their pet's dental health—including @norsevibes, who wrote, "i brushed my dog's teeth at least once a week, it's so important!!"
And for those of us who aren't dog people, @iwanttokashootmyself6.9 probably summed up your thoughts with their comment: "IM EATING SJSJSSJ."