UberEats Driver Accused of Stealing Woman's Dog After Delivering a Pizza
A woman in Brooklyn has alleged that an UberEats driver stole her dog while delivering a pizza this weekend.
Dog owner Melanie Polanco told PIX11 that CCTV footage from her building showed the driver enter the elevator with her 6-month-old pooch Ella. According to PIX11, he then entered his car with the dog in his arms before driving away.
Polanco assumes the dog left her apartment when she opened the door to the delivery man. She didn't initially realize her dog was missing and assumed she was simply in another room.
When she made the realization, she turned to the super of her building who was able to show her the surveillance footage—confirming her worst fears.
"I was crying. I was devastated she's gone. I couldn't eat or sleep that night," she said. "She's probably scared, alone."
Polanco reportedly called 911 and made a police report, before contacting Uber and sending over the footage. A representative for the company reportedly called Polanco on Monday night and informed her that the driver claimed he did not have the dog. Polanco, however, does not believe he is telling the truth.
"I don't think he came to steal a dog, but he saw her—she's very cute," Polanco told PIX11. "It's a crime, it's theft. She's worth $5,000. It could be grand larceny. I don't know what's going to happen. All I'm thinking about is Ella, I need Ella back."
In a statement to Newsweek, an Uber spokesperson said: "What the customer reported is deeply upsetting and unacceptable. We're continuing to look into this, and have removed this driver's access to the platform. We stand ready to assist law enforcement in their investigation."
Newsweek has contacted the NYPD for comment.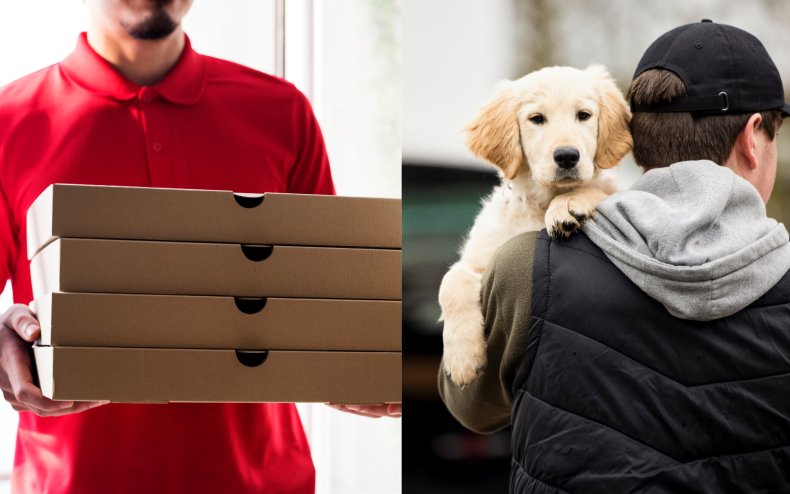 In recent years, dog thefts have become an increasing problem across the globe. The American Kennel Club and Adopt-a-Pet.com told Time Magazine in 2019 that they've seen a notable anecdotal increase in such cases across the U.S.
Across the pond in the U.K., dog owners are facing the same problems too. Research shows that 2020 saw a seven percent increase in dog theft from 2019—with just two percent resulting in a criminal charge.
Polanco is now doing all she can to bring Ella home, with flyers placed all over the building.
"She's my baby," she said. "She's my first pet, actually my first dog ever. For this to happen, it just breaks my heart."
Update 3/9/22, 2:52 a.m. ET: This article was updated with a statement from Uber.