'We Started A Dog Treat Business—It Pays For My Son's Service Dog'
My husband and I have four kids living with us at home in Winchester, Virginia. Our blended family includes my son Keygan, who is 17, his younger brother who is 16, my stepdaughter Morgan,13, and my daughter Kaydence from my second marriage, who is almost 2. It can get a little crazy, but whatever life throws at us, we just try to roll with it.
This year has been rough for Keygan in particular. He had been hearing voices since he was 15, but he kept that a secret until earlier this year, when his mental health issues became overwhelming for him. He attempted suicide twice in March and April and on April 11 he was transferred from hospital here in Viriginia to a crisis stabilization unit in Baltimore, Maryland. I was allowed one visit a week and he remained there until June 3. His official diagnosis is schizoaffective disorder, psychosis, anxiety, depression and ADHD, so he has a lot going on and when he came home he was under 24/7 care. We had to help him relearn many things, but recently he has really improved and can be alone from anywhere between four to six hours.
We try to treat Keygan as normally as possible; we just have a checklist of things he needs to do each day. But because his situation was so severe and difficult, we decided to give him Alexis, a purebred English Labrador.
The plan is for Alexis to be a psychiatric service dog for Keygan and he has been taking her to her basic puppy training that they will graduate from on December 26. Then, on January 4 they start service training together. Giving Alexis to Keygan when we did means they get to bond; it means he gets taught how to train Alexis. It was the best decision I could have made. Alexis joined our family on July 5, and when Keygan doesn't want to get out of bed, he does so for Alexis.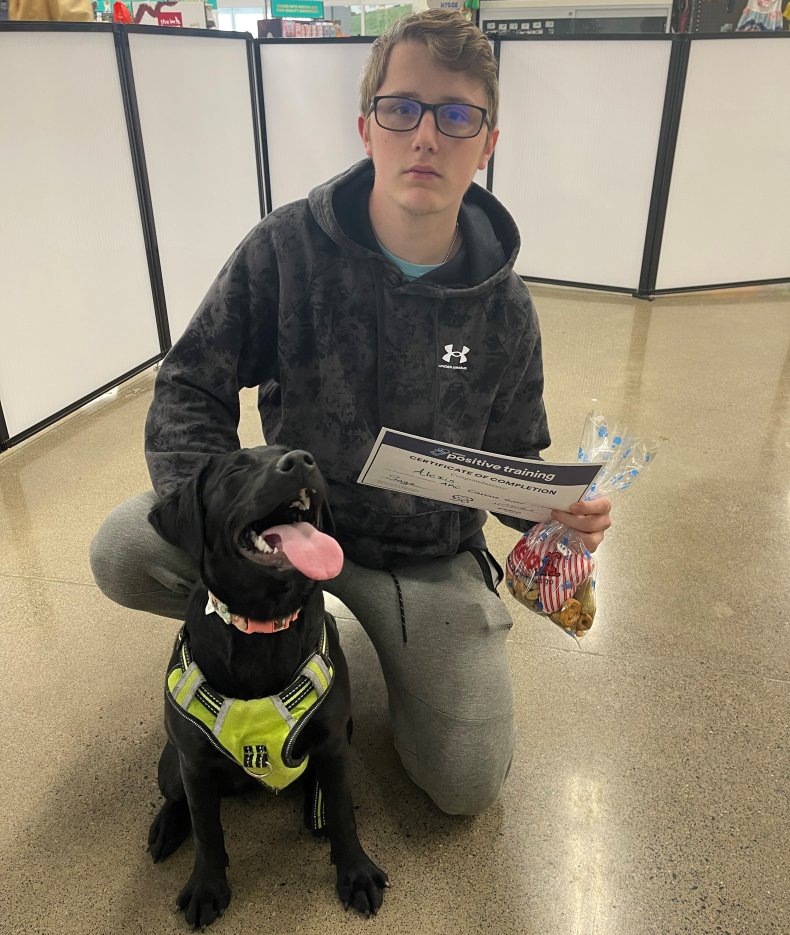 Keygan is her main handler and I am the second handler. If Keygan goes on an airplane or to the emergency room, Alexis can be there too. I'm just a back up if Keygan has to be admitted to a psychiatric ward at any point, because that's the only place Alexis cannot go.
On Sunday 19 December we are having a party for Keygan and Alexis to say we're really proud of their accomplishments, particularly Keygan getting better and training Alexis. As we were thinking about the party in November, my stepdaughter Morgan pointed out that while we had ordered Keygan a really cute cake, we hadn't found a place locally that sold dog cakes for Alexis.
She suggested that maybe we made a dog cake so that they both had one. I started researching recipes and Keygan happened to come in and ask what I was doing. He liked the idea and asked if we could also make cookies. So that's how our dog treat business, Doggylicious Treats, started.
On November 21, I put up a post on Facebook saying that Keygan and the family were thinking of making dog treats and cakes. We had more than 100 people saying they would support Keygan in doing this. So, we made the decision to sell them and see what happened.
The family all works on the business together, but Keygan and his brother design the cakes. Right now we make dog birthday cakes, dog treats in different shapes for holidays and we're playing around with dog cupcakes. All the cakes and treats are made from natural products and are gluten free.
The first doggy cake we sold was on November 22. Until we work out some kinks we don't have a price for them, we just ask for the donation that people want to make. We are beginners at this; it's just fun. We've sold five doggy cakes so far and we have Christmas orders for cakes and cookies. It's slow progress but I'm happy with that because it is better for Keygan. Doggylicious Treats is mainly helpful for him, but it's also great for all my kids. They sit decorating the doggy cookies together.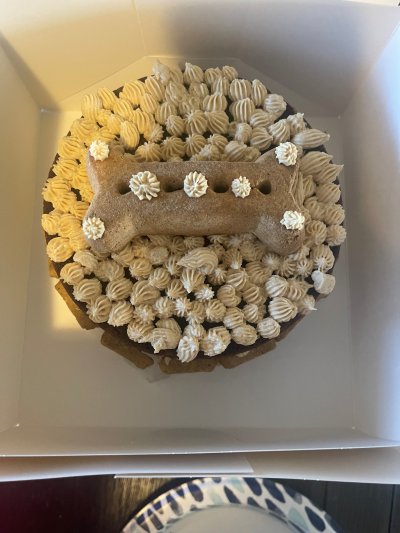 But training a service dog is expensive. We only have an outstanding balance of $850 to pay for the training, but Doggylicious Treats money is going to be used for that. I've told Keygan that now he's in a good spot, he can pay me back for what has already been spent, using money made from Doggylicious Treats. He's 17 so it's helping him learn accountability.
I've really noticed a change in Keygan's confidence since we started Doggylicious Treats. He used to be very much a loner and a gamer, but he's put the gaming on hold a bit now and he's enjoying being around people.
When Keygan first came home in June, I told him that this experience in hospital could become the worst thing that has ever happened to him or he could turn it into the best thing that has ever happened to him, but he had to choose the direction he wanted to go. Over time, he's decided that he would like to help people and share his story. When we write the "About" section of our new website for Doggylicious Treats, it will all be about Keygan's mental health journey. It will help him get his story out there.
The business is giving Keygan more independence, which is what we're working towards, and it's fun. It's fun for the whole family.
Kelly Dodson lives in Winchester, Virginia with her son Keygan Mullineaux and their family. You can find out more about Doggylicious Treats on Facebook here or at doggyliciousva.com.
All views expressed in this article are the author's own.
As told to Jenny Haward.
If you have thoughts of suicide, confidential help is available for free at the National Suicide Prevention Lifeline. Call 1-800-273-8255. The line is available 24 hours every day.