Dog Video at Guggenheim Museum Sparks 'Torture Is Not Art' Campaign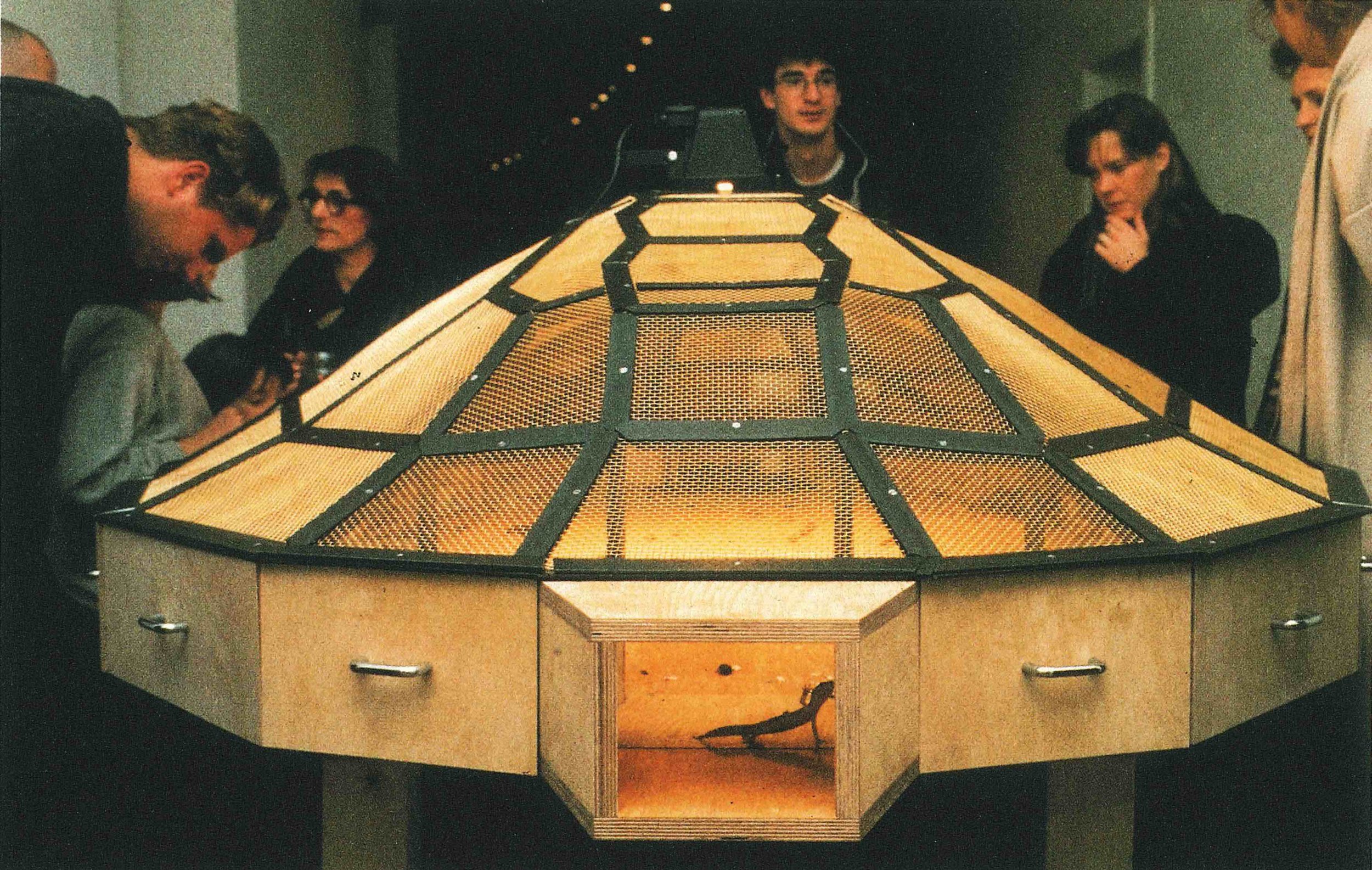 Updated | An upcoming exhibit at New York's Guggenheim Museum has drawn ire for what critics say are "several distinct instances of unmistakable cruelty against animals in the name of art."
The show—titled "Art and China After 1989: Theater of the World" and organized by the curator Alexandra Munroe—traces contemporary art coming out of China during the transformative period from 1989, the year of the Tiananmen Square protests, until 2008. An online petition on Change.org imploring the museum to pull three works from its show has gained nearly half a million signatures in just four days.
"Help us send a message to the Guggenheim," reads the petition created by Stephanie Lewis. "Let them know that animal cruelty holds no place in art in the United States, nor should it anywhere in the world. This assault on animals in the name of art will not be tolerated or supported."
The petition then addresses the museum. "Please do what you know in your heart is right. Take a stand with our animal cohabitants of this planet, and pull the artists employing these cruel methods from your upcoming show," it says (it was later amended to request the works rather than the artists themselves be pulled). "Tell the world what you stand for: bold, controversial art that breaks barriers and challenges social norms, which does NOT include the promotion of cruelty against innocent beings."
Lewis, a health care software consultant from New Orleans, came across an Instagram post about the exhibit by New York Bully Crew, a pit bull rescue organization. "When I found out that this exhibit was going up, it struck a chord inside me that I cannot ignore," says Lewis, who is not a professional animal rights activist but explains that she is a vegan who loves animals as well as an artist.
"This is outright shameful and a disgrace to represent one of the finest cultural institutions in the United States and in the world," she adds. Though she says she would defend having what she calls "open boundaries" in art, "I think one of if not my only line is exacting suffering on innocent beings who cannot give their consent in the name of art. It's fundamentally inarguable."
Animal cruelty would be unacceptable in any art institution, Lewis says, but she was spurred to act because of the Guggenheim's stature and because it's "representative of a certain moral standing." She looked for a petition to sign, and when she couldn't find one she started her own.
Her resulting petition mentions three works specifically. Peng Yu and Sun Yuan's "Dogs That Cannot Touch Each Other" is a seven-minute video of a live "performance" staged in Beijing in 2003. Four pairs of pit bulls face off on non-motorized treadmills, running at each other but unable to make contact. The petition describes it as "a stressful and frustrating experience for animals trained to fight. The dogs get wearier and wearier, their muscles more and more prominent, and their mouths increasingly salivate."
The exhibit also will feature a video of Xu Bing's 1994 "A Case Study of Transference," in which a boar and a sow mate. Each one is stamped with gibberish letters that combine elements of the Roman alphabet with made-up Chinese characters. Xu, who is fascinated by contradiction, has said of the combination that "animals are completely uncivilized and Chinese characters are the expression of supreme civilization."
Related: Chinese artist Xu Bing's book without borders
Finally, the exhibit's title piece, "Theater of the World" by Huang Yong Ping, is a wood, steel and wire mesh dome with heating lamps that contains inside it insects and reptiles—including African millipedes, house crickets, goliath beetles, hissing cockroaches, lubber grasshoppers, stag beetles, leopard geckos and Italian wall lizards. The number of creatures will dwindle as some are eaten by their companions and others die of exhaustion, only to be replaced by a local pet shop.
Criticism began pouring in when The New York Times ran a preview of the exhibit on Wednesday. The very first comment visible on the story read:
I opened this article with enthusiasm. By the time I reached the end, I was struggling with the treatment of animals in several of the displays. In particular, the treatment of the dogs tethered to treadmills is unacceptable. I am beyond disappointed in the Guggenheim's willingness to share the appalling treatment of animals. These artists felt China was willing to toss them aside, but they are quite willing to throw animals aside. We are all in this life together, man and beast.
Another reader asked: "At what point did blatant animal abuse become art? Shame on the Guggenheim for condoning animal abuse and shame on the NYT for being complicit. I would have expected better from you both." Most of the comments in the thread focus on the animals, with a particular spotlight on "Dogs That Cannot Touch Each Other."
"Contrary to some reports, no fighting occurred in the original performance and the presentation at the Guggenheim is in video format only; it is not a live event," the museum said in a statement released September 21, which focused on only one of the three pieces identified in the petition.
"Reflecting the artistic and political context of its time and place, 'Dogs That Cannot Touch Each Other' is an intentionally challenging and provocative artwork that seeks to examine and critique systems of power and control," it continued. "We recognize that the work may be upsetting. The curators of the exhibition hope that viewers will consider why the artists produced it and what they may be saying about the social conditions of globalization and the complex nature of the world we share."
The statement made some animal rights activists and sympathizers only more angry. "Intelligent humans dont [sic] need to see the misery of dogs to understand power and control. Take the piece out of the show," one user wrote. "It isn't art though. It is footage of cruelty and condoning such torture by giving it airtime in a revered museum is wrong. Disgraceful," added another.
Singer Richard Marx chimed in to say, "I hope some key @Guggenheim donors will rethink their support after this. Animal abuse is not 'art.' So ignorant." On Sunday, British comedian Ricky Gervais said on Twitter, "If this is art, let's tether Peng Yu and Sun Fucking Yuan too. You should know better than this @Guggenheim."
Lewis herself was not mollified by the Guggenheim statement and is disappointed that the museum hasn't been open to dialogue with those protesting its decision. She's connected with New York City-based artist and activist Sophie Gamand, who created the hashtag #tortureisnotart. They met through their responses to the exhibit and have been in daily contact as they work to spread the word and plan the next steps, including gathering opinions from experts to bolster support for their assertions of animal cruelty.
Matt Bershadker, president and CEO of the American Society for the Prevention of Cruelty to Animals, has already said he believes the museum should not have included "Dogs That Cannot Touch Each Other," which he called a "depiction of animal cruelty."
"The ASPCA opposes the use of animals in art if such practices produce pain, injury or distress to the animals," he said in a statement. "The video perpetuates the false stereotype that pit bulls are only purposeful as vicious dog fighting instruments, not as what they are at their core: affectionate and loyal animals who crave our attention and deserve safe and loving homes. This increases the obstacles standing in the way of their adoption, and endangers their lives."
The Guggenheim declined to provide any additional statements or comments in response to a request from Newsweek on Monday.